Description
Vanilla Ink is delighted to present the inaugural Scottish Jewellery Week 2014. This 10-day festival has been produced in response to and to celebrate the ever-growing jewellery industry of Scotland.
The Jewellery Trail are guided tours that will lead people through the city of Dundee, looking into the private studios of jewellers in Dundee. Starting at The Old Flour Mill where Vanilla Ink's End of Year Show will be showcased, featuring the work of the 8 Inkers of 2014, a pop-up shop hosted by Tea Green Events and a photogrpahic exhibition from What Kristen Saw. We will then take you on a trail through 10 independent jewellers studios and '15 Years' an exhbition at DJCAD exhibiting the work of 29 jewellers that graduated from a Scottish institute within the past 15 years.
A trail for jewellery lovers, a chance to gain insight into the jewellers of Dundee.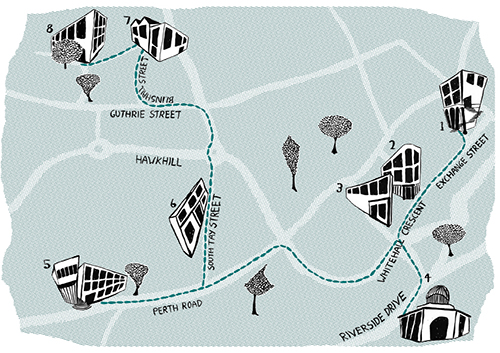 1 - Vanilla Ink End of Year Show and Pop-up Shop, The Old Flour Mill, Exchange Court, DD1 3DE
2 - Neo Design, 17 Whitehall Crescent, DD1 4BB
3 - Lorraine Law, 34 Union Street, DD1 4BE
4 - Making Jewellery Work, a One Day Symposium, (12.09.2014) The Events Suite, Discovery Point, Riverside Drive, DD1 4XA
5 - 15 Years (Matthew Entrance Gallery), Jewellery Workshop (Jewellery Department), Duncan of Jordanstone College of Art and Design, Perth Road, DD1 4HT
6 - Coffee Stop-off, Avery and Co, South Tay Street, DD1 1PD
7 - Islay Spalding, 42 Blinshall Street, DD1 5DF
8 - Vanilla Ink (Studio 216), Nicola Morrison (Studio 304), Genna Design (Studio 306), Elizabeth Humble (Studio 416), Wasps Meadow Mill, West Hendersons Wynd, DD1 2BY