Scottish Manual Handling Forum 2 Day Conference - 25th-26th May 2022
SMHF's 'must not miss' networking & sharing event is back face-to-face for 2022 - ideal for those working in social and health care.
About this event
The next Scottish Manual Handling Forum Conference will be held on 25th & 26th May 2022 and we are really looking forward to seeing everyone back together. As great as it was to share and learn on the virtual event, it's even better to now have the option to attend face-to-face again.
We warmly welcome anyone who has an interest in manual handling to attend our popular biennial event.
From any profession, sector and at any stage in your experience of manual handling, we have a mixed programme that offers learning to those newly starting out and to those who are more experienced within their industry. The SMHF core group are from different sectors and have endeavoured to represent the varied workplaces in the conference programme. This is the perfect opportunity to network, meet new peers, catch up with old colleagues and share ideas and experiences with those within similar vocations.
The conference is supported by over 30 fantastic exhibitors and there will be ample time each day to spend speaking to the company representatives and trying out the equipment they have on offer.
Our program includes speakers from different sectors of health and social care and industry. With interactive and practical workshops, we will be covering a wide range of topics including object handling, changing places, complex risk assessment and care of the person with dementia.
Please click HERE to view May's 2022 programme.
There are two Workshop Sessions per day:
Wednesday 25th May -11.35am-12.35pm /2.20pm-3.20pm
Thursday 26th May - 2.30pm - 3.30pm / 3.40pm - 4.40pm
You are able to choose one workshop from each of the 4 sessions.
Each session has limited availability. Please select your Workshop Sessions on the Checkout page.
Below is a snapshot of the consistently positive comments we've received...
Great conference with a diverse and interesting programme. Good pace and nice amount of time for networking
Extremely interesting conference, from the exhibitors to the keynote speakers - they increased my knowledge & understanding & provided me with food for thought
Well organised
Good range of sessions
Well managed
Workshops very good
Good two days, interesting and relevant
Great atmosphere
Excellent facilities and venue
Very good first impression of event, would love to bring others to future events
Up to date information
Good topics and speakers, plenty of exhibits, really enjoyed it
It was my first time at the event and I found it very informative, it will help me look at things from a broader perspective and has given me greater understanding of SMHP
SOCIAL EVENING: Wednesday will see our fantastic social evening in the Waterhouse starting at 6.45pm with a drinks reception in the central exhibiting area, then a buffet dinner and ceilidh at 7.30pm - this popular social evening is all-inclusive in your ticket price so please make sure you select correctly when registering your ticket.
NEW for 2022!! We are delighted to announce that we now have the pleasure of our esteemed dinner speaker Mike Stevenson . Mike is a 'must see, exhilarating, inspiring and mind-blowing speaker' who is sure to make our conference even more memorable...
ACCOMMODATION: There are hotel rooms available to book at a reduced rate via the Golden Jubilee events team on 0141 951 6006. This is a popular event so we recommend booking early to ensure you can stay onsite.
VENUE ADDRESS: Golden Jubilee Conference Hotel, Beardmore St, Glasgow, Clydebank, G81 4SA.
EVENT DATE: 25th and 26th May 2022
CONTACT: SMHF Team on smhf2000@gmail.com
COVID19 Guidance for the SMHF 2022 Conference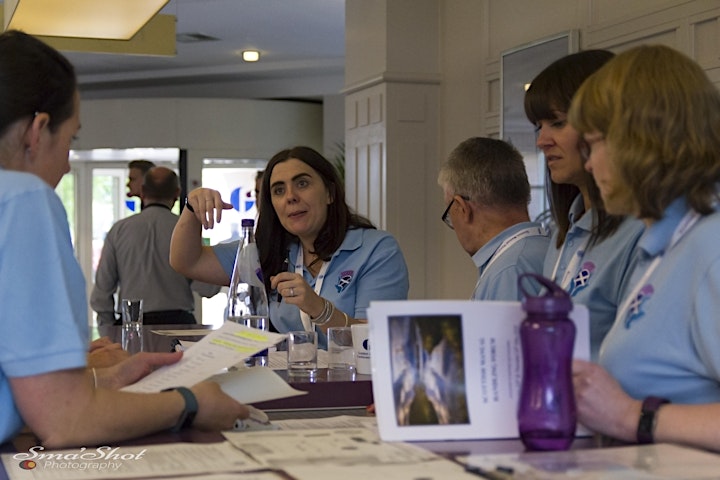 Organiser of Scottish Manual Handling Forum 2 Day Conference - 25th-26th May 2022
The Scottish Manual Handling Forum was formed in November 2000. It meets annually in venues around Scotland. It evolved from a gradual amalgamation of two previous groups; the central Scotland group of the National Back Exchange and the Lanarkshire Moving and Handling Advisor Network. It comprises moving and handling professionals from the NHS, local authorities, education sector and the private sector. In June 2006 the Forum voted unanimously to progress towards becoming an affiliated group of the National Back Exchange.