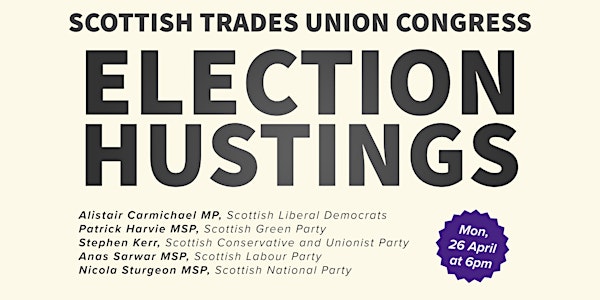 Scottish Trade Union Congress Scottish Parliament Election Hustings
Action on Pay, Action on Care and Action for Jobs
About this event
Join us at the Scottish Trade Union Congress Scottish Parliament Election Hustings on Monday 26th April at 6pm.
Come along to hear from workers across Scotland as they share their stories and ask politicians what they will do to address the challenges facing workers today.
This is your chance to ask questions on the issues that matter to you.
We are delighted to welcome our panel:
Alistair Carmichael, Scottish Liberal Democrats
Patrick Harvie MSP, Co-convenor Scottish Green Party Scottish Green Party
Stephen Kerr, Scottish Conservative candidate for Central Scotland
Scottish Conservative and Unionist Party
Anas Sarwar MSP, Leader of the Scottish Labour Party
Nicola Sturgeon MSP, Leader of the Scottish National Party
Scottish Labour Party
With Bill Scott as Chair, Poverty and Inequality Commission.
We know the last year has been a challenge for workers and their families. Trade unions have been working hard to keep workers safe. As we move through the public health crisis we need to ensure that plans are in place for Scotland's recovery.
We need a People's Recovery that delivers Action on Pay, Action on Care and Action for Jobs.
This event will have live captioning and a BSL interpreter.
If you have any questions please contact info@stuc.org.uk
To watch the event please visit the links below:
YouTube Live: https://youtu.be/noNMcesEznw
Facebook Live: https://www.facebook.com/scottishtuc/live/
If you have any issues please contat info@stuc.org.uk