Scottish Varsity Match - Alumni Brunch - Edinburgh
About this Event
During the academic year 2019/20, we celebrate 100 years of teaching business at The University of Edinburgh and we're pleased to be creating a number of special events that give you a chance to connect with alumni from the Business School.
Dating back more than 150 years, the Scottish Varsity Match takes place at Murrayfield on 21 September and sees the University's Men and Women take on St Andrews in front of more than 10,000 spectators.
As part of our 100 year anniversary celebrations we would like to invite you to join us for a pre-varsity brunch. You'll have the chance to catch up with fellow alumni and also hear from the Men's Head Coach, Dave Adamson who will be taking questions alongside some of the 1st XV players who will be taking the field later in the day.
We'll be serving breakfast rolls and drinks during the event. The event is free to attend but registration is required as spaces are limited, if you would like to bring a guest, please register their attendance too.
Attendance at the alumni brunch also provides you access to a joint VIP reception hosted by both Universities before the games in the President's Suite at Murrayfield. Representatives from the SRU and the Principles from Edinburgh and St Andrews will be giving speeches, there will also be some entertainment and prime seats for the match.
You will automatically be registered for the reception at Murrayfield. If you don't require access to the hospitality at Murrayfield, please let us know.
We look forward to meeting you there...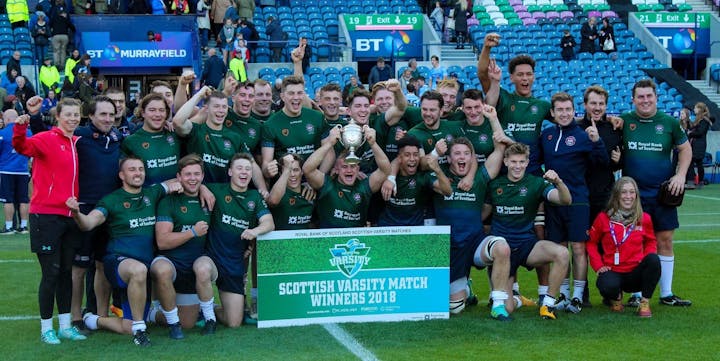 Privacy statement
All personal information is held securely by the University and in accordance with Data Protection Law. We use information about you because we have a legal obligation to do so, you have provided consent, or we believe it is in our legitimate interest. The data we hold will be used by the University, or other parties acting under the instructions of the University, for a range of activities. These include sending publications and information, offering benefits and services, organising events, membership administration and in our fundraising and volunteering programmes. We conduct due diligence and research into the philanthropic interests and means of a limited number of individuals to help decide whether and on what basis to approach them, and to ensure that our fundraising activity is directed in the most appropriate and effective way. If you'd like to find out more, you can view our full privacy notice on our website www.ed.ac.uk/development-alumni/privacy. If you wish to update your details or how we contact you please email yourdata@ed.ac.uk or write to Development and Alumni, University of Edinburgh, Charles Stewart House, 9-16 Chambers Street, Edinburgh EH1 1HT or call us on +44 (0) 131 650 2240.
We want to run a safe and accessible event and provide the best possible experience for you and your guests. By providing your dietary and access information during your registration you are giving the University consent to hold and process this data about you and to advise our suppliers of these details, under data protection regulations, for the purpose of running this event. By providing this information about your guests, you are confirming that you have their permission to share this data with the University for the same purposes. Any dietary and accessibility requirements are deleted following completion of the event.