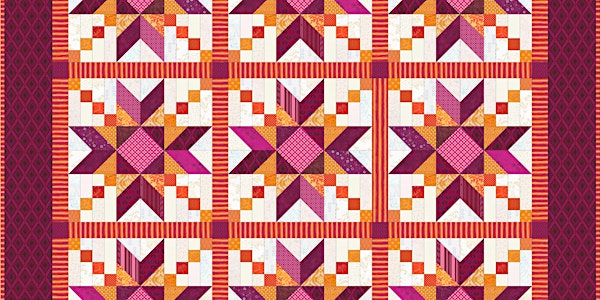 Scrap Quilting, a Blackford's Beauty Quilt with Stuart Hillard
Location
Shambellie House
New Abbey
Dumfries
DG2 8HQ
United Kingdom
Make blocks for Stuart Hillard's version of his Blackford's beauty quilt.
About this event
Make blocks for Stuart's version of his Blackford's beauty quilt. You'll learn the value of how to use your scraps effectively in this timeless quilt design. There are some very useful patchwork units to learn to piece perfectly!
The course is suitable for quilters who want to improve their technique and already have some experience.
Please bring enough fabric for at least four blocks... bring more variety than you think you'll need...it's always better to have some choice! You could make a quilt where every block was different and each one using a wide assortment of fabrics from one colour family, just make sure there is really good contrast in the fabrics.
To make one block you will need:
For the corner units:
sixteen assorted rusty red squares each 2" x 2"
Assorted cream prints in the following quantities and sizes:   eight x 2" x 2", eight x 2" x 5", eight  x 2" x 3 ½"
For the star point units:
eight x assorted blue rectangles each 3 ½" x 6 ½"
eight x cream squares each 3 ½" x 3 ½"
eight x assorted red squares each 3 ½" x 3 ½"
For the block centre:
One square gold print 4 ¾" x 4 ¾"
two x blue squares each 4" x 4" cut once on the diagonal to yield four x corner triangles
Stuart's quilt uses 16 blocks which, combined with sashings and borders makes a very generous 95" x 95" square quilt... you could scale this down...a 3 x 4 arrangement of 12 blocks with the same sashings and border would make a 75" x 95" quilt and nine blocks in a 3 x 3 arrangement would make a 75" square quilt.  
Course fees include refreshments throughout the day, including fresh coffees, teas and a light lunch.
The workshop takes place in the First Floor Gallery space. There is a flight of stairs and no lift access. If you have any access issues, please get in touch to discuss alternative arrangements.