Join our free 6-week online Scrapbooking course. Get creative telling your family story through pictures. Have fun learning new techniques
About this event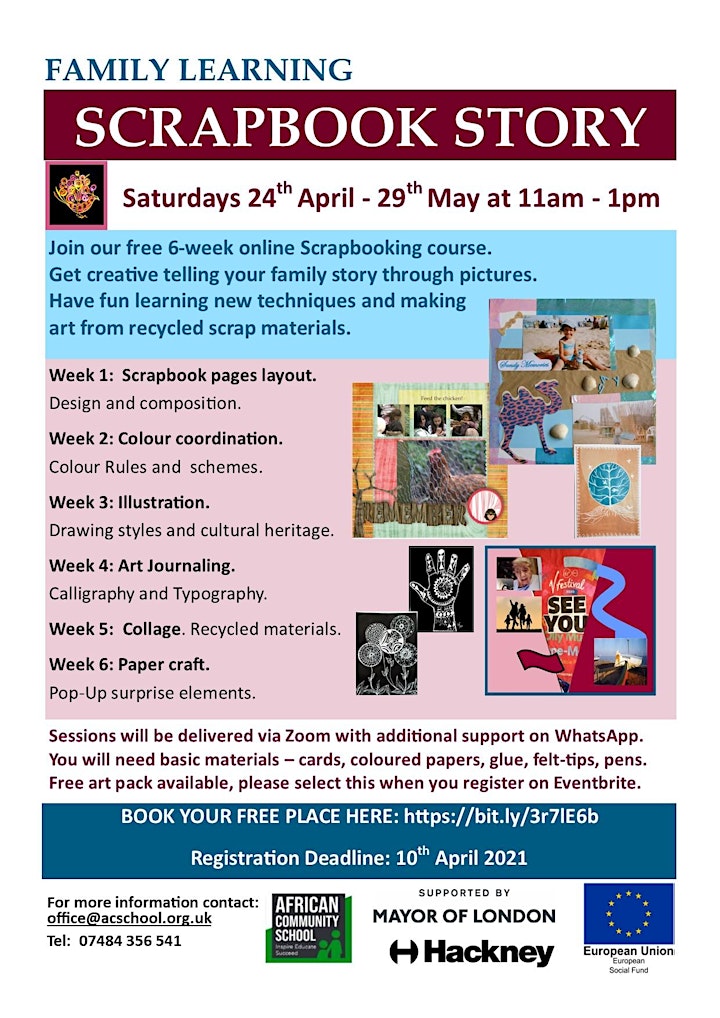 Weekly structure
Week 1: Scrapbook pages layout. Design and composition.
Week 2: Colour coordination. Colour Rules and schemes.
Week 3: Illustration. Drawing styles and cultural heritage.
Week 4: Art Journaling. Calligraphy and Typography.
Week 5: Collage. Recycled materials.
Week 6: Paper craft. Pop Up surprise elements.
Course duration
Saturday 24th April – 29th May 2021 at 11am-1pm
(Registration until 10th April 2021)
Additional form to fill:
Fill out the enrolment Employment, Skills & Adult Learning Enrolment Form
How are sessions held online and what support is given?
Sessions will be delivered via Zoom with additional support on WhatsApp. You will need basic materials – cards, coloured paper, glue, scissors, felt-tips, pens.
Free art pack available, please select this when you register on Eventbrite. Additional info
Scrapbook Story course is about making an art project, keepsake of memory treasures using things you might already have: family photographs, old postcards, cinema or travel tickets. In the beginning you will decide what size and style you choose. You will learn about basic rules of design which let you create the pages layout. We will explore various colour schemes and choose the ones suitable for your project. You will have the opportunity to make illustrations for your pages following examples inspired by traditional ethnic drawings and suitable for all levels. You will explore a variety of fonts and lettering to fit your design. You might want to use original 3D features on your pages so you will learn basic pop-up techniques. But most of all we will show you how to make the art project with and for your family where you can share your personal story with fun twist.
You will be guided through the course by your tutor, Joanna Fulton, an experienced Art teacher, and in addition to weekly sessions on Zoom you will have access to the WhatsApp group where we will discuss work in progress so you can receive feedback from the tutor when you need it.
Organiser of Scrapbook Story Family Learning Course
African Community School is a community organisation operating from Hackney. We provide a safe environment for children, young and adult through a range of services to relieve poverty and promote social and economic well- being of young children living in Hackney and surrounding areas.