Description
DATE:
15th, 16th, & 17th April, 2019
19:00-22:00H
All programs will be in English.
CLASS SIZE
Maximum 6 per course
PROGRAM FEE
145€ (all materials included)
---
This is a complete and comprehensive workshop, where you will have the opportunity to learn the trade of screenprinting from professional printers in a dynamic environment.
The workshop groups will remain small in size (maximum 6 per course), which will allow each participant to obtain more personalised instruction from the teacher, and the best practical experience working with the printing press and other tools.
You will learn how to properly design and set up images and output files for films, discover the science behind photo-sensitive emulsion and learn how to properly coat and burn an image into a screen and learn best practices and master fine details to get the most accurate and best quality prints.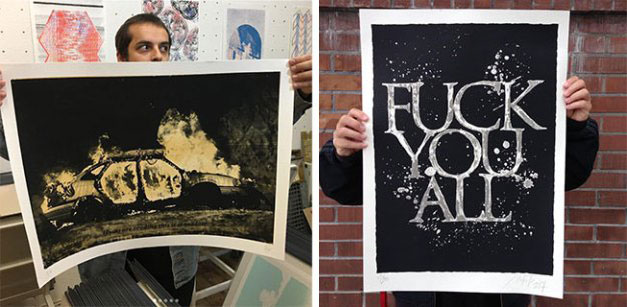 ---
First class will take place at ESDIP's headquarters in Berlin (which doubles as a coworking space and an art school), students will have the opportunity to work in an engaging location, in a relaxed and friendly atmosphere surrounded by professional creatives and start-ups.
Second and third class will take place at Wicked Print, a professional screen printing studio which is only a five minutes walk from ESDIP Berlin.
At the end of this workshop you will leave with a sample of a T-Shirt or tote bag with your own design!
MATERIALS
All materials, screens, and inks will be provided! You can bring your own screens and inks if you like.
---
ABOUT THE INSTRUCTOR
› URTZI URKIXO is a graphic designer and print artist based in Berlin. He graduated with honours by the Fine Arts Faculty of the Basque Country and kept studying editorial design and printing techniques. In the last years he could develop his artistic projects in diverse institutions of Spain and Germany such as Bilbao Arte Foundation, CIEC International Printmaking School, Alfara Gráfica and Druckwerkstatt Bethanien Berlin. At the moment combines his personal carreer as graphic artist and editor with the work at Wicked Print, a screen printing company based in Berlin Friedrichshain. With the idea of representating the conexions and relations of human beings and citizens, he often uses edited photographies to print on diverse supports such as paper, plywood and fabric. instagram.com/uurkixo
---
ABOUT THE HOST:
› WICKED PRINT is an independent Screen Printing company founded 2004 in Berlin. The business focusses on refining textiles by screen printing, designing and commercing with textiles. The company receives orders from individual as well as major customers out of the fashion, art and industrial area. We are happy to give you an insight to the possibilities of screen printing during our workshops.
Wicked Print is located in Kreutzigerstrasse 14-15 in 10247 Berlin-Friedrichshain.