Description
We are delighted to present a screening of this award-winning documentary introduced by the director himself, who will take questions afterwards.

Mohammed Alatar has said: 'From my house in Ramallah I can see how the Wall encircles the city, blocking our horizon and imposing itself on the way we live, move and exist. My first major film, The Iron Wall, was about this very subject. It was released a few months after the 2004 International Court of Justice's advisory opinion [that the Wall is illegal]. Then, I had hoped soon to see the dismantlement of the Wall. How naive I was.
'Many questions haunt me. What was the cause behind the international community's failure to uphold the legal obligations, including "to respect and to ensure respect of" international humanitarian law? How can two UN resolutions and an ICJ advisory opinion be so easily disregarded? Who is to be held responsible? What does the failure to implement these high-level decisions mean for international law and its relevance today? And where can the people whose lives were ruined by the Wall seek justice, and by which means?
'Broken is my attempt to address these questions.'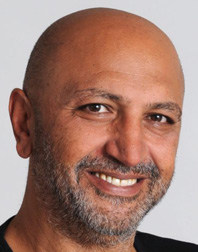 Mohammed Alatar is a leading Palestinian documentary director, though he sees himself more as a human-rights activist than as a filmmaker.

His films include The Iron Wall (2006) and Jerusalem… the East Side Story (2008). Broken won a Gold Award at the 2018 Spotlight Documentary Film Awards. Professor Avi Shlaim has called it 'a first-rate documentary that sheds a great deal of light on the intersection between law and politics'.