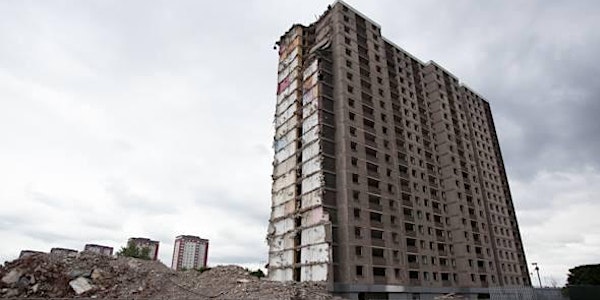 Screening of Dispossession: The Great Social Housing Swindle & discussion
Event Information
Location
Effraspace
21 Effra Parade
London
SW2 1PX
United Kingdom
DISPOSSESSION explores the agenda behind the neglect, demolition and regeneration of council estates in the U.K. over the past thirty years
About this event
'Dispossession: The Great Social Housing Swindle' is a feature documentary directed by Paul Sng and narrated by Maxine Peake.
This film reveals how individuals and communities are fighting against the state and private developers, as they try to save their homes from demolition, while investigating the decisions that turned a crisis into a tragedy.
Filmmaker Tom Cordell will chair a panel discussion and Q&A post screening with Save Cressingham Gardens campaigner/People's Audit member Tom Keene, social housing campaigner/renowned retired social housing architect Kate Macintosh, housing lawyer Jamie Burton, housing spokeswoman Clavia Chambers and trade unionist Simon Hannah.
In 2017 housing rose to the top of the British political agenda for the first time in a generation. But despite the media spotlight, few stories examined the catastrophic long-term failures that resulted in a chronic shortage of social housing in the United Kingdom.
Dispossession focuses on the neglect, demolition and regeneration of council estate such as Cressingham Gardens in Lambeth, Aylesbury and Heygate in Southwark, and investigates how the state works with the private sector to demolish council estates to build on the land they stand on, making properties that are unaffordable to the majority of people in the UK.
This is the story of people fighting for their communities, of people who know the difference between a house and a home, and who believe that housing is a human right, not an expensive luxury.
Panel Discussion & Q&A will follow screening chaired by social issues filmmaker Tom Cordell. Guest Speakers joining us on the night include.
Jamie Burton is a public interest lawyer with expertise in judicial review. He has acted in many cases concerning the provision of support and/or accommodation to vulnerable groups in society and has a thorough understanding of both central and local government's responsibilities in all areas of the welfare state. Jamie is a member of the Housing Lawyers Practitioner's Association and co-founder/Chair of Just Fair.
Clavia Chambers became a Housing Spokesperson after she and her 2 young children were evicted from their Brixton home in 2017. Clavia had gotten into rent arrears whilst waiting for mistakes to her Universal Credit claim to be corrected. Clavia was subsequently, denied any help on the grounds that she and her children were 'intentionally homeless'.
Tom Keene, Save Cressingham Gardens campaigner & Cressingham Gardens resident, creator of Database [e]State artist/activist-led research of housing databases and urban regeneration, member of The People's Audit.
Kate Macintosh is a retired architect who designed Dawson's Heights for Southwark Council and 269 Leigham Court Road for Lambeth Council, which was later listed by Historic England as a Grade II building. The complex was described at the time as "the London Borough of Lambeth's first wholly metric dwellings", while The Guardian dubbed it decades later "a modernist gem". 269 Leigham Court Road was renamed Macintosh Court in honour of its architect.
Simon Hannah is a trade unionist with Lambeth UNISON, author of 'A Party with Socialists in it'. He is currently working on Radical-Lambeth, the untold story of Lambeth in the 1980s.
Tom Cordell has a passion for social housing and London's architecture. In 2010, he directed Utopia London, a feature length documentary that explores London's recent architectural history. Tom set up Punchcard Pictures to pursue his own vision of how big films could be made in a small and ethical way.
(c) Image by Paul Sng
Admission open to ALL, non Labour Party members welcome.
SLFC is organised by Streatham Labour Political Education Officers to bring political education out into the community in a friendly, welcoming environment over a glass of whatever and some healthy fresh food.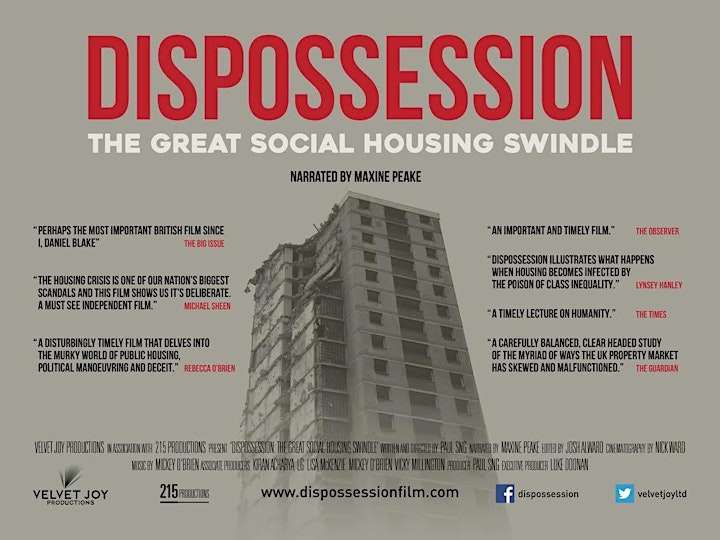 Date and time
Location
Effraspace
21 Effra Parade
London
SW2 1PX
United Kingdom