'Another Decade', 2018 and 'Surviving You, Always', 2020. Screenings and talk with Morgan Quaintance
About this event
Saturday 29 May 2021, 10am- 6pm for screenings with a talk by Morgan Quaintance between 1-3pm.
10am - 11am - film screening
11am - 12pm - film screening
12pm - 1pm - film screening
1pm - 3pm - Morgan Talk
3pm - 4pm - film screening
4pm - 5pm - film screening
5pm - 6pm - film screening
In between scheduled screenings of two films, Another Decade (2018) and Surviving You, Always (2020), Morgan Quaintance will lead an open discussion using, as a starting point, the practical conditions, and personal and professional obligations surrounding the production of both works. Central to the conversation will be questions of survival, energy conservation and maintaining inspiration within systems of constraint or potential liberation in the 2020s.
Another Decade 2018 (HD, 26:50)
Another Decade is a collage film that focuses on testimonies and statements made by artists, theorists and cultural producers in the 1990s that are still pertinent over two decades later. Propelled by the sense that very little socio-cultural or art-institutional change has taken place in the United Kingdom over the past two decades, the film suggests that the real cultural vibrancy of metropolitan life should have perhaps been the focus of previous academic efforts to speak truth to power.
Surviving You, Always 2020 (HD, 18:26)
Surviving You, Always brings together disparate elements into a mysterious and singular whole, which is fuelled by photos, celluloid, music and two texts that run in parallel with each other and are never afraid to drag you off in different directions at the same time, like a drug-induced trip that dissociates the mind from the body, like a snake writhing between the walls. It's a love story that is also a tale of fear, paranoia and longing, simultaneously functioning as an alternative history of the United Kingdom; here, politics is not mentioned explicitly, but everything is there, in the reels. (Credit: Punto de Vista prize jury)
Morgan Quaintance is a London-based writer and artist. Born in South London, he is a regular contributor to Art Monthly, and has written for The Guardian, The Wire and other publications. His moving image work has been exhibited widely, and was recently awarded the 2021 Jean Vigo Award for Best Director at Punto de Vista film festival, Spain.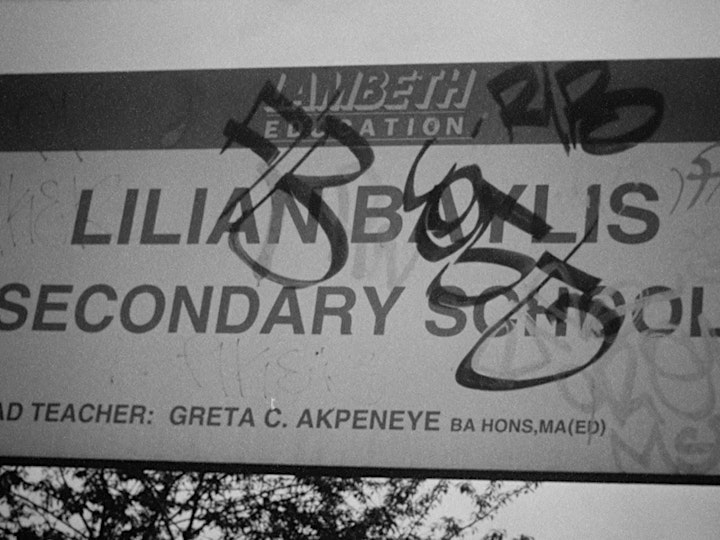 Image ID: A black and white photo of a secondary school sign that has been graffitied with thick, stylised writing. You can still read "Lambeth Education. Lilian Baylis. Secondary School. Teacher: Greta C. Akpeneye BA HONS, MA (ED)" under the graffiti.
Organiser of Screenings and talk with Morgan Quaintance
The Other MA (TOMA) is a 21st century art education programme shaped by its participants and designed to fit the everyday lives of contemporary artists. TOMA is currently the only postgraduate level art programme in Essex after all other were stopped by their host Universities. It was set up to offer responsive, affordable, accessible unaccredited art education to artists.
Founded in 2016 by Emma Edmondson TOMA was set up in partnership with Metal in Southend, working with them for an incubation period before becoming an independent not for profit. TOMA believes in life-long learning and aim to make the possibility of postgraduate style art education accessible to all. TOMA is artist-run and based in Southend-on-Sea.
* Website: www.toma-art.com * Instagram: @theotherma * Email: emma@toma-art.com