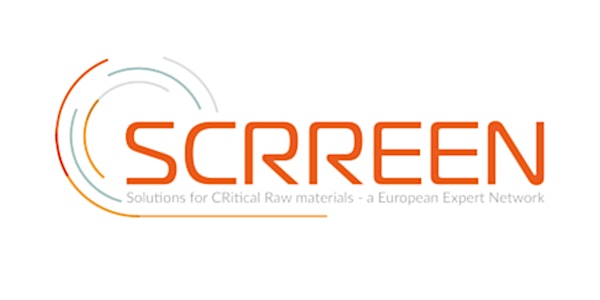 SCRREEN WEBINAR 2 of 2: Policy and economic outlook for CRMs and case studi...
Description
Webinar Date: 15th May 2019
Webinar Start Time: 12:00 (UK)
Background
Raw materials are crucial to Europe's economy and essential to maintaining and improving our quality of life. Securing reliable and unhindered access to certain raw materials is a growing concern within the EU and across the globe. To address this challenge, the European Commission has created a list of Critical Raw Materials (CRMs). CRMs combine a high economic importance to the EU with a high risk associated with their supply. Examples of CRMs include rare earth elements, cobalt and niobium but the latest list can be found
here
.
The overarching objective of the EU Project SCRREEN is to strengthen Europe's CRM Strategy. You can find out further information on the SCRREEN website
here
.
This is the second in a series of two webinars designed to inform on recommendations for policy intervention, give an overview of economic drivers for the substitution of critical raw materials, and two case studies on the opportunities and challenges within alloys and batteries.
The first webinar will look at briefly covering the historical and current situation regarding CRMs, as well as

substitution profiles of CRMs.
You can register for the first webinar
here.
---
Programme Agenda
Time
Presentation
Presenter
12:00 -12:02 Welcome and short introduction
Darren Hill, KTN
12:02 -12:20 Recommendations for policy intervention
Günter Tiess, Angelika Brechelmacher, Minpol
12:20 -12:35 Overview of economic drivers for substitution of CRMs
Marjaana Karhu,
VTT Technical Research Centre of Finland
12:35 -12:45
Substitution Case Study (Alloys) -
Opportunities and challenges in moving to a service-for-product model
Andrew Clifton, Rolls Royce
12:45 -12:55
Substitution Case Study (Batteries) -
Future opportunities for substitution of Cobalt
Guttorm Syvertsen-Wiig, Ceramic Powder Technology AS
12:55 -13:15 Q&A from audience
Peter Clark, KTN