About this Event
Course Description
In our 2-day Scrum@Scale® Practitioner course, based in the centre of Copenhagen, you will gain knowledge and skills to transform your organisation into an Agile enterprise! You will learn about the Scrum@Scale framework and how to apply fundamental Scrum product development skills to scale Scrum across multiple teams!
The interesting course is a combination of lectures, hands-on exercises, and real-world case studies. Your instructor is a S@S expert who has hands-on experience of delivering using Agile methodologies and leading Agile transformations in large scale organisations!
This 2-day course in Copenhagen is an English speaking class.
Organiser Information
This Scrum@Scale Practitioner course is organised and run by Edinburgh Agile.
For more information please don't hesitate to contact us...
Website: www.edinburghagile.com
Telephone: +44 (0) 78 434 90425
Text/SMS: +44 (0) 131 510 1217
Email: support [@] edinburghagile [dot] zendesk [dot] com
What is Scrum@Scale?
Scrum@Scale is an operating model and framework within which networks of Scrum Teams, operating consistently with the Scrum Guide, can address complex problems, while creatively delivering products of the highest possible value. These "products" may be hardware, software, complex integrated systems, processes, services, etc., depending upon the domain of the Scrum Teams.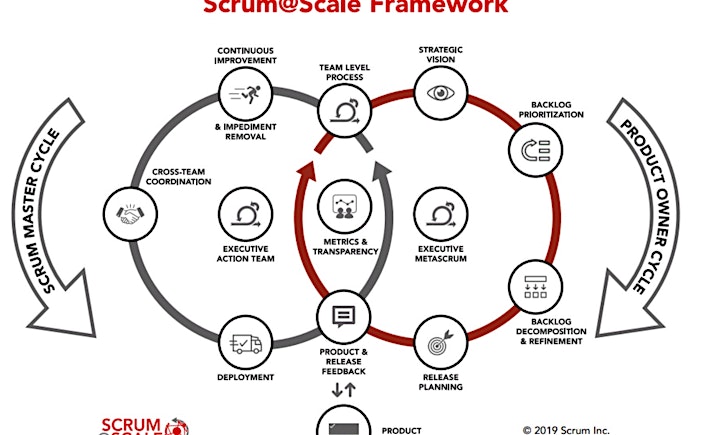 Why Scrum@Scale?
Scrum@Scale enables the transformation of every division, department, and service in any organisation and can efficiently coordinate an unlimited number of Scrum teams through its use of a "scale-free" architecture. Scrum@Scale naturally extends the core Scrum framework and was created by Dr. Jeff Sutherland, the co-creator of Scrum.
Benefits of Scrum@Scale Certification
As a Certified Scrum@Scale Practitioner you will be prepared to:
Facilitate cross team collaboration and release planning with tens, hundreds or thousands of people;
Create and prioritise a transformation Backlog to overcome impediments to scaling;
Measure and improve key Scrum metrics at an Enterprise level;
Deliver twice or more as much work without adding new teams.
The Scrum@Scale course teaches the responsibilities of the Scrum Master, Product Owner, individual Scrum teams, and enterprise leadership in a variety of large-scale contexts.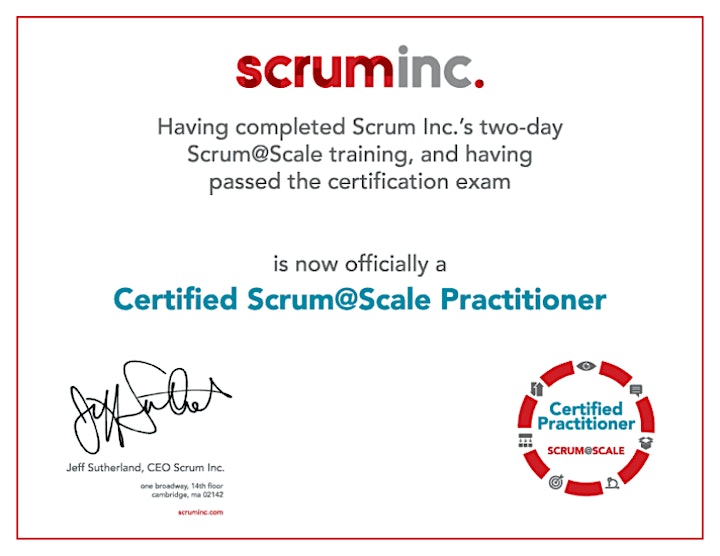 Earn Scrum Education Units (SEUs) and Professional Development Units (PDUs)
On completion of this course, and the official Scrum@Scale exam, Scrum Inc. will provide a Certified Scrum@Scale Practitioner certificate signed by the creator of Scrum. The Scrum Alliance has also approved Scrum@Scale as a Continuing Education course. You can get up to 16 Category B Scrum Education Units (SEUs) in addition to 16 Project Management Institute (PDUs) by participating in our two-day course.
What you will receive:
Two days of high-quality interactive instruction from one of our S@S experts who has been trained and certified by the co-creator of Scrum and creator of Scrum@Scale, Dr. Jeff Sutherland;
A detailed workbook and course materials;
Lunch;
Refreshments throughout the day;
Certified Scrum@Scale Practitioner certificate signed by the creator of Scrum (upon completion of the course and the official Scrum@Scale exam);
You can get up to 16 Category B Scrum Education Units® (SEU's) and Project Management Professionals® (PMP) can claim 16 PMI PDUs
Who should attend the Scrum@Scale Course?
The course is suitable for everyone who is about to start Scaling Scrum or has already gathered some experience and wants to deepen their understanding of large-scale Scrum. Including:
Organisation Leaders;
Product Managers;
Product Owners;
Scrum Masters;
Project Managers;
Agile Coaches;
Anyone interested in, working on or with, a large scale Scrum implementation.
Certified Scrum@Scale Practitioner Prerequisites
It is strongly recommended that you understand Scrum, and that you would have already taken a Scrum Master course (such as CSM or PSM), and/or be very familiar with Scrum introduction materials, such as the Scrum Guide.
Experience of practising Scrum highly recommended.
In order that you get the most from your training, we recommend that you read the Scrum@Scale Guide before attending the course to familiarise yourself with the framework.
Your Trainer
Paul Beckett is a Agile consultant with significant hands-on experience of Scrum and other Agile disciplines. He was extensively trained by Jeff Sutherland and other leading Scrum Inc. consultants in the details of the Scrum@Scale operating model and framework.
You can find out more about Paul at his LinkedIn profile: Click here for LinkedIn profile.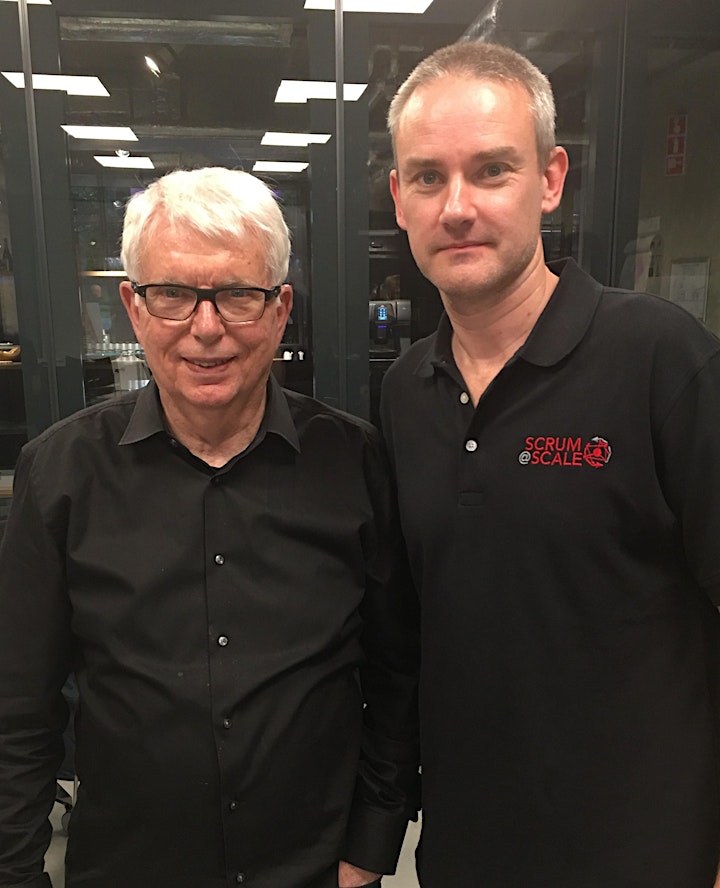 Course Venue
Our Scrum@Scale Practitioner in Copenhagen courses are conveniently located at the iconic Winghouse, Copenhagen.
Address: Winghouse, Ørestads Blvd. 73, 2300 København, Denmark
The training venue/hotel is ideally located to world-class transport links including direct routes to the airport, convenient bus services, and the railway station just five minutes away on foot. Winghouse is also moments away from retailers, restaurants, and hotels.
Copenhagen Airport is only 10 minutes from Winghouse (including a 5 minute was to Ørestads Train Station) via train or a 7 minute drive/taxi ride.
In addition, the historic centre of Copenhagen is only 11 minutes from Winghouse including a 5 minute was to Ørestads Train Station).