Description
We are running a scything workshop for beginners and refreshers as part of the 2019 Community Haystack on the Walthamstow Marshes. Use this Saturday morning to become familiar with the basics of scything, learn how to use the blade safely and efficiently and how not to strain your body.
The workshop is run by Master Scyther Ida Fabrizio, and will take place on the meadow land behind the picnic area opposite Springfield Marina.
Map and contact details for the day are below.
10.30am – 1pm
LEARN HOW TO SCYTHE WORKSHOP
.
1.00 – 5.00pm
ALL AFTERNOON
A large area of the marshes will be open to those who already know how to SCYTHE. Help us build a large HAYSTACK and kids can have fun in the HAY AND PLAY area. BRING YOUR OWN PIC-NIC.
.
2.00–3.30 pm
SCYTHING COMPETITION
We are running a scything competition on the marshes – sharpen your blades and join us for some urban mowing. Prizes from local food manufacturers.
.
1–2.30 pm
GET TO KNOW THE MARSHES
Join a guided tour around the marshes with park ranger Eamonn Lawlor and Herbalist Melissa Ronaldson from The Herbal Barge. Meet at Coppermill Cark Park.
.
5.00-10.00pm
TALK, DRINKS AND MUSIC
We are relocating to the pic-nic area next to Horse Shoe Bridge, where the Herbal Barge will be mooring, and serving drinks. Join us for an informal talk at 6.00pm about Nature Deficit Syndrome, doing things for the "good of the village" and urban foraging.
HOW TO GET THERE?
Community Haystack 2019 is taking place near the Springfield Marina on Walthamstow Marshes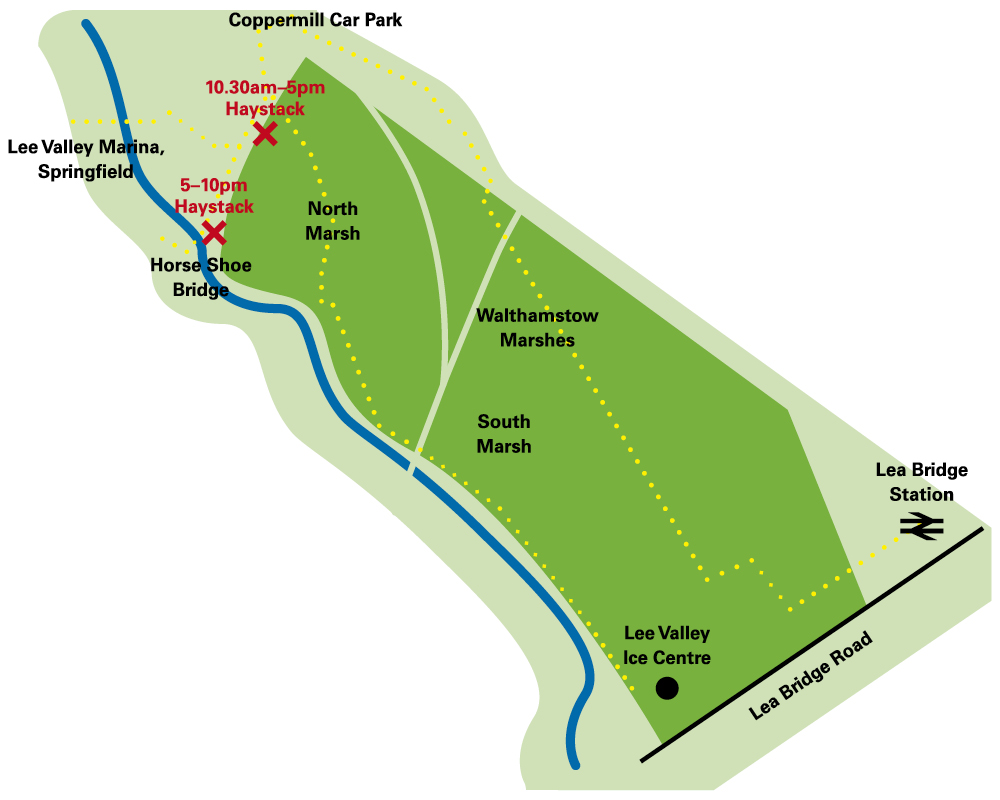 JOURNEY PLANNER
Rail: the nearest train stations are St. James, Clapton and Lea Bridge.
Bus: numbers 106 and 254 stop Clapton Library (10 min walk).
NOTE
There is no provision of toilets or drinks and food on site. Please use Lee Valley Ice Centre, Lee Valley Riding Centre or Springfield Café as the nearest facilities.
WEATHER
The event will take place whatever the weather.
Please follow the local weather forecast on the day and dress accordingly.
This event is organised by the east London based Community Haystacks Group together with Lee Valley
Regional Park's Rangers.


For information call 07941 696515 or e-mail kathrin@myvillages.org
Follow us on

Facebook @HaystacksE17
Twitter @HaystacksE17