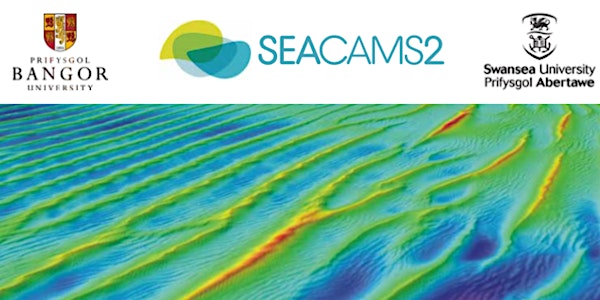 SEACAMS2 STAKEHOLDER WORKSHOP: 'Perspectives, Plans & Projects'
Location
Mercure Cardiff Holland House Hotel and Spa
24-26 Newport Road
Cardiff
CF24 0DD
United Kingdom
Description
SEACAMS2 STAKEHOLDER WORKSHOP: 'Perspectives, Plans & Projects'
WORKSHOP AIM
The workshop aim is to inform businesses and other stakeholders on recent progress in SEACAMS2 and to identify priorities for ongoing and future collaborative projects.
The objectives of the workshop are to:
Inform the sector of ongoing projects and technical and logistic resources available
Identify priority areas for future SEACAMS2 activity
Agree potential and actual collaborative projects for the final phase of SEACAMS2
WHY ARE WE HOLDING THE WORKSHOP?
SEACAMS2 is being extended by one year to July 2020 and this provides opportunities for new collaborative projects. We are keen to optimise the value of the extension to businesses in the sector and the best way to achieve this is through ongoing discussion with a broad spectrum of businesses and other stakeholders.
The aim is to identify opportunities and priorities, and to formulate a coordinated plan of action to maximise the gains to the sector.

The workshop will also provide stakeholders with information on the scope and depth of SEACAMS2 resources via examples of some recent and current collaborative projects and the iMarDIS data platform.
WHO SHOULD ATTEND?
Businesses operating in tidal range, tidal stream and wave energy sector in the maritime sector,
Consultants, advisors and regulators,
Researchers,
Marine data and information users and data managers.
WHY SHOULD YOU ATTEND
Explore and firm up specific collaborative projects that benefit individual businesses. Help formulate a strategy in a regional context that benefits the sector as a whole. Contribute to emerging strategies in post-Brexit investment regimes.
FURTHER INFORMATION AND CONTACTS
For further information about the workshop visit the SEACAMS website www.seacams.ac.uk or contact Colin Jago at Bangor University (c.f.jago@bangor.ac.uk) and/or Dave Clarke at Swansea University (d.r.k.clarke@swansea.ac.uk)

ACKNOWLEDGEMENTS
SEACAMS2 is a £17m project at Bangor and Swansea universities, part funded by the European Regional Development Fund through the Welsh Government.

WORKSHOP AGENDA

12:00 - 13:00 Lunch + staffed project displays 1: informal discussions

Themes for manned project displays:
- Oceanography: observations and modelling
- Seabed and intertidal morphology: multibeam mapping
- Product development and survey method/tool development
- Data storing, accessing, processing [iMardis]
- Materials, biofouling and ecological development
- Biosciences and consenting risks; seabirds; cetaceans; seals, fisheries, genetic survey tools.
- Marine ecosystem products & services
13:00 - 13:05 Introductions, housekeeping, aims of the day.
Structure of workshop:
- Initial presentations to inform attendees about our capabilities and current projects.
- Workshop / breakout sessions to develop views on priorities for the remaining 18 months.
- Opportunities for individual companies to discuss possible projects with SEACAMS lead staff.
13:05 - 13:50 SEACAMS2 Capabilities and capacities and examples of current projects:
Bangor- Prof. Colin Jago
Swansea - Dr David Clarke
13:50 - 14:00 Industry Overview – David Jones (Marine Energy Wales)

14:00 - 14:45 Breakout session 1.
14:45 - 15:30 Breakout session 2.
In each breakout session, attendees join 1 of 2 groups. Each attendee joins the other group at the end of session 1 so everyone can contribute to the 2 groups. Each group has an organiser (external to SEACAMS2) who covers both sessions and provides feedback to the plenary session later.
Group 1. Key operational priorities: strategic view, key areas of work, data and modelling gaps including site selection, site characterisation, dynamics, bathymetry, physical and biological impacts of structures, etc.
Group 2. Consenting challenges and knowledge gaps: physical/biological issues relating to seabirds, cetaceans, seals, fish; benthos: distribution; turbine interaction].
15:30 - 16:00 Tea and Coffee; staffed project displays 2: informal discussions
16:00 -17:00 Group feedback and plenary discussion. Group leads give feedback ; QA.
17:00 - 17:10 Close - Prof. Colin Jago
17.10 - end. Staffed project displays 3: informal discussions
Drinks reception and networking opportunities