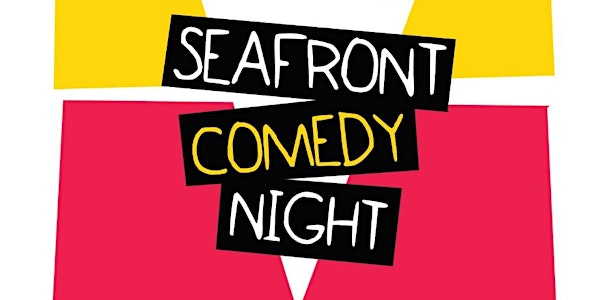 Seafront Comedy @ The Cellar Arts Club
Location
Cellar Arts Club
70 Marine Parade
Worthing
BN11 3QB
United Kingdom
Comedy Night THURSDAY 9th June 7:30pm @ The Cellar Arts Club
About this event
Seafront Comedy Night THURSDAY 12th May from 7:30pm@ The Cellar Arts Club
Mc Dan Farrdell
"One of the best new joke writers I've seen in ages. He has so many lines that make me think 'I wish I'd thought of that" Romesh Ranganathan "Writing with the efficiency of the slickest American comic" Steve Bennett, Chortle "An entire set of beautifully crafted individual gems" Adam Bloom
**Mad Ron
With his bald head, staring eyes and jacket; his writing is intelligent, the jokes are powerful and the pacing emphasised his status as a man who is doing things on his own terms. Mad Ron's is a delight from beginning to end.
Essex Comedian of the Year Final 2019 "Mad Ron kept the laughs rolling with his well constructed personae, superior improvisation, and some sublime throwaway gags" - Paul Golder (Pheonix FM)
Leicester Square New Comedian of The Year Final 2018 "First up was Mad Ron, an guff-talking, old-school London hardman. Think Hale and Pace's Bruiser The Management, if your memory goes back that far, who were also called Ron and Ron. Amid his threatening manner, this unapologetic wrong'un bemoans such new fangled developments as vaping or email, and has amusingly intolerant lines to explain why. It's a well-constructed, well-practised set providing a dependable, gag-focussed start to the night, if not quite the wow factor to make the podium" Steve Bennett (Chortle)
Leicester Comedy Festival 2018 "'Mad Ron' came next, and he appeared to be a fan favourite right from the word go. His persona was funny on its own, and his Phil Mitchell-esque voice and character makes him unique and he provides a different type of experience .......Ron was the only comedian who utilised any physical comedy, when using basic props briefly, and this was a very funny and subtle set up for his next punchline. ……. the punchlines of the hard man were well received. - Tyler Arthur (Leicestershire Press)"
**Kathryn Mather
"A revelation… The Rochdale comic does a fine line in lugubriousness (the accent helps) and has some imaginatively skewed takes on things. Perfectly delivered asides… She's very impressive" – The Wee Review
"The ultra-cynical Kathryn Mather… used to be a children's entertainer, and now seems to relish the chance to explore darker thoughts her old job would never allow. Her black humour certainly hit a chord with the room." – Chortle
"It's not controversy for controversy's sake, it's deftly handled and occasionally veers towards surreal." – Cup of Beans
"Mather, whose material is dark, sharp, largely unprintable and often downright bizarre. Her set was a crowd favourite, managing to never offend while delivering no-holds-barred material." –The Oxford Times
"Her delivery is very downbeat in style, but this comes across as naturalistic. The material was well written and it had a fresh feel to it. No one else is doing anything on welding or shipping losses and so this was a welcome change." – Notts Comedy Review
**Louise Atkinson
Tour support for Catherine Bohart and Sarah Keyworth, Louise has quickly established herself on the comedy scene as one of the ones to watch for the future.
Louise 'can certainly breathe life into any story' (Steve Bennett – Chortle), is very engaging to watch and has "A strong flavour of Victoria Wood" (Bruce Dessau.)
**Jamie Allerton
2016 Liverpool Echo New Comedian Finalist
2017 SYTYF semi-Finalist
2018 Max Turner Finalist
"Where the other stand up sets held the stage, he owned it. A flurry of energy with a clever routine" – Broadway Baby
**Currer Ball
Currer Ball is a Glaswegian stand-up comedian based in London.
Piccadilly New Act of the Year Finalist
He's been gigging for years in comedy clubs across the country and delivers one exquisite gag after another in a giddy, unique style.
"Slightly mental...very funny" The Guardian
"One to watch" Strathclyde Police
**Paul Griffiths
Paul's won loads of competitions. But none for comedy. If you want to follow him, don't. He won't like it. But he'd love you to come & buy beers & support the night. Plus he's got 2 and a half jokes that are quite funny.