Description
Seashells Build Bones - A conversation Starter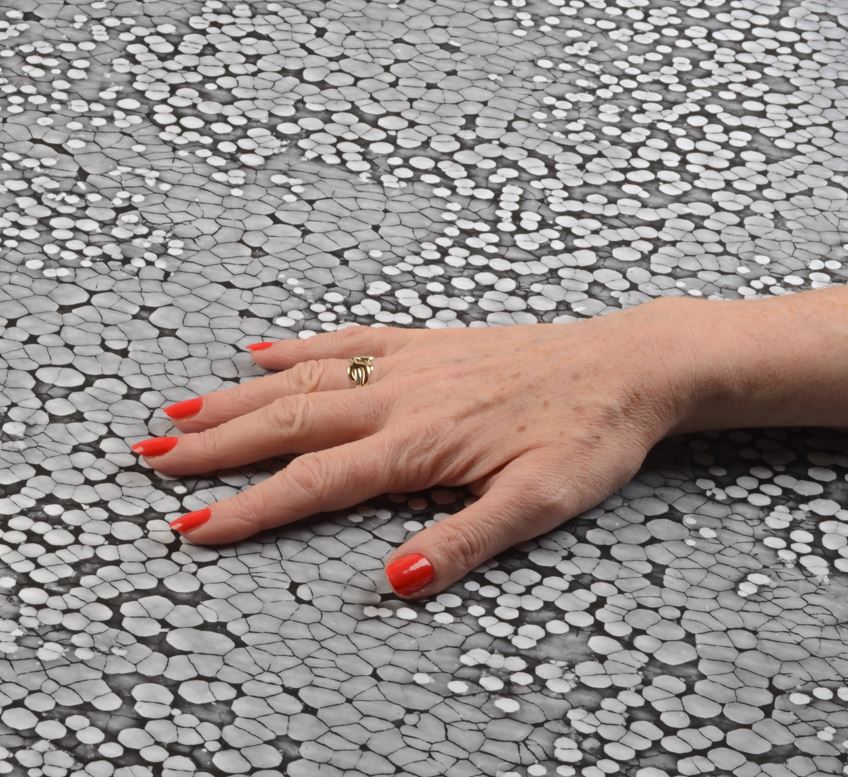 'Professor of Biominerals'', digital print by Rachel Duckhouse.
Seashells Build Bone
Biominerals expert Professor Maggie Cusack and visual artist Rachel Duckhouse will talk about their recent collaborative research project, an in-depth study of the nano-architecture of nacre (mother of pearl shell) as funded by The Leverhulme Trust.
Professor Cusack's ongoing research into biominerals and Rachel's research for printmaking and drawing projects both focus on the underlying patterns and structures of life. Their research began with the story of an ancient Mayan skull, which contained false teeth carved from an oyster shell. The shell teeth had been accepted by the jawbone, which had grown new bone, generated by its response to the shell.
The Leverhulme Trust funded artist residency enabled artist and scientist to explore the structural patterns within oyster shells using electron microscopy. Their collaboration focussed on the mysterious patterns that induce human stem cells to produce bone.
An exciting opportunity to hear from both Professor Cusack & Rachel Duckhouse as they discuss the origins of the collaboration; the Leverhulme Award that made it a reality; the process and benefits of working with each other, touching on why art is a good way to explain research and how else Rachel is using the art works. The talk will be followed by questions & answers and a walk through the exhibition of 'Seashells Build Bone' which is taking place in Macrobert Arts Centre between 10 April & 5th May: http://macrobertartscentre.org/event/rachel-duckhouse-seashells-build-bone/
To know more about the project, please visit: https://www.rachelduckhouse.co.uk/shell-meets-bone/
Speaker Biographies:

Professor Maggie Cusack: Maggie Cusack is Professor of Biomineralisation and Dean of Natural Sciences at the University of Stirling. Her biomineral research includes environmental aspects such as ocean acidification and climate proxies. In an MRC-funded project she investigated the response of human stem cells to nacre (mother of pearl) in bone formation.
Rachel Duckhouse: Rachel Duckhouse is a visual artist based in Glasgow. She works in a range of media including drawing and printmaking, exploring the patterns and systems in nature and the built environment. She has undertaken several research based artist residencies in the UK and abroad and has exhibited work in the UK and internationally.