Description
On Saturday the 18th of November, we go vegan under Clapham Junction's historic railway arches. Come join us in paying homage to the diversity of the ingredients yielded by the land alone.
For me, as a chef who grew up in an almost completely self-dependant village, it's also homage to approaching winter, when sheep stop giving us milk, and chickens laying eggs, and we start depending on pulses, seeds, berries, dried fruit, grains and vegetables of all kinds to provide us with everything we need.

Bring a bottle, kick back and rub shoulders with people you've never met, then half recognise, and will be slapping backs with by the end of the night. Each dish is served thick with stories of how its best made, the tweaks and contradictions in the development of the recipe and rural and urban tales surrounding it.
If you'd like to reserve a table & pay on the night instead, just shoot us an email on chef@damascuschef.com.

Menu below, to get your appetite going: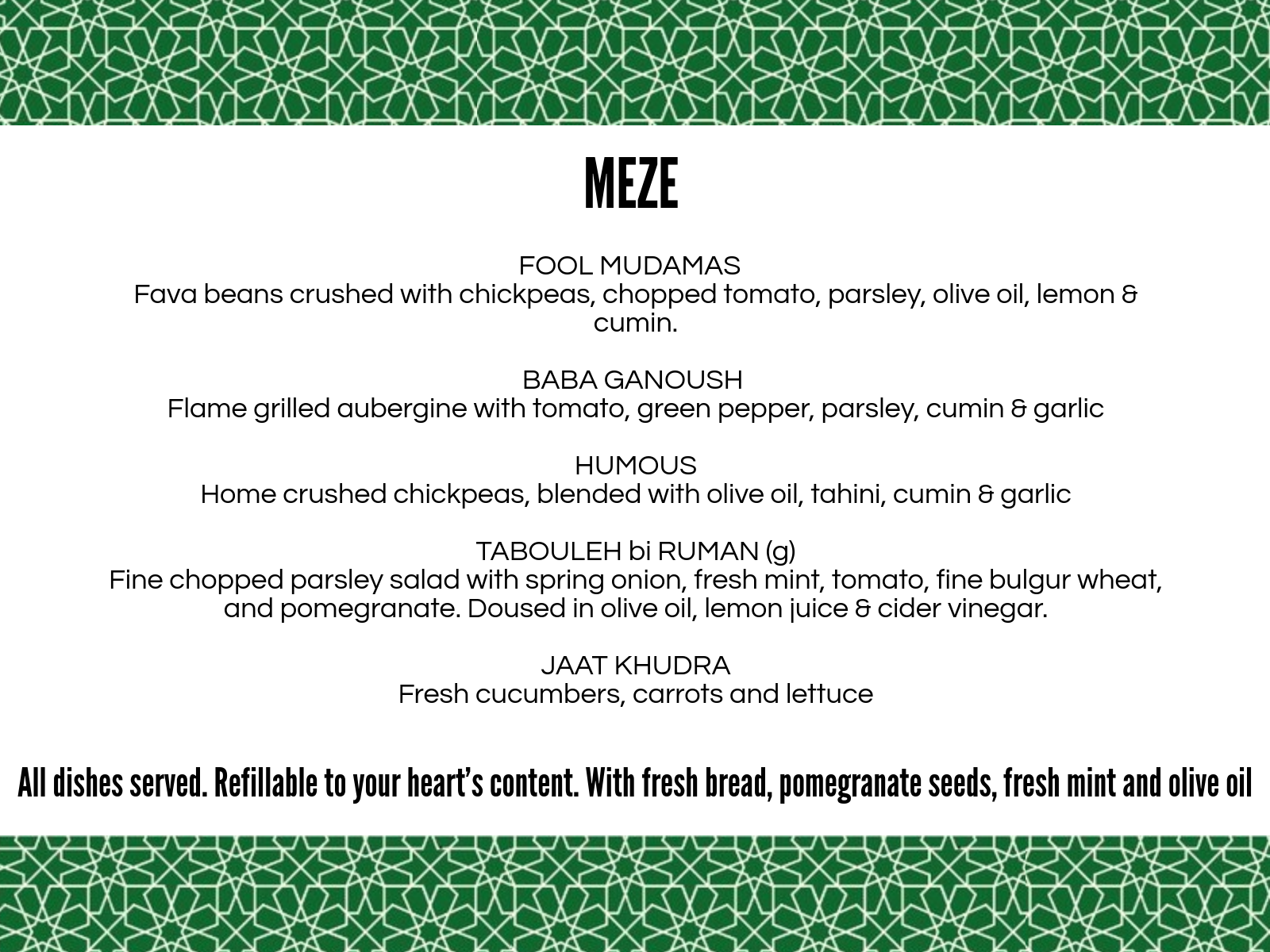 FAQs
What's the vibe like?
A great date spot - if you like a whimsical, dreamy, off-the-wall feel. We don't just attract couples though - a mixed bag of foodies, vegan and non-vegan, young and old, flock in from across London.
When you arrive, we'll ask you if you'd like to have a private table or sit with other guests supper-club style - on most nights, there's plenty of both to choose from.
What do we get?
All five hand-crafted meze dishes refilled to your heart's delight, a main dish of your choice, dessert and fresh tea throughout the night.

Drinks?
Bring a bottle of what you like best to accompany supper, and don't worry about corkage charges, we won't be charging anything extra on top of your ticket price. We'd recommend rich reds and light beers. Devotion isn't licensed, so we won't be selling any alcohol on the night, but you can always pick up a masterful espresso, house brewed tea or a craft juice on the night.
When shall we turn up?
Come by within half an hour of your booking time - if you reckon you'll be any later, just shoot us an email on chef@damascuschef.com.
Will you be doing takeaway?
To keep the evening extra unique, and make sure all our focus is with everyone sitting down, we won't be doing hot food to take away on, but we'll have our cooled, packaged and labelled meze to hand on the day, for you to buy and stock up your fridge with.

What about allergies?
Everything on the menu is vegan - completely meat, dairy, egg and honey free. Of the major allergens, Fool Mudamas and Humous contain sesame, and Tabouleh contains gluten. Please give us a call on 07884936910, or email us on chef@damascuschef.com to discuss severe allergies before booking. Please also mention latex allergies, as we sometimes use latex gloves when serving. Let us know if you'd like gluten free bread to eat alongside your meze, your Hara Bisbao without the croutons or your Bamiya ma Burghal without the bulgar wheat, and we can arrange that too.
When shall we turn up?
Don't worry about turning up a little (i.e. less than 1/2 hr) late for your booking - but bear in mind that you may need to wait if you turn up early. It'd be great if you could let us know by text or email if you think you'll be later than 1/2 hour late. For general questions in the run up to the night call the chef on 07455172017 or drop us a line at chef@damascuschef.com.
Parking?
Devotion doesn't have a dedicated parking area. Parking is free for two hours (and £2 for 3 hours) at the nearby Asda at 204 Lavender Hill.

Trains?
The nearest station is Clapham Junction - Devotion is less than a minute's walk from the St John's Hill exit - snuggled right under the railway arches.
Can we come with friends who won't be eating?
As Devotion's an intimate and vibrant place, and this one's long-awaited, we're only selling tickets for people who'll be eating.

Ophs, I can't make it after all
Let us know at least a day in advance and we'll refund you or take the money off a booking for our regular Friday evening popup at the Good Hope, Hither Green Lane, se13 6rt. You can also request a refund directly from Eventbrite up to 24 hours before the event.