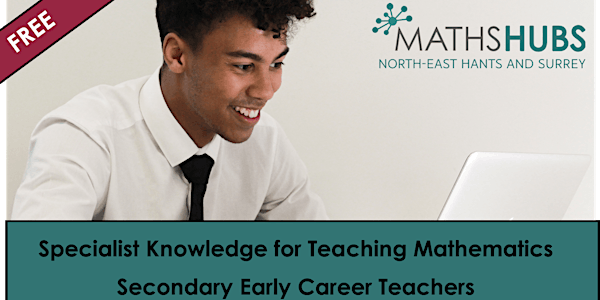 Secondary Specialist Knowledge Teaching Mathematics Early Career Teachers
Free Specialist Knowledge for Teaching Mathematics programme for Early Career Teachers This x Session programme is
About this event
This programme is designed to support secondary early career teachers (teachers in their first two years of teaching) in developing specialist knowledge for teaching mathematics, thus enabling them to understand, teach and support pupils in maths in the classroom.
Work Groups will explore designing effective learning and teaching in maths with the key focus on Multiplicative Reasoning.
Participants will work deeply on one area drawing in the associated pedagogy, and activities will include lesson analysis and lesson design.
Sessions take place at St John the Baptist School Woking plus 2 online sessions via Zoom:
All Wednesdays:
17 November 2021 1.00- 5.00pm at SJB
8 December 2021: 3.45 - 5.15pm Online
5 January 2022: 1.00- 5.00pm at SJB
9 February 2022: 1.00 - 5.00pm at SJB
9 March 2022 - 1.00 - 5.00pm at SJB
20 April 2022: 3.45 - 5.15pm Online
Please ensure that you can attend all session dates before signing up to this course.
Places are expected to go quickly so sign up now to avoid disappointment. 
All registrants will be required to join an NCETM Basecamp online community for this Work Group in order to access resources and information. Please ensure you tick the box to confirm this when you register.
As with all our Free or Funded Maths Hub Work Groups and programmes, we are funded by the Department for Education and therefore prioritise State Funded schools.