Eventinformationen
Veranstaltungsort
ELISH HOUSE OSLO
Marstrandgata 9
0566 Grünerløkka
Norway
Find your coolest secondhand & vintage item every Sunday @ No more waste " Secondhand & Vintage Sunday's Sale"
Zu diesem Event
What could be better than throwing it back a few decades while shopping sustainably and environmentally friendly? When we do vintage, we help recycle and reuse clothing that would otherwise end up in landfills. You know what they say: one person's trash is another person's treasure, and in this case, you may find a closet full of vintage jewellery that will last for years to come.
Social Media:
https://fb.me/e/14JdY2pzF
https://www.facebook.com/Good-Good-Oslo-104361845038294
https://www.facebook.com/Elish-House-Oslo-102094331874381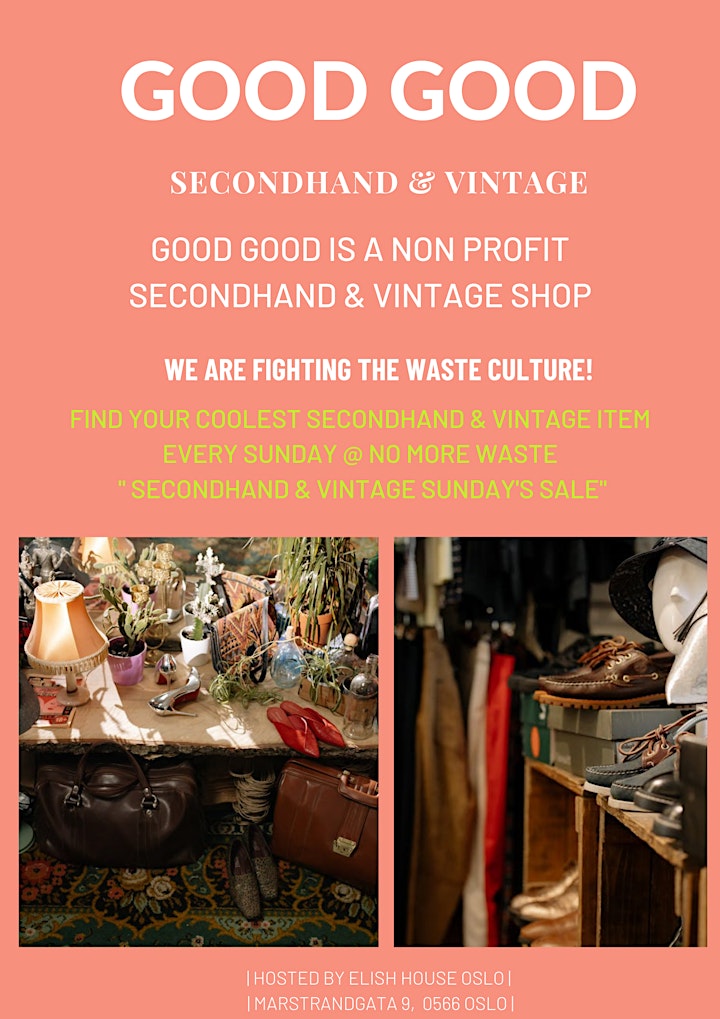 Datum und Uhrzeit
Veranstaltungsort
ELISH HOUSE OSLO
Marstrandgata 9
0566 Grünerløkka
Norway
Veranstalter von Secondhand & Vintage Sunday's Market
WHAT WE FOCUS ON:

ELISH EVENTS

With over 12 years of experience, we have developed a rich knowledge and understanding of the arts & culture, entertainment, events and hospitality world resulting in our reputation for creating truly unforgettable moments.

We are storytellers, believing that the experience of an event can have a major impact on guests, it is our mission to ensure each and every event is thoughtfully produced and curated to create a moment that forges lifelong impressions.

We strategize, conceptualize, curate, design and develop different concepts to produce extraordinary events results.

Benefit from our networks:

As an event production agency, we do not see ourselves as a pure "event service provider", but rather as a "connector" to the respective end-customers, whom we can invite to our respective database from our extensive database.

 --

WHAT WE OFFER:

Elish Events - Your Full-Service Events Production Boutique, with associates of industry best firms.

From the development and realization of exclusive event concepts to innovative PR & promotion campaigns with a unique team of concept Designers, Hostesses, and Promoters, Graphics & Multimedia Department, Photo, Video & Film Productions, Event Design & Styling, and Event Decor to a Catering Company Platform.

Elish Events offers all facets and services from a single source.

Thanks to many years of experience, professionalism and a strong network of partners, we offer our customers real added value and realize actual "Return of Invests" for you.

We offer sophisticated service that leaves a lasting impression, not only on you but also on your guests. The application possibilities of our team are versatile and can be individually adapted to all customer requirements.

As a full-service boutique with associates of industry best firms, we are able to provide our customers with efficient and targeted total solutions. Every project can be planned holistically as well as on budget in the conception phase in order to perfectly implement the challenges of our customers. We are happy to advise you in detail so that your project reaches the "Next Level"!

--

Elish Events is a full-service event entertainment company with associations and corporations with industry best firms such as:

Elish Catering, a full-service Catering Company.

Elish Hub, Creative Business Center.

Elish House, Creative Spaces

Shohamû Eats & Drinks, Organic Fusion Super Foods & Drinks.