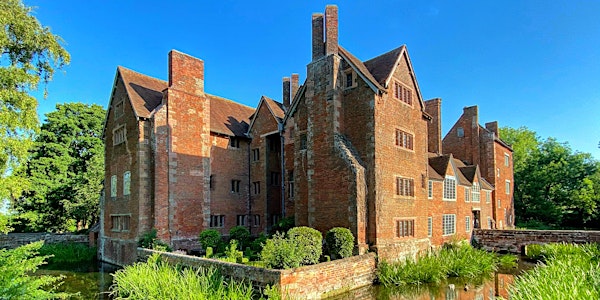 Secrecy and Subterfuge: Catholic Life in Early Modern England
Event Information
Location
Harvington Hall
Harvington Hall Lane
Harvington
DY10 4LR
United Kingdom
Refund policy
Contact the organiser to request a refund.
Eventbrite's fee is nonrefundable.
Exploring the 'underground' world of Elizabethan Catholic priests.
About this event
This event will be held at Harvington Hall and will include the chance to see the Hall and its priest hides - https://www.harvingtonhall.co.uk
Please note that the afternoon talks will take place in the Great Chamber, situated on the first floor of the Hall. Please be aware that site access for wheelchairs is to the ground floor and gardens only.
Refreshments/light lunch's can be obtained on the day from the on-site café or can be ordered in advance from: https://www.malthouseharvingtonhall.co.uk - please quote 'Secrecy and Subterfuge - 3rd May Event' when booking
PROGRAMME
10.00 Mass in St Mary's Church (celebrant Mgr John Moran, priest of Harvington)
10.45 Introduction by Michael Hodgetts to The Elizabethan Catholic Underground
12.00-1.45 Opportunity to obtain refreshments/light lunch, and to have a guided tour of Harvington Hall, including the priest hides, in small groups.
2.00-3.00 Talk by Dr Sarah Johanesen - Priestly Disguise and Anti-Popery on the English Mission (1569-1640)
Disguise was essential for gaining access to Roman Catholic sacraments in post-Reformation England. This article considers the role of such non-devotional matter in both confessional conflict and Catholic religious life. It discusses how the materials and language of clothing, accessories, and personal appearance were used against Catholics, to emphasize the threat they posed. It then analyses how anti-papal narratives compared to the reality of Catholic disguise strategies, before demonstrating how those strategies complicated Catholic self-representation. Both in conflict with Protestants and other Catholics, appearance could become a political weapon.
3.00 -4.00 Talk by Dr Alison Shell - Disguise and Concealment in Stuart Catholic Drama
Jesuits believed that drama and performance could be a way of making divine dictates visible. Theatrical presentations were central to their missionary endeavour across Europe, posing a striking contrast to the suspicion of theatre so widespread among religious and moral commentators in the early modern era. On the English mission they were associated with, and may have actually staged, 'personated apparitions' mounted by actors posing as supernatural beings, intended to encourage the viewer towards a particular course of action. This fed into a wider association of Jesuits and other Catholics with disguise and concealment: morally compromising, but a necessity for priests operating undercover. These tensions are explored in a group of plays written by English Catholic priests and seminarians in the early seventeenth century.
SPEAKERS
Michael Hodgetts Reader in Ecclesiastical History, Maryvale Institute; editor, Midland Catholic History and author of Secret Hiding Places (Veritas, 1989)
Sarah Johanesen is Lecturer in Early Modern History at the University of Manchester. She completed her PhD at King's College London in 2020, on the politics of Catholic-owned objects and materials in post-Reformation England. Her talk today draws on her article, ''That silken Priest': Catholic disguise and anti-popery on the English Mission (1569–1640)', which won the Sir John Neale Prize in Early Modern History (2019).
Alison Shell is Professor of Early Modern Studies in the Department of English Language and Literature at University College London. She is the author of Catholicism, Controversy and the English Literary Imagination, 1558-1660 (1999), Oral Culture and Catholicism in Early Modern England (2007) and Shakespeare and Religion (2010). Her talk will draw on work done on British Counter-Reformation drama during a Leverhulme Major Research Fellowship, which she has just completed.
Date and time
Location
Harvington Hall
Harvington Hall Lane
Harvington
DY10 4LR
United Kingdom
Refund policy
Contact the organiser to request a refund.
Eventbrite's fee is nonrefundable.