Description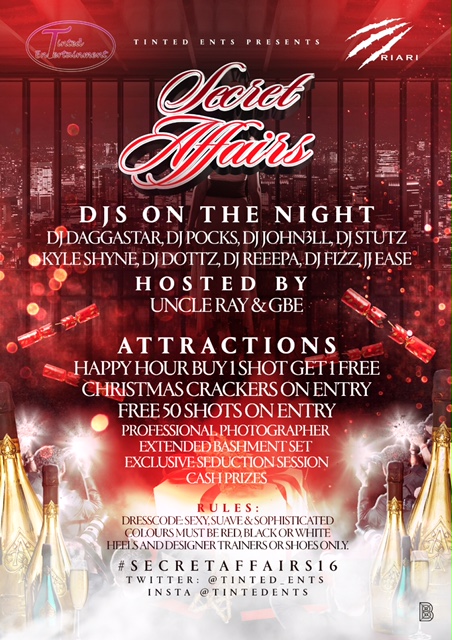 Tinted Entertainments is returning to Birmingham this December after the successful Freaky Freshers.
Secret Afffairs is bringing a touch of class to 0121.
The question is; Can 0121 keep a secret?
This event is exclusive to only a limited number of people and will gaurantee to sell out.
So will you be amongst the lucky people to get a ticket in time for the event?
Bringing you only the finest Dj's in Bashment, Hip hop, Trap, Afrobeats, RnB and many more.
There will be three rooms availible on the night. One being a VIP room.
The VIP Room is situated above the main dancefloor for those wanting a more luxourious setting.
The soundproof VIP Room consists of its own bar and personal DJ, complimented by transparent glass allowing a great view of the venue.
Dresscode is Sexy, Sauve & Sophisticated.
Strictly a choice of three colours: Red, Black & White.
Ladies: Dress & Heels
Gentlemen: Shoes or Designers ONLY (Shirts recommended)
Rules: NO HOODS, HATS, TRAINERS & CHAINS.
Cash Prizes available on the night for best dressed and many more competitions.
Doors shut at 1am. No entry after 1am.