Description
Hello Friends of MonaLysa and Secrets Live. Due to unforeseen circumstances there will be no Live music at the venue tonight. We have tried everything in our power for it to be possible for the band to play this evening but it is totally out of our control!
Now all is not lost.. We will still be having DJ's there playing rnb, hip hop, Afrobeats and the likes.
So you are more than welcome to join the secrets party.
However if you really wanted to see the live acts more than anything. We are happy to refund your ticket!
Please contact us before Monday midday and we can do this for you.
Again many thanks
And we'll see you all soon!
MonaLysa
Are you tired of the same party scene and want something different?

A place filled with sophistication and class, overzealous cocktails and drinks with 'good feel' music to boot, you are going to be taken on a journey, a journey you won't want to end!!!! A place that encompasses a varied style and programme of traditional and modern Jazz style, Neo soul, Soulful RnB and HipHop music with the occasional inclusion of artists from the UK, USA and beyond

Can you picture it yet?... Good, join us on Saturday the 16th of July as we Launch SECRETS...THE LIVE EDITION @CECILS Bar to see how all this wonderment plays out LIVE!


doors 7pm
happy hour 7pm-9pm
DJ's all the way till 3am

Tickets £5 early bird then £10, £15 at the door.

Live music & DJ Hey Essay DJ Dave Knight and other guest DJ'S on rotation playing the best Soulful Jazz, Neo Soul, RNB and HipHop.

SECRETS will surely be a night to remember.. For tables, guest list, bookings and Info, contact Simone
sales@socialysa.com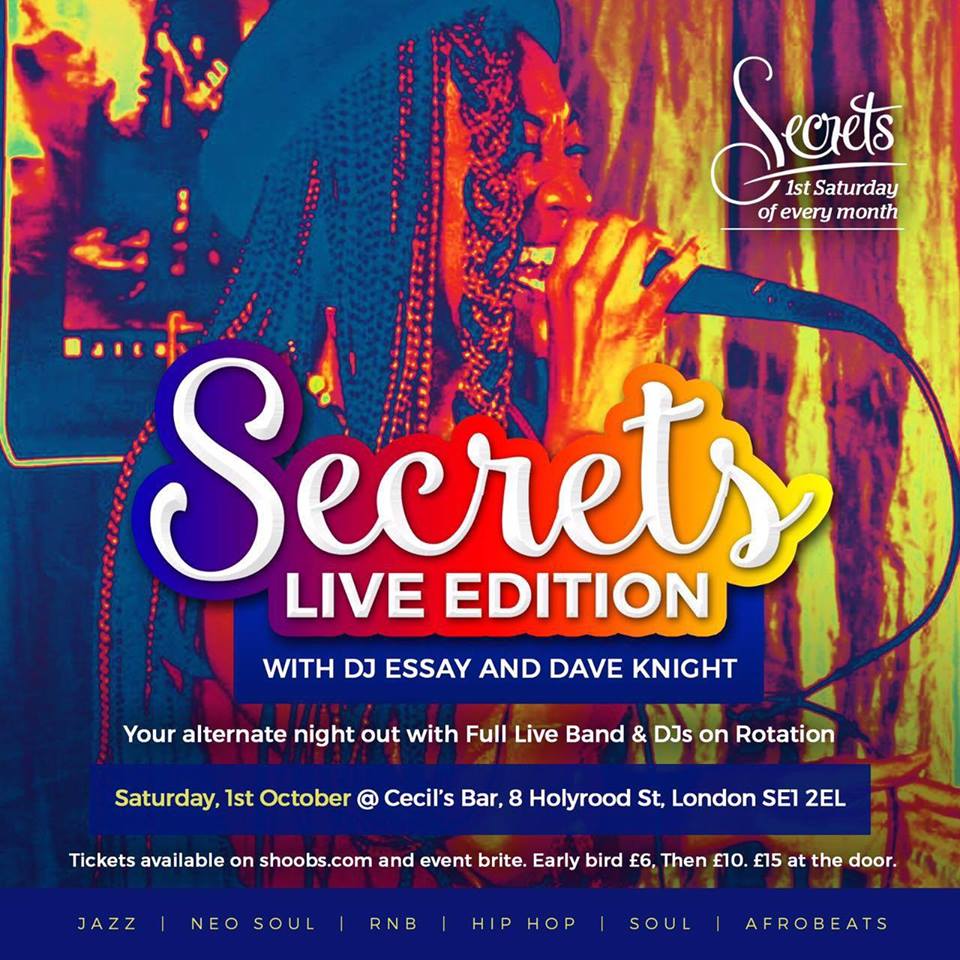 We look forward to hosting you.