About this Event
Secrets of Simple Graphics
Secrets of Simple Graphics has been running successfully as an open course in Edinburgh for the past five years. The world is changing, and we're changing with it and I'm excited to now be able to offer you Secrets of Simple Graphics Online Course!
This course will run over 6 weeks, starting on Tuesday 29th September.
Communicate with impact using the power of hand drawn visuals.
Are you looking for fresh, innovative ways to get your message across?
Do you wish to improve communication and engagement with those around you?
Are you fed up with the same old PowerPoint slides and boring flip charts?
It's time to end 'death by Powerpoint'!
Hand drawn visuals are a unique and captivating way to transform how you communicate with others. Here are just some of the benefits:
Enhance engagement and participation in your meetings and workshops
Boost learning for visual thinkers (over 80% of people)
Increase group memory
Bring colour, fun and energy into your work with groups
Liven up written documents and reports with custom illustrations
Stand out and get noticed for what you do
Over the 6 weeks you will discover the secrets of simple graphics and learn:
The 'building blocks' of graphics – lettering, people, icons, text containers and more
The four main ways of working visually
The difference between graphic recording and graphic facilitation (and when to use each)
How to use 'elements' to create simple images quickly
Different visual formats
How to create a one page 'push piece' to use for training, meetings or events
Tons of ideas for your next presentation, workshop or training session
All sessions are recorded so you can review what you've learned at any point, and will have a chance to catch up if you can't make a live session.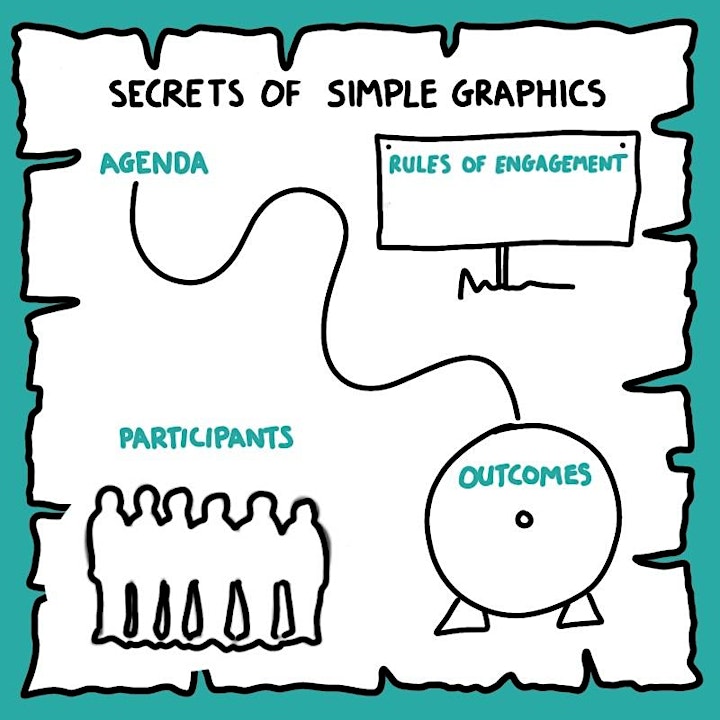 Meet your trainer:
An enthusiastic trainer and graphic facilitator, Emer is passionate about using visuals in all aspects of her work to draw out ideas, boost learning, and increase participation.
She believes that the power of visuals helps not only to create an engaging and creative learning environment, but also helps groups and organisations get their message across in a captivating and effective way.
This really isn't about art!
Absolutely anyone can build up the skills required to create graphics. It's amazing how quickly confidence and ability increases once the foundations of good graphics are learned and practiced.
The training is inclusive, interactive and fun.
A safe and relaxed environment is created to support your learning and give you the opportunity to practice your new skills as you learn them.
No experience is required. If you haven't drawn a stick man since you were in primary school that's probably an advantage.
By the end of the course you will:
Feel confident about creating your own graphics
Understand how to use graphics in a variety of contexts
Have loads of ideas for your next presentation, meeting or workshop
Course contact info:
Cancellation policy: Places cancelled are not entitled to a refund, however may be transferred to another person from the same organisation or moved to a future course date.
Questions about the course?
Contact Emer O'Leary on emer@emeroleary.com or 0131 554 6551.
What others say:
'I would highly recommend Emer's 6 week virtual simple graphics course. I've wanted to do this for a while but could never make the face-face days – this format enabled me to take part in a way that fitted around my other commitments. Emer is a superb facilitator, and takes you through a clearly structured process, whilst really building your confidence and courage to draw and to then share your drawings. I thoroughly enjoyed it and am now finding myself finding opportunities to use graphics whenever I can!'
- Emily Hutchinson, Occupational Psychologist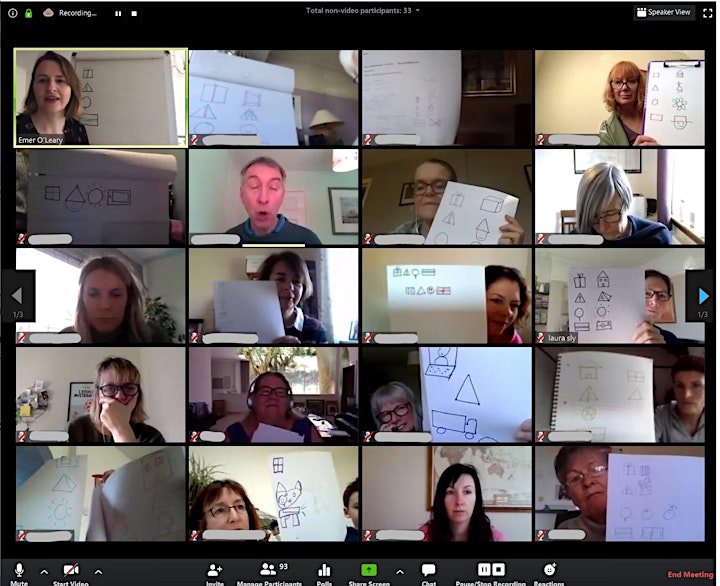 Date and Time
Location
Refund Policy