Location
Edinburgh Training and Conference Venue
16 St Mary's Street
Edinburgh
EH1 1SU
United Kingdom
Description
Secrets of Simple Graphics
Communicate with impact using the power of hand drawn visuals
A one day open course for trainers, facilitators and presenters
Are you looking for fresh, innovative ways to get your message across?

Do you wish to improve communication and engagement with those around you?

Are you fed up with the same old PowerPoint slides and boring flipcharts?
It's time to end 'death by Powerpoint'!
Hand drawn visuals are a unique and captivating way to transform how you communicate with others. Here are just some of the benefits:
Enhance engagement and participation in your meetings and workshops

Boost learning for visual thinkers (over 80% of people)

Increase group memory

Bring colour, fun and energy into your work with groups
Liven up written documents and reports with custom illustrations
Stand out and get noticed for what you do

'The course was fantastic – really inspiring and instilled confidence that you can use graphics in your own workplace – no matter what your intended audience.'

Alison Marron, Solicitor | Scottish Legal Complaints Commission
Discover the secrets of simple graphics and learn…
The 'building blocks' of graphics – lettering, people, icons, text containers and more
The four main ways of working visually
The difference between graphic recording and graphic facilitation (and when to use each)
How to use 'elements' to create simple images quickly
Different visual formats
How to create a one page 'push piece' to use for training, meetings or events
Tons of ideas for your next presentation, workshop or training session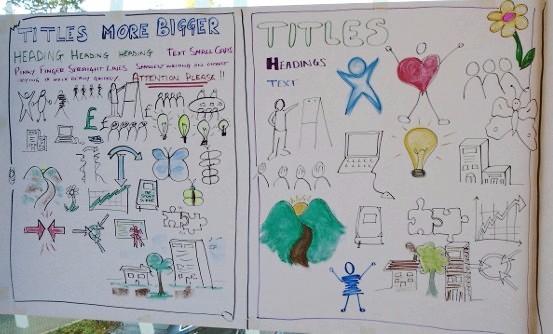 'Thanks again for undoubtedly the most fun CPD course I have ever attended! I really appreciated: that you got us all involved right from the start by asking us how the workshop should operate; the opportunity to practise new skills as we learned them; and to work together and share so much with fellow coursemates. I will most definitely be 'borrowing'facilitation ideas for the future too. The graphics library, skills and confidence developed in just one day will be put to good use in my role as training officer for Scotland's Urban Past and in my volunteering activities. In fact, I'm on duty this week as run director at Victoria parkrun Glasgow and have made an 'infodoodle' to help our volunteer recruitment on Facebook and Twitter. Hopefully the runners and volunteers will understand and like it! All the best and many thanks again for a top day – I have rediscovered my drawing mojo!'
Dr Nicky Imrie, Training Officer | Scotland's Urban Past
Meet Your Trainer:
An enthusiastic trainer and graphic facilitator, Emer is passionate about using visuals in all aspects of her work to draw out ideas, boost learning, and increase participation.
She believes that the power of visuals helps not only to create an engaging and creative learning environment, but also helps groups and organisations get their message across in a captivating and effective way.
This really isn't about art!
Absolutely anyone can build up the skills required to create graphics. It's amazing how quickly confidence and ability increases once the foundations of good graphics are learned and practiced.

The training is inclusive, interactive and fun.

A safe and relaxed environment is created to support your learning and give you the opportunity to practice your new skills as you learn them.
No experience is required. If you haven't drawn a stick man since you were in primary school that's probably an advantage.
'You don't need to draw to do the course – it is totally true. At the start of the day no-one wanted to do anything on a flipchart but by 4pm the pens were not for being put down! Really useful tips and tools for using in work'
Audrey MacNeill, Administrator |Kinharvie Institute
'I really enjoyed the session: the creative activities, the facilitation style and the innovative and safe environment were just perfect! I also learned a lot of new techniques and loved the group exercises! The right balance between theory and practice!'
Giulia Lucchini, Learning and Development Adviser | City of Edinburgh Council
By the end of the course you will:
Feel confident about creating your own graphics

Understand how to use graphics in a variety of contexts

Have loads of ideas for your next presentation, meeting or workshop

Be hooked on the joys of working visually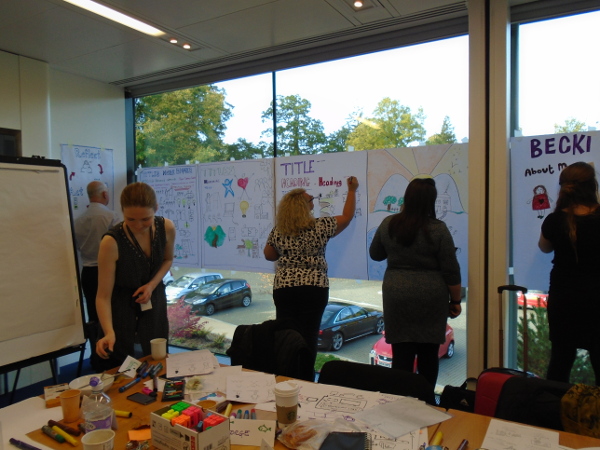 'Fun, energetic, well-paced, interactive with much supportive learning, Emer's practical workshop has inspired me to unashamedly introduce graphics to my workshops.
Emer gently challenged and cajoled the lively group to try it out for ourselves and experiment with drawing and colouring techniques. I also enjoyed taking away the Mindful Focus on Palm exercise which I have used with delegates since Emer's workshop.
I felt Emer was very inclusive with the group and dealt with the more vocal delegates calmly, encouraging the quieter delegates to feel included and listened to. I loved the simplicity of pen on paper and have noticed how effective that is becoming for me.
All in all, I recommend this workshop to inspire creative training; note taking and to challenge people to stretch out with those self-defined comfort zones!'
Eimear Stassin, Training Consultant | Standard Life
'Was a great day of experiencing the joy and fun of incorporating graphics into my workaday environment. A breath of fresh air in a very word oriented world!'
Tony Young, Voices Scotland Trainer | Chest, Heart, Stroke Scotland
'I really enjoyed the chance to do something creative. I have already mentioned the course to a few colleagues and would not hesitate to recommend it to anyone. Whilst I came along thinking mainly about using the techniques for facilitation or recording with project groups, I left with ideas around using graphics internally as a planning tool and to help inject energy to team meetings. My daughter loved the star people I showed her and is now drawing them too. The list is endless!'
Diane Wilson, Programme Development Officer | Voluntary Action Fund
BOOK NOW BY SELECTING YOUR TICKET FROM THE OPTIONS ABOVE
Please note: the cost for a place on the course includes a three course lunch and refreshments, as well as breakfast for those who wish to arrive before the course starts!
Cancellation policy: Places cancelled up to two weeks before the course are not entitled to a refund, however may be transferred to another person from the same organisation or moved to a future course date.
Questions about the course?
Contact Emer O'Leary on emer@emeroleary.com or 0131 226 1637.