Secure your business, secure your Intellectual property

Friday, 15 September 2017 from 09:00 to 11:00 (BST)
Event Details
Secure Your Intellectual Property, Secure Your Business
The most valuable property your business might have is 'Intellectual Property' (IP). We live in a global economy that is largely intangible and centres on ideas.  However, ideas on their own have little value.
The successful businesses that make money are those that can turn their ideas into products and services, creating powerful IP in the process.
If you think Intellectual Property doesn't mean anything, then think about why half the value of Coca Cola is attributed to its intellectual property. The fortunes generated by Facebook, Lego and Amazon are largely driven by their IP.
Many SMEs spend hours trying to develop their businesses without spending any time at all considering what is involved in creating valuable IP, and securing a good sale. 
Bear in mind that raising investments or selling your company will bring into question this crucial topic. Investors and purchasers will have a very different view from what you see as they will be valuing your business based around the intellectual property it holds.
And ignoring IP puts your revenues, and assets at risk, quite regardless of the possible impact on its value.
This seminar will help you to better understand, and what is involved to secure your IP so as to maximise the potential of your business.
What does the seminar cover?
What you can and can't protect – the limits of IP

Why trade marks matter whether or not you're aiming to create a brand.

The 20% of actions you can take that give you 80% of the IP protection you need.

Real case studies and the learning points
Who should attend?
This session is for the owners and leaders of SMEs and early stage businesses. If you have aspirations for your business you probably have legal issues you need to know more about.
Who's Presenting?
The session is presented by Shireen Smith who is the author of the books "Intellectual Property Revolution" and "Legally Branded". Shireen is the founder of Azrights has an extensive background in identifying, protecting, and defending valuable IP.
Shireen has advised hundreds of SMEs on their IP during the 11 years since founding Azrights. Before that she was involved in the IP issues of blue chip companies like Reuters and Coopers & Lybrand.
Azrights is a leading boutique law firm specialising in IP Law for SMEs from start up to £50 million in revenues. We help you to add value through taking care of your IP.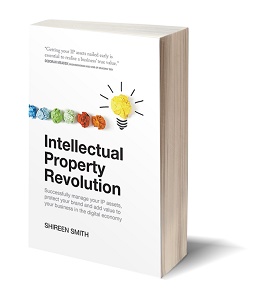 OK, it sounds good. How much?
This two-hour workshop costs £97+VAT per person (or £47+VAT for early birds!) and includes sandwiches, refreshments and a copy of the book "Intellectual Property Revolution." Our early bird tickets are available up until 29 May. To book, click on the green 'Ticket' button at the top of the page.
When & Where

Azrights Intellectual Property Solicitors
81 Essex Road
N1 2SF London
United Kingdom


Friday, 15 September 2017 from 09:00 to 11:00 (BST)
Add to my calendar
Organiser
Shireen Smith is the founder of Azrights International Ltd and Azrights Solicitors, a boutique Intellectual Property (IP) law firm that focuses on turning ideas into assets and helps businesses commercialse them. The law firm was founded to provide the A to Z of IP rights services - hence the name. It helps ambitious businesses to grow using IP.  It does so through registration of IP rights, drafting a wide range of commercial and IT contracts to protect copyright and confidentiality. Events are hosted by Azrights International Ltd, the sister company. That entity is not regulated by the Solicitors Regulation Authority and is a separate business that host events, and online training programs to support SMEs with business and IP know how.