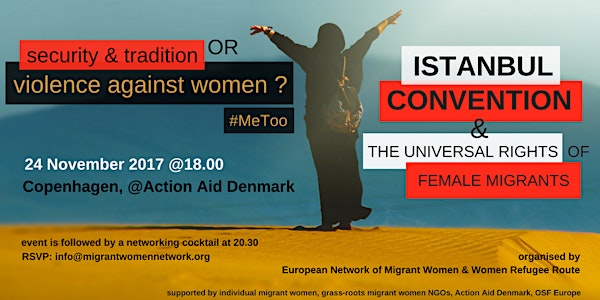 SECURITY & TRADITION OR VIOLENCE AGAINST WOMEN? Istanbul Convention and the...
Location
Action Aid Denmark
Fælledvej 12
København N
2200 Copenhagen
Denmark
Description
SECURITY & TRADITION OR VIOLENCE AGAINST WOMEN? Istanbul Convention and the Universal Rights of Female Migrants
---
Across the world man-made and natural disasters, war and conflict are intensifying.
Europe has responded to this by increasingly militarising borders and externalising migration management to countries and regimes that women and girls are trying to flee. For these women, the price of freedom and justice is now subject to multiple forms of male violence en route. Those who make it to Europe continue to face abuse and discrimination through their asylum process
The few lucky ones who are granted refugee status are then confronted with labour and social exclusion, marginalising them from the outset.
They are also at risk of poverty, prostitution and sexual exploitation, while the violence they face within their own communities is justified on the grounds of "culture" and "tradition".
For the 16 Days of Activism against Gender-Based Violence Campaign starting on 25 November (the International Day for the Elimination of Violence against Women), European Network of Migrant Women and Women Refugee Route are organising a two-panel event to discuss the situation of migrant & refugee women in Europe.
We will tackle the violence and discrimination they face, de facto and de jure, and the role the Istanbul Convention can play in protecting the universal human rights of ALL women.
The event will also mark the launch of the second-phase of Nadia Bakhshi Award – the support scheme for female refugees ran by Melissa Network, Greece, and supported by European Network of Migrant Women.

Mozhdeh Ghasemiyani @MozhdehG

Mozhdeh is born in Iran and arrived to Denmark when she was 16 years old. Today Mozhdeh is a psychologist working for Doctors Without Borders Denmark. She is fighting for the rights of traumatised refugee children.
Speakers include:
Ms Salome Mbugua, (ENOMW President, Founder of Wezesha Dada & AkidwA)
Native of Kenya and living in Ireland, Salome has over 20 years experience of work with women, children and youth in Africa and Ireland. She is the founder of AkiDwA, the Migrant Women's Network Ireland and Wezesha, an African Diaspora organisation working with women and children affected by violence and conflict in Africa. Salome is the former vice chair of the National Women Council of Ireland and seats on HSE health intercultural strategy advisory group and Monitoring group on implementation of the National Action Plan on resolution 1325 on women in armed Conflict. Salome joined ENOMW board in 2014 and served as ENOMW vice-chair in 2016-2017.
Ms Noura Raad ( Legal Expert, Forum Femmes Mediterranee)

Born in Beirut, Lebanon, Noura lives in France and works in the legal field as a researcher in criminal law and teacher assistant at the Faculty of Law of Aix-Marseille where she's doing her PHD on the status of women in comparative criminal law. Member of Forum Femmes Méditerranée, she is the president of its Aix-en-Provence section, a member of European Network of Migrant WOmen. Noura's work focuses on the flaws in the law and policy leading to discrimination against women in the Euro-Mediterranean countries. As a feminist militant she engages in the legal advocacy for the women victims of violence.

Layla Saidy

Layla is a refugee from Gambia now living in one of the asylum centers Denmark. Layla is a human rights activist and very passionate about women's rights and women empowerment. She has been advocating for the human rights of marginalized, minorities, excluded persons as well the right to education and support to legal empowerment of women and children. Layla has contributed to the strengthening of organisations such as "Village Girl Initiative" and "African Youth Panel". Her strong skills in advocacy, diplomacy and communication has also been used when she has been working as a resource person in human rights trainings for civil society members, National Assemblies, women leaders and young people in Gambia.
Pia Deleuran.
Born in 1960, with background in law and education in Copenhagen University, Pia has practiced as an attorney in the family owned law office for more than 25 years and offered mediation since 1996 and has been appointed as a court mediator from 2003 - 2007. Pia is travelling around the world and use art, songs and literature to convince that human dialog is a way forward as well as mediation is. Mediation in the shadow of a fair legislation. At the same time, Pia takes an interest in spreading the word about zero-tolerance for violence. She has taken the initiative to www.nordictour2014.dkand been part of the Danish LOKK board – the organization for shelters in Denmark. She is now the representative for LOKK in WAVE. Pia has been a counselor for women being raped, violated or sexually harassed. Pia has been involved informing the GREVIO about the situation in Denmark.
Francesca Cantarella Thomassen
Francesca Cantarella is an Italian national and qualified lawyer with working experience in Italy and Denmark. She holds a law degree from Trieste University in Italy, and a Master´s degree (LL.M) in International Criminal Law and Human Rights Law from the University College of Cork, Ireland. Mrs. Cantarella has over 6 years of experience as qualified lawyer in Italy and over four years of experience as legal consultant in Denmark, where she has worked freelance for NGOs, law firms and privates, before becoming the legal consultant of the Danish Centre against Human Trafficking. Her main areas of expertise include human rights law, immigration and refugee law, trafficking in human beings and criminal law. She has run her own firm in Rome between 2008 and 2013. In 2012 she published with Journal of Modern Italian Studies a paper inspired by her work as lawyer in the Italian criminal courts, challenging the paradoxes created by the Italian law on Immigration. In 2015 she became contributor for the World Bank Group for the section "Protecting Women from Violence".
Benedicte Preuthun Mortensen

Founder and director of Bike and Bloom. Bike and Blume is a socioeconomic flower shop, which offers employment to refugee and migrant women. They consider employment as crucial for successful integration.
The event will be followed by a networking cocktail at 20.30h
inquires about the event: info@migrantwomennetwork.org