Description
---


Impact through Leadership.
Defining 'beyond compliance' in responsible sourcing.
---
The Sedex Conference is our largest annual gathering, bringing together hundreds of Sedex members and non-members alike from across the globe to meet face-to-face, share ideas and learn about the issues that matter to every responsible business.
This year we are excited to announce that the Sedex Conference 2018 will be held at The Brewery, an iconic venue located in the centre of London's financial district.
2018's largest responsible sourcing conference will feature:
Martine Croxall, our host, a world renowned BBC news presenter and journalist

Professor Steve Evans, Director of Research in Industrial Sustainability, Cambridge University

Warner ten Kate, Dutch National Public Prosecutor for Trafficking in Human Beings and People Smuggling

An international audience from 43 different countries

Over 650 delegates, including global brands and sustainability leaders

World class speakers

Award winning central London venue

Sessions to drive action on sustainable supply chains

Three course dinner and awards tickets available

Sponsors including DNV-GL (Break-out sponsor), Rina (Lunch sponsor), Elevate (Event app sponsor), Partner Africa (Programme sponsor), ALGI (Exhibitor)
We will explore how organisations can take an active role in going above and beyond the minimum ethical requirements, to become leaders in the field of supply chain sustainability. The conference will address different definitions of 'beyond compliance', and what actions businesses can take to achieve the most positive impact throughout their responsible sourcing journey.
The time for talking is over. It is time to take the lead and make an impact.
Please book your tickets for the event using the green 'tickets' button to the top right of this page.
For more information and to explore the complete agenda please visit: https://www.sedexglobal.com/sedex-conference-2018/
A selection of who's attending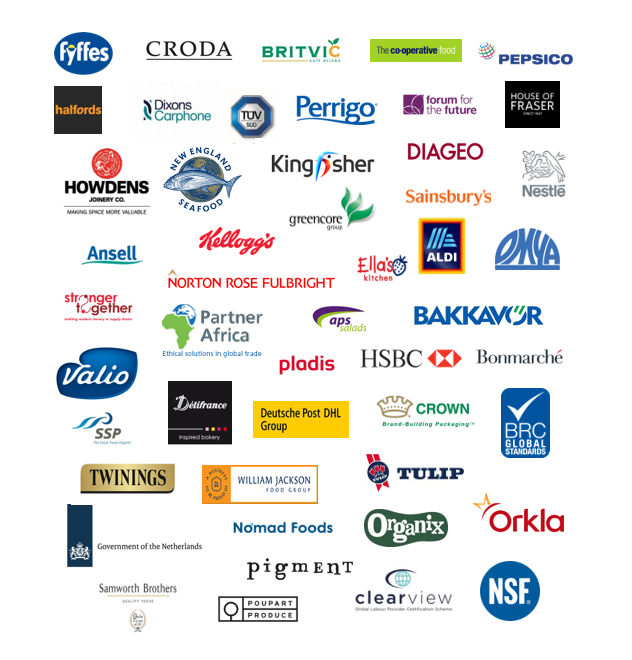 Sedex reserve the right to reallocate, refund and request additional funding for tickets where they have been purchased incorrectly according to (non)-membership status.
If you would like to cancel and you require a refund for a payment made, please contact communications@sedexglobal.com within 30 days of making the payment.
Before making a payment, please make sure that you are paying for the correct number of tickets. If you have any queries regarding payment, please contact us on the below details.
For payment issues and refunds contact: communications@sedexglobal.com
Company registration details:
Sedex Information Exchange Limited
24 Southwark Bridge Road,
London, United Kingdom
SE1 9HF
Company registration number – 05015443
Sedex would like to thank our sponsors and partners for their support of the Sedex Conference 2018: