About this Event
SAYiT is delighted to announce its best practice seminar to encourage professionals to work together and share knowledge of how best to support young people with both LGBTQ+ and Disabled Identities. This event is for all professionals wanting to improve the lives of the LGBTQ+ young people in their service.
Our guest speakers include young people who will be sharing their personal experiences of being LGBT+ and disabled, as well as some of the campaigns they are running. Alongside SAYiT staff, researchers in the field, and LGBTQ+ and disability activists.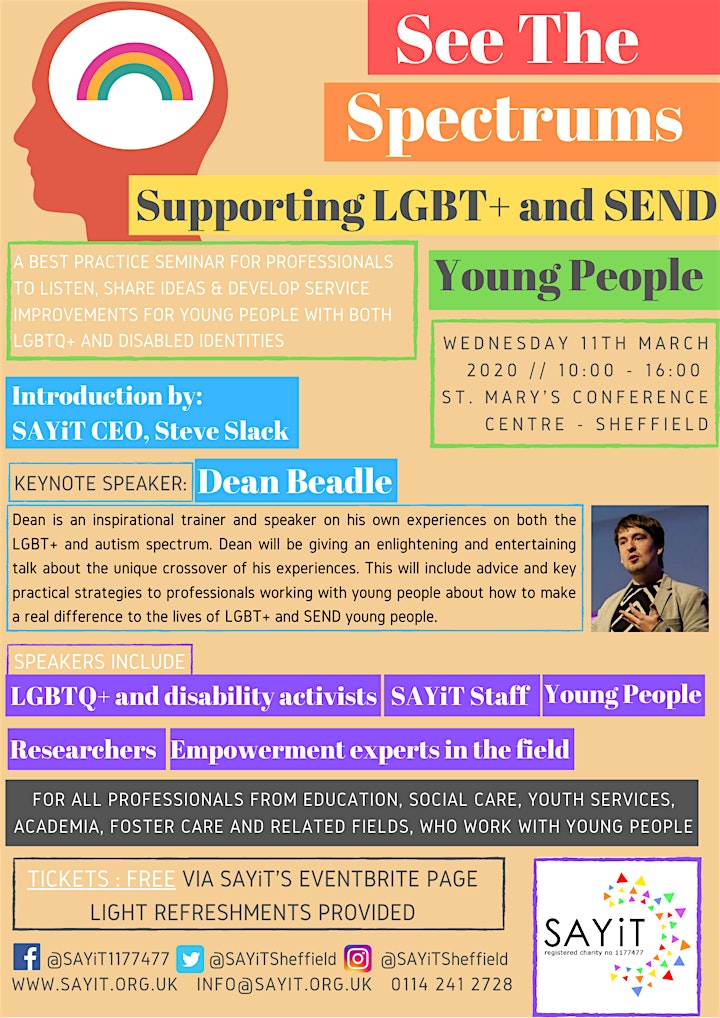 We welcome professionals from education, social care, youth services, academia, foster care and related fields, who work with young people to:
• Connect with colleagues and peers
• Hear young people's stories and their ideas for a more accepting, brighter future
• Share challenges and solutions
• Learn the most up-to-date good practice around providing services to young LGBT+ people who are autistic and/or who have special educational needs or disabilities
• Increase their confidence, knowledge and skills in how to support a young person who is both LGBTQ+ and disabled.
SAYiT has been working for 20 years in the field of sexual health and supporting young people who are marginalised by society. Increasingly, the support we offer focuses on providing emotional and practical support as well as a safe space, for young people who are lesbian, gay, bisexual, and/or transgender or are questioning their gender and/or sexuality. Last year, SAYiT was awarded a grant by LGBT+ Futures to undertake innovative work with young LGBT+ people who have Special Educational Needs or Disabilities (SEND).
Our work so far includes working in partnership with SEND/LGBT+ young people to raise awareness of their specific needs and build capacity to best meet these needs. This seminar forms a key part of our aspiration to join up our thinking as a city and ensure those young people's needs are met with in our own, and others services, across Sheffield.
Venue Accessibility
- There is a hearing assistance system. The system is a fixed loop. Staff are trained to use the system.
-Motorised scooters are allowed in public parts of the venue.
-The lighting levels are medium.
- Accessible toilet facilities are available.
-Staff do receive disability awareness / equality training.
-There is a car park which is free to use.
-The route from the car park to the entrance is accessible to a wheelchair user with assistance.
Booking details
When making a booking please ensure that you are booking as the attendee as opposed to booking for someone else, as we wish to capture the individual data for each attendee. Please ensure that the correct email address (work email, not personal) is entered when making your booking as you will receive an automated email to confirm your place.
We endeavour to respond to access requirements on request.
Please contact info@sayit.org.uk with any access requirements, e.g. relating to sensory impairments, in advance of the event.
Cancellation
Places at this seminar are free. However, participants who do not turn up, OR cancel less than 24 hours before the course, will incur a charge of £10, unless there are extenuating circumstances