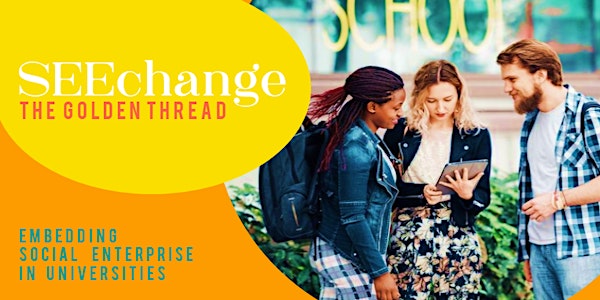 SEEchange THE GOLDEN THREAD: embedding social enterprise in universities
Location
The Pavilion, University of Westminster Cavendish Campus
115 New Cavendish Street
London
W1B 2HW
United Kingdom
A university focused collaboration conference with The Golden Thread of exploring 'embedding social enterprise across our HEI institutions'.
About this event
Social Enterprise Mark CIC and Cambio: House of Social Change are delighted to co-facilitate this university focused conference to bring together the higher education sector and social enterprises as we examine The Golden Thread of embedding social enterprise across our higher education institutions.
Our speakers will share their latest thinking of how engaging with social enterprises can attract and enhance student experience, inspire career choice, enable social mobility through information and choice, and how we can all play a significant part in building social capital and creating thriving communities.
WHY ATTEND THIS EVENT
By attending you will gain valuable understanding from our speakers as we explore the HEI landscape and appetite for catalysing, collaborating and/or connecting with social enterprises across our student population and localised communities.
The agenda has been crafted to provide both a strategic view and practical learning from within our university settings. Hear from, and connect with, those who are leading and looking to lever the benefits of social enterprise from student engagement to local communities, supply chain to HEI's as 'anchor institutions' and employers of choice.
Graduate enterprise programmes, ideation and innovation in the incubation of social enterprises, creating new connections, facilitated and open networking are all high on the agenda for the day so expect knowledge-based takeaways for embedding social enterprise in your university setting.
WHO WILL BE THERE
We are welcoming universities, higher education and invited social enterprise leaders who are looking to engage with the HEI sector to join us at this expert insight session with networking.
YOUR AGENDA
11.00am Networking and arrival
11.30am Welcome from our Co-Chairs:
11.35am Conference address from our hosts:
A strategic approach to social enterprise in an HEI – what are the key arguments to embed social enterprise currently from a senior leadership perspective. Followed by open questions.
12.00 noon Facilitated networking
12.30pm Lunch and open networking
1.30pm Social Enterprise and universities - a panel session followed by Q&A:
Exploring the social enterprise appetite and challenges from a range of perspectives - student, policy, provider and business.
2.30pm Roundtable discussions (university-led, choose from one of 4 options):
1. Gaining social enterprise strategic and leadership buy-in within your university. FACILITATOR: Linda Drew, prev. Vice Chancellor, Ravensbourne University London
2. How social enterprises can access and engage effectively with universities. FACILITATOR: Robin Burgess, Chief Executive, Northampton Hope Centre and Hope Enterprises
3. Best practice approaches to student social enterprise engagement. FACILITATOR: Mariama Njie-Ceesay, Social Enterprise Programme Manager, CU Social Enterprise CIC.
4. Identifying the social procurement opportunities for and with HEI's. FACILITATOR: Nichola McAvoy, Account Manager, Social Enterprise UK
3.25pm Summary and close
3.30pm to 5.00pm Drinks Reception kindly hosted by University of Westminster
+ + +
OUR THANKS
This event is possible through the support of our key partners: