'Seeing the Impacts of Climate Change': A Photography Exhibition
China Week Photography Exhibition: 'Seeing the Impacts of Climate Change'
About this event
The Lau China Institute has selected photographs for Seeing the Impacts of Climate Change, an exhibition which aims to document the impacts of climate change in China and its natural environment. We believe in the power of images to raise awareness on the impacts of climate change and thanks to the featured photographers' talent and dedication, we can observe the majesty of nature and the effects of climate change in China.
'Seeing the Impacts of Climate Change' embodies the fruitful collaboration between the Lau China Institute at King's College London, its partners Active Anglo-Chinese Communications, Global SinoPhoto Awards and Alessandro Maturo, a freelance photographer who extensively travelled China. We would like to thank the Managing Director of Active Anglo Chinese Communications, Yintong Betser, for providing Global SinoPhoto Awards winning photographers' shots and being a key supporting partner for this exhibition. The affiliated photographers who will be featured in this exhibition include Susan Moss, Lianfang Wang, Yuan Yi and Jianbo Zhao.
The exhibition, curated by Alice Politi, will be showcased for the duration of China Week, from the 25th to the 29th of October. Registrations are essential for gaining access to the exhibition. You can also join our silent auction held at the China Week closing reception on Friday 29th October if you wish to purchase any artwork. All proceeds will be donated to Greenpeace East Asia.
About the Global SinoPhoto Awards:
Global SinoPhoto Awards is an annual photography contest which aims to communicate Chinese culture through remarkable imagery and connect photographers internationally. All photographers from any background and location are invited to participate, tell their Chinese story, imagine, interpret, and inspire connections between Chinese culture and the rest of the world. Global SinoPhoto Awards 2021 is judged by a prestigious panel of experts, its winning images will be touring in China and the UK throughout the year.
The Global SinoPhoto Awards is managed by ACTIVE Anglo Chinese Communications, a Public Relations consultancy. ACTIVE is committed to facilitating businesses between East and West; the Awards is further testament to ACTIVE's enduring efforts towards this goal. Based in London, ACTIVE's Managing Director, Yintong Betser, is a well-known member of the Anglo Chinese community. As well as being an entrepreneur, she is also a columnist for London Business Matters and author of several books including, ACTIVE business travel and UK Guide for Chinese Students.
About the charity:
Greenpeace is an independent, non-profit, global campaigning organization that uses non-violent, creative confrontation to expose global environmental problems and their causes.
Greenpeace's goal is to ensure the ability of Earth to nurture life in all its diversity. Greenpeace has been in East Asia since 1997 to fight climate change, stop toxic pollution, ensure food security, end illegal deforestation and defend the oceans. Greenpeace has offices in Hong Kong, Beijing, Taipei and Seoul. Environmental problems know no borders, and Greenpeace recognizes the importance of regional offices that work together to achieve effective solutions for a sustainable future.
Greenpeace East Asia follows high standards of accountability and transparency, providing open annual reports where funders can see how their contributions are spent. You can download Greenpeace Est Asia past annual reports here:
https://www.greenpeace.org/eastasia/annual-report/
You can read more about Greenpeace Est Asia here: https://www.greenpeace.org/eastasia/about-us/
About our partnering photographer, Alessandro Maturo (Freelance Photographer):
Alessandro is from Castellammare di Stabia (Naples, Italy). He majored in Chinese Language and Culture at Ca' Foscari University of Venice, and had spent semesters in China at Fudan University of Shanghai, and Capital Normal University of Beijing. He has also worked as an Intern at the Consulate General of Italy in Chongqing. He currently lives in Milan where he works for Huawei Technologies. His main passions are photography and travel, and he combines these interests to meet new people from around the world and explore their cultures.
He began experimenting with photography in 2017 shortly before his first journey to China. However, it was during his time as a Global Leadership Volunteer in Qinhuangdao (Hebei Province), where he had the need to create a tangible record of his experiences. Here he developed an attraction to diversity and he uncovered what arouses his creative curiosity - how people's faces and daily activities tell the story of their lifetime.
He considers photography as free expression and source of creativity. He mainly captures the dynamism of his surroundings and waits patiently for that single moment when is able to capture what photography represents to him.
"China is sharing, altruism, a sense of community, hospitality, tradition, sacrifice and supporting each other…embodied by friends and family gathered at the dinner table, socialising with the lively swinging of chopsticks!"
Featured Photographers:
Susan Moss - Susan is a mature age photographer, who is passionate in all she does with her camera. She has a love of landscape, portrait, street, bird and floral photography and especially loves to travel. This gives her wonderful opportunities for subjects to photograph. Susan has been visiting China for over 40 years and looks forward to the opportunity to go back again, post covid.
Yuan Yi - Yuan started to study photography in 2013, now a member of the Chinese Photographers Association, a member of the Chinese Women Photographers Association, a member of the Chinese Folklore Photography Association, a member of the China Photography Copyright Association. She is also a commissioned photographer for many media groups, including People Net. In recent years, many of her works have been published in authoritative photography professional journals, more than 300 works have won awards in Chinese and international photography competitions, winning more than 60 gold, silver and bronze medals.
Zhao Jianbo - Zhao is a national grade II photographer, a member of the Chinese Photographers Association, a member of the Chinese Folklore Photography Association, a commissioned photographer of SIPA China and Baidu. His works were published on the websites of newspapers and magazines such as "China Photography News", "People's Photography", "Popular Photography", "Portrait Photography", and "Image China". Many of his works have been collected and published by art institutions such as Beijing International Photography Week and China National Museum.
Wang Lianfang - Wang is a member of Chinese Photographers Association, China Photographic Association, Photographic Society of America and PSA China Society. He studied photography and journalism, graduated from People's University of China. He worked as the photographic director for Art of Daqing Daily, Deputy Chairman of the Top Ten Photojournalist Review Committee of PetroChina, and Deputy Chairman of the Top Ten Photojournalist Review Committee of Heilongjiang Province. Since 1979, he focused on photography solely, working for Daqing Daily as a photojournalist. He has published hundreds of photographic pictures in national newspapers and magazines, and won more than 100 awards. In 1994, he started to work for the media centre of Heilongjiang Daily News Press Association. Later, he served as the Deputy Editor-in-Chief of the "New Metropolis Daily" and the deputy director of the "Readers' New Daily".
After retiring, he has been living in Queensland, Australia. The epidemic changed the pace of life. Borders were blocked and continents quarantined. There is an opportunity to regain the old love, take the camera to visit the morning market, rush to the big market, take the ferry, walk the streets and chase the streets to capture the documentary. Over the past year, I have consistently taken one photo every day. Now, these hundreds of works have entered the editing stage. A book of "The Long Brisbane River" is planned to be published in 2022.
About our curator, Alice Politi (Doctoral Student, Lau China Institute, King's College London):
Alice is a Doctoral Student, Social Media Coordinator & Project Manager at the Lau China Institute at King's College London, where she is also a Graduate Teaching Assistant at the Department of War Studies. Her doctoral research focuses on the geopolitical and economic implications of the Belt and Road Initiative in Europe. She graduated from her Master's Degree in Language and Management to China at Ca' Foscari University of Venice, where she specialised in Chinese Studies, Management and International Law, with a particular focus on Europe-China relations. A recipient of the Hanban Scholarship, she has also studied at Fudan University in Shanghai. She previously graduated with First Class Honours from her Bachelor's Degree in Chinese and International Relations at Catholic University of the Sacred Heart in Milan. Alice has experience cooperating with think-tanks, governments and research institutes on issues ranging from national and international security to international cooperation, with a focus on China. She worked as a Consultant for the Strategy Directorate of the UK Foreign, Commonwealth and Development Office (FCDO), on a project on China and geopolitics. She also cooperated as an Analyst for two research projects at the Oxford University Silk Road Think Tank, one in partnership with the United Nations Department of Economic and Social Affairs (UN/DESA) and has experience as Research Assistant at King's College London. She has produced a policy paper related to Chinese investments in Italy as part of the BRI which was published by King's College London, the inaugural paper in the policy series "China in the World", a project by KCL Lau China Institute in partnership with KCL School of Security Studies. Her peer-reviewed publications have also been featured on the Journal of the Royal Society for Asian Affairs and the Italian Institute of International Affairs (IAI).
The exhibition will be held on the Strand Campus of King's College London. Exact venue will be confirmed closer towards the date.
The silent auction for the pieces displayed at this exhibition will be held on the day of China Week's Closing Reception. The auction will feature the following guest speaker:
Yintong Betser, Founder, Global SinoPhoto Awards
Yintong is the Founder and Managing Director of ACTIVE Anglo Chinese Communications, a business and PR/marketing consultancy specialising in business between the two countries since 2001. This has enabled her to capitalise on her varied experience and draw upon her deep understanding of both Western and Chinese cultures, and to benefit her clients most effectively. Yintong is a regular contributor to the London Chamber of Commerce & Industry publication, London Business Matters, writing a column on themes and issues relating to China. She was also nominated as an ambassador for the Chamber. She is also the Founder of Global SinoPhoto Awards.
Click here to find out more about the China Week Closing Reception.
Tickets for this exhibition are free for all to attend.
To tweet about the event, use the tags @lauchinainst and @KingsCollegeLon on Twitter, and hashtags #ChinaWeek2021 #COP26 #lauchinainstitute #kingscollegelondon #impactsofclimatechange
For media and event inquiries, please contact lauchina@kcl.ac.uk.
This year's China Week forum at the Lau China Institute of King's College London is held in partnership with:
Chatham House (Asia-Pacific Programme)
Australian National University (ANU)
The China-Britain Business Council (CBBC)
The Great Britain China Centre
Society for Anglo-Chinese Understanding
Italian Institute for International Political Studies (ISPI)
China Biodiversity Conservation and Green Development Foundation (CBCGDF)
Oxford University Silk Road Society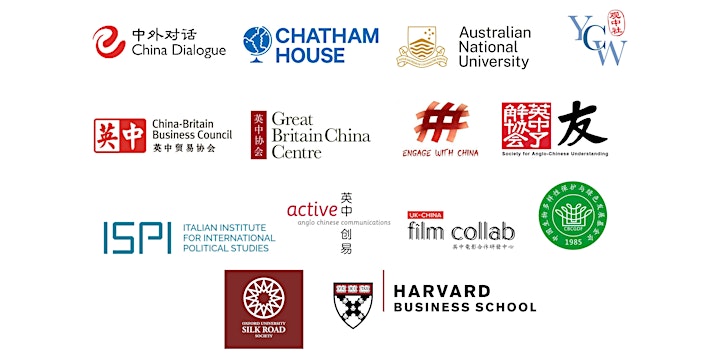 Organiser of 'Seeing the Impacts of Climate Change': A Photography Exhibition
The Lau China Institute is a global centre for the research, study and understanding of contemporary China. We aim to study both China and work with Chinese scholars and others. As such, we seek research collaborations and deeper mutual understanding with the People's Republic of China, ensuring we sit at the heart of King's strategic approach.
Established in 2011, we now have a community of core academics and postgraduate students, including roughly 30 PhD students. We are based within the School of Global Affairs, yet work across all nine faculties and beyond, to engage in multi-disciplinary and innovative research.
The Lau China Institute is based in Bush House, North East Wing, 40 Aldwych, London, WC2B 4BG, part of King's Strand Campus.