Rencounter KMG - Krav Junior Trial Class - Kids and Teens. Krav maga is a practical self-defence and anti-bullying system.
About this Event
Krav maga is a practical self-defence and anti-bullying system that doesn't take years of practice to learn.
Krav Junior:
Teaches practical and age-appropriate self-defence skills
Is simple and fun to learn
Builds self-esteem and confidence
Develops fitness and motor skills
Teaches practical life skills
Class Details
Thursday, 5-5.45pm
Location:
Marchmont St. Giles, Inchcolm Hall (Use South Entrance)
3 Kilgraston Rd, Edinburgh EH9 2DW
(https://goo.gl/maps/ZUyhVTeSx4DCbfe57)
Instructors: Linn and Susi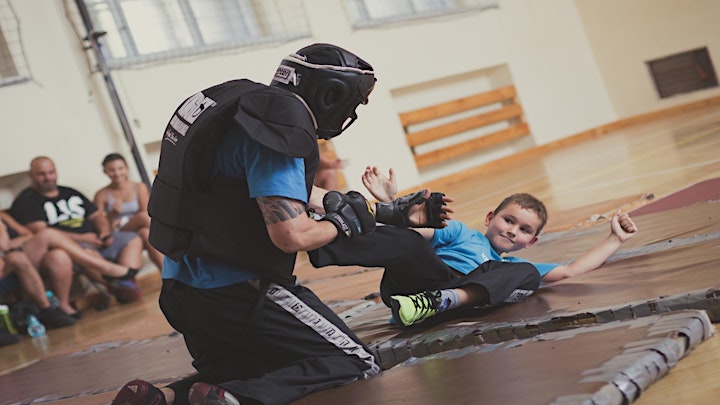 Guidelines for Krav Junior Classes
Please read through the following guidance carefully and adhere to it.
General information:
Sharing details with NHS Test and Trace:
We want to help stop the spread of COVID-19. In order to do this attendants are required to follow our outdoor class guidelines and agree to us sharing their details with the NHS Test and Trace where necessary.
Covid-19 Symptoms:
If you have experienced any of the following symptoms in the last 10 days, or anyone in your household in the last 14 days - DO NOT COME TO CLASS: Cold or Flu; High Temperature; New, Continous Cough; Loss or change to your sense of taste or smell; Sore Thoat
Social distance:
Parents are required to socially distance from anyone who does not belong to their household at any time.
Kids up to the age of 12 will not need to keep a distance from each other but from adults not living in their household at any time.
Teenagers will form a "field of play bubble" during training. Normal physical distancing guidelines will however apply before and after the activity takes place.
Rules for Krav Juniors:
Always listen and follow instructions given by your teacher.
Before class:
Please arrive 10 min before the class starts.
Use the bathroom shortly before arriving at class.
Come to class in your sports gear or comfortable clothing, suitable for the weather conditions. There are no changing rooms on site.
Bring a bottle of water that is clearly recognisable as your own to ensure no sharing
When you arrive:
Leave your belongings in the designated area (bag, bottle)
Use hand sanitizer. Queue if necessary at 2m distance.
Let the instructor check your temperature.
Wait at your cone until class starts.
During class:
Keep 2m distance to other students and the instructor unless instructed otherwise.
Keep hands away from your face/ do not touch your face with your hands.
Do not play with the equipment.
If you want to ask or say something lift your hand and wait until called by an instructor.
Stay in the marked area (yellow cones).
Inform your instructor if you need to leave (toilet, meeting parents).
After class:
Use the provided hand sanitizer.
Get all your belongings.
Rules for parents:
Please talk to your children about the class rules to make sure everyone can train safely.
Only kids attending class will be permitted in the building. There is no waiting area for parents available in the building.
Please make sure your kids come to class:
*with a clearly marked water bottle to ensure no sharing
*comfortable clothing (there are no changing rooms on site)
*having used the bathroom shortly before arriving at class.