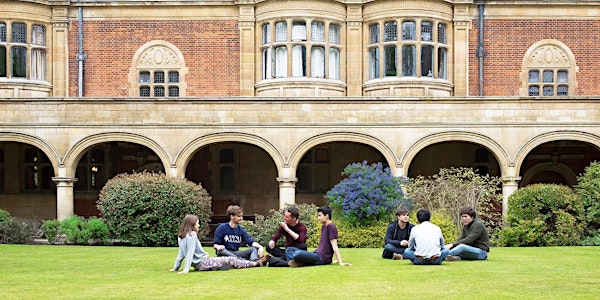 Self-guided visit to Sidney Sussex College for prospective applicants
Welcome to Sidney! We're delighted to receive visits from prospective applicants and their supporters.
About this event
You must book a ticket for your visit to Sidney on Eventbrite at least one hour in advance of your visit. There is no charge for using Eventbrite, or for a ticket to visit the College.
You can choose to visit at any time between 10am and 4pm on the day of your ticket, but you should spend no longer than an hour on the College site.
Please show your ticket at the Porters' Lodge on arrival. You may collect a College map, and guided tour sheet if available.
Visits are limited to 'household' groups only, or a socially distanced group of no more than six individuals. Only one ticket per group is required, which should be completed by the prospective applicant.
Access is limited to the grounds only. There is no access to any College buildings.
If, following your visit, you would like to make an appointment to discuss any questions with the Admissions team, we would be pleased to arrange it. Please contact either the Undergraduate Admissions Office (admissions@sid.cam.ac.uk), or the Postgraduate Office (graduateoffice@sid.cam.ac.uk), depending on whether you will be applying for undergraduate or postgraduate study.
You can also find lots of information about the College on our webpage, and see a virtual tour and get application advice on our YouTube channel.
Privacy Notice
The University of Cambridge and its constituent colleges are committed to protecting your personal information and being transparent about the information we hold. Information about how your personal information will be used by us in connection with the administration of this event/activity, and for related purposes, is available at http://www.undergraduate.study.cam.ac.uk/how-we-use-participant-data and https://www.sid.cam.ac.uk/about-sidney/published-information/data-protection-and-freedom-information.
Please contact the Admissions Office at Sidney Sussex College (admissions@sid.cam.ac.uk) with any questions in the first instance. We will only use your personal information for operational and communications purposes. We will remove it when it is no longer required in connection with any particular event/activity that you are involved with. By filling out this form, you confirm that you are happy to be contacted by us in connection with the visit where appropriate. You have the right to withdraw your consent at any time, please contact us if you wish to do so.
Organiser of Self-guided visit to Sidney Sussex College for prospective applicants