Transformational Group Breathwork session for Self-Love & Self-Worth
About this event
Group Breathwork Session with Laura Uglow
Cultivating a deeper personal practice of self-love and self-worth is medicine for your body, your mind and your soul.
This session will be gentle, nourishing and soothing, like giving yourself a big hug and it will have a profound impact on your own health, happiness and wellbeing.
It will soothe your nervous system and help you to reduce your stress levels. The perfect antidote to all of the chaos of the festive season.❤️
**I know December is busy so if you can't make the live session then you will receive the recording.
Life is busy for all of us and when we rush around and place our focus externally there can be a build up of unprocessed thoughts, feelings and energies which can lead to negative self-talk and a lack of self-worth and self-love.
But breathwork is designed to help you to clear these feelings, energy or emotions that you may have been holding on to, knowingly or unknowingly, and it can help you with your own internal wisdom, needs and wants. You will use your breath to gently awaken your energy, move through and release feelings of stuckness and negative self-belief and lighten your energetic load.
Breathwork is an active meditation technique and it is the most magical healing practice, but most importantly it is your practice. The practice opens the door for self-exploration, healing, an open heart and a deeper personal sense of self-love.
Each session will be different, giving you exactly what you need in that moment. It gives you the insight to meet yourself exactly where you are, and so you can see yourself and your situation more clearly.
'You are imperfect, you are wired for struggle, but you are worthy of love and belonging.' – Brene Brown.
WHAT IS INCLUDED?
• Breathwork Practise - Each practise will take place on Zoom (your Zoom link will be sent out the week prior to the event)
• Video Recording - You will receive a recording of the session so you can practise in your own time or catch up if you do not attend the live session
WHO IS IT FOR?
• Anyone who would like to breathe with me. Even if you have never experience this type of breathwork before. It will change you.
• Anyone who identifies as an empath or highly sensitive, and would like some tools to balance and clear their energy.
• Anyone who wants to cultivate more clarity, calm and connection with their body and their own inner voice.
• Anyone who would like to shift or shake up stagnant energy.
WHO IS IT NOT FOR?
• It is not for you if you are not willing to lean in to discomfort. Breathwork is breath WORK which means you cannot be passive in this process.
• It is not for you if you feel resistant to a little bit of magic.
• It is not for you if you are pregnant. We are shifting a lot of energy around the lower energy centres and I would like you to be safe. If you have a complex health condition please consult with your doctor before joining.
I really hope to see you there❤️
Love Laura x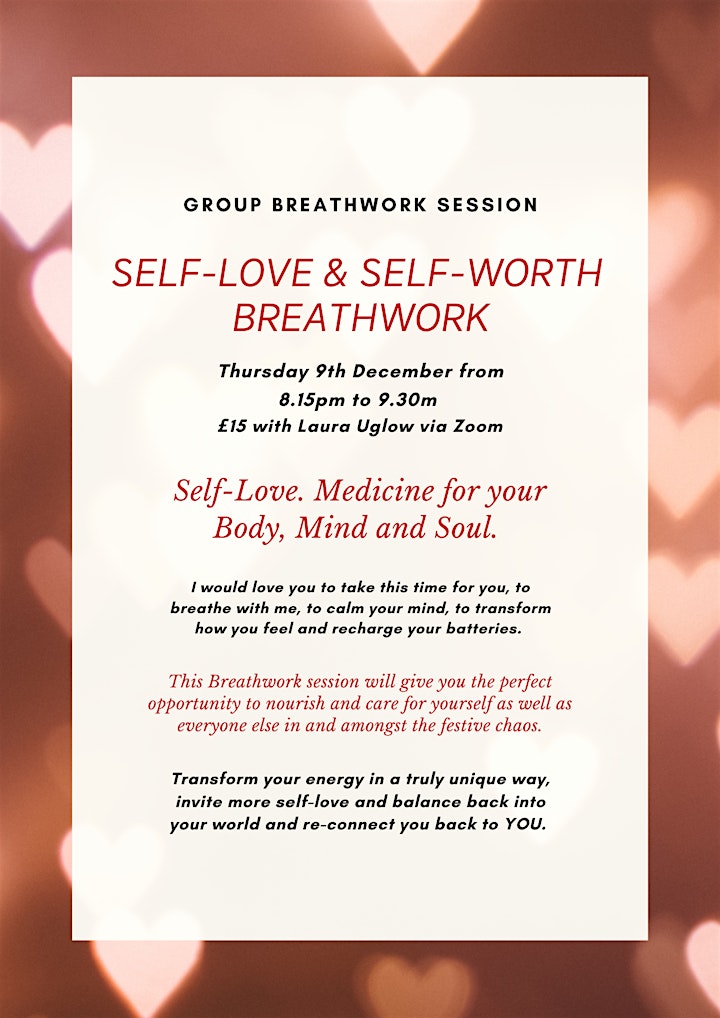 Date and time
Location
Refund policy