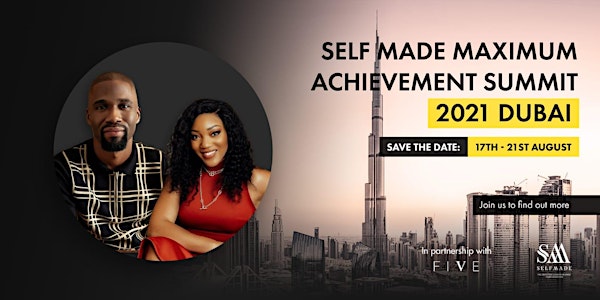 Self Made Maximum Achievement Summit 2021 Dubai
Come and find all about the Self Made Maximum Achievement 2021 Dubai Summit
About this event
What is the Self Made Maximum Achievement Dubai Summit all about we hear you ask?!
A place where we will bring together movers and shakers for 5 days. We will be delivering workshops on wealth, mindset, health and business mixed with FUN with some sun!!
Byron - Dubai is the most extreme place in the world I have ever been to. From the opulence and networking opportunities to EXTREME Fun, this country offers all of that and more . I hope you're ready to learn, meet new people, have new experiences and ultimately enjoy what Dubai has to offer! "Making Money Should be Fun"
Bianca - The agenda we have set, complimented by sunshine, sea and luxury is a perfect combination. Come and experience Dubai our way, whilst focussing on how to improve yourself, your wealth and your future... oh and having a fun at the same time!
Time: 19:30
45 Minutes
When is it the summit? SAVE THE DATE. Tues 17th August 2021 to Sat 21st August 2021.
Come and join us and hear all about the action packed schedule we have for your full of personal development, networking and fun in the sun.