Self-Study Course on How To Be Well in Everyday Life (Via Skype)
Event Information
Refund policy
Contact the organiser to request a refund.
Eventbrite's fee is nonrefundable.
An in-depth study of the book "Spiritual Healing" using it as an incentive to know ourselves and experience spiritual healing in our lives
About this event
There is no greater knowledge than to know your Self. It is this knowledge that helps us heal through our new found way of thinking and being. It is also the key to finding the happiness that resides within.
Using the book Spiritual Healing as an incentive, we will study our self in all its expressions, learn to develop more the elements that we like, change those we don't like, and deepen into the essence of things and eventually reach the point of knowing the one truth that contains all others: that perfect is the total of all imperfections and that the nature of each and every one, without exception, is bliss.
Some of the things you will learn:
How to relax and balance the energies within
How to observe yourself in all its expressions
How to have a harmonious relationship with yourself, others, and life as a whole
How to deepen your understanding of your higher self through meditation
Simple, practical ways to express your true potential in everyday life
And much more
Study Material
Your main study book will be Spiritual Healing - A human potential in theory and practice, by Lykiardopoulou Klairi. You'll also receive special articles and other materials published by Omilos Eksipiretiton.
The book is included as a free gift to course participants.
Sample topics
"Energy follows thought" - How the way we think affects everyday life
Energy balancing relaxation and creative meditation
Self-observation and "Know Thyself"
Simple practical ways for the immediate improvement of our everyday life.
Apply Now to register or for more information contact omiloslondon@gmail.com or +44 7960 797 435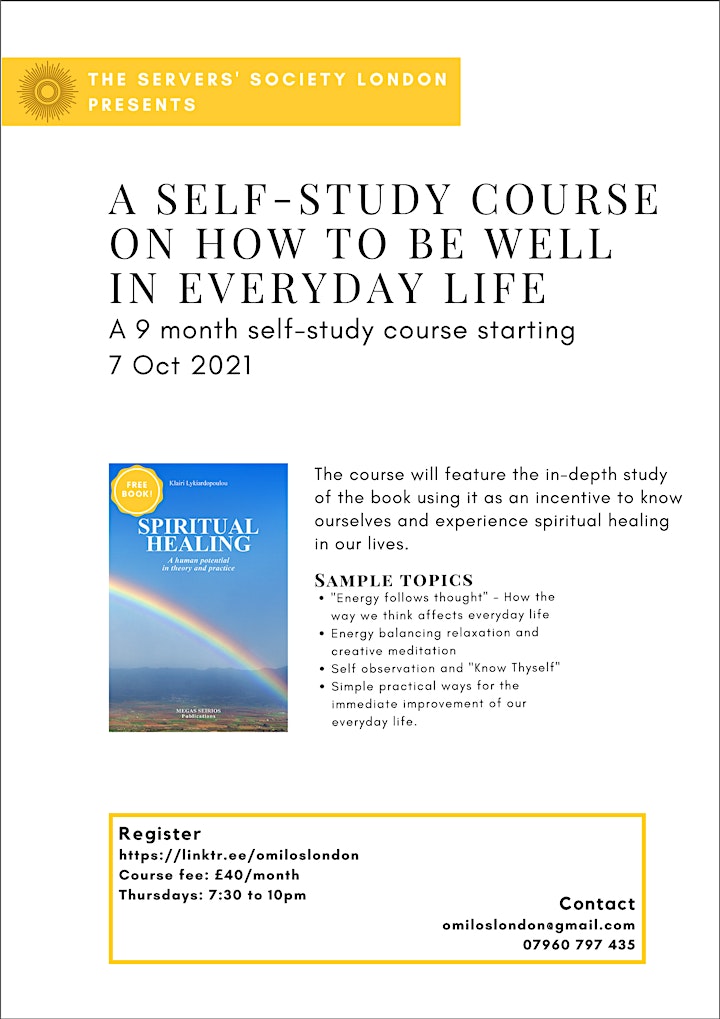 Date and time
Location
Refund policy
Contact the organiser to request a refund.
Eventbrite's fee is nonrefundable.
Organiser of Self-Study Course on How To Be Well in Everyday Life (Via Skype)
Founded in 1980 in Athens, Greece, Omilos Eksipiretiton is a non-profit society, a school of thought that teaches a contemporary and living practical philosophy, originating from the Socratic "know thyself" and extending in every aspect of our lives. Through acquiring a new perspective of ourselves, others and life as a whole, we are taught the High Art of Life and thus we learn to fully live and experience all things, overcome all difficulties and express freely our inner potential to be well.
Amongst its many activities, Omilos studies, delves into and learns from poetry all the great meanings of life that poets convey through the essence of their poems.
For more information, please visit https://linktr.ee/omiloslondon