Multiple Dates
Self Weigh Station, The BECC Family Centre, Borehamwood
To ensure the safety of staff and families we are introducing bookable 15 minute slots to weigh your baby in our centres.
About this event
An opportunity to check your baby's weight as well as talk to Early Start staff from the Family Support Service on a variety of health promotions and parenting support topics.
The Royal College of Paediatrics and Child Health recommend weighing your baby /toddler at specific times by the time your child is 2.5 years.
Please access the Family Centre self weigh stations to check your baby's progress at 16 weeks, 20 weeks, 8 months and 12 months.
If you have any queries or concerns please ring 0300 123 7572 to speak to a Health Visitor.
We will ring you before your appointment to ensure that you get the most out of it and to talk you through some important safety measures.
To use the Family Centre Service please make sure you sign up or it could effect your booking. To sign up and also see the rest of our channels click here https://linktr.ee/HertsmereFCS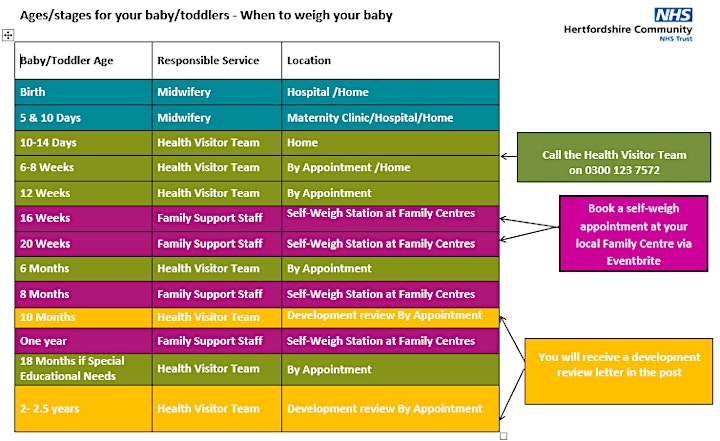 Organiser of Self Weigh Station, The BECC Family Centre, Borehamwood