Multiple Dates
Self Weigh Stations at Royston Family Centre August 2021
Self-weigh station: Please see video before booking.
About this event
How to self-weigh your baby:
How to plot your baby's weight in the Red Book: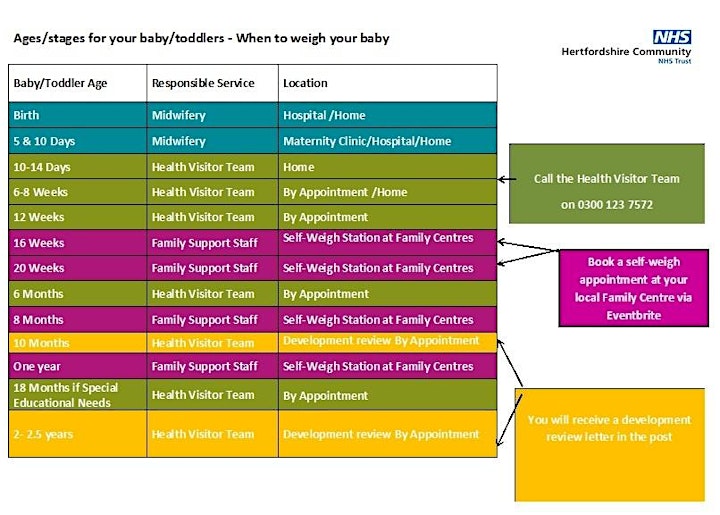 An opportunity to check your baby's weight as well as talk to a Staff member from the Family Support Service on a variety of health promotions and parenting support topics.
The Royal College of Paediatrics and Child Health recommend weighing your baby /toddler at specific times by the time your child is 2.5 years- see table below.
Please access the Family Centre self-weigh stations to check your baby's progress at 16 weeks, 20 weeks, 8 months and 12 months.
If you have any queries/concerns please ring 0300 123 7572 (Choose Option 2 then Option 1) to speak to a Health Visitor.
We have important measures in place to protect you and our staff from COVID-19. Please read these measures below carefully before attending an appointment;
• Only one parent, or adult with parental responsibility, will be permitted to attend with your child
• Following recent NHS guidance, to help stop the spread of coronavirus (COVID-19), please wear a face covering over your nose and mouth when you attend your appointment (children under 3 years old are exempt i.e. children under 3 don't have to wear one)
• Staff will show you into the building maintaining social distancing at all times
• You and your child will be asked to wash your hands on entering the building, if soap and water are not available hand sanitiser will be used instead
• Please ensure that you and your baby are well on the day of the appointment/please do not attend if you or your baby are unwell
• Please do not bring your baby in for weighing if you, your baby or someone in your household, has symptoms of COVID-19 (new continuous cough and/or high temperature and/or a loss of, or change in, normal sense of taste or smell)
• Do not bring in your child if anyone in your household is in a 14 day isolation period or anyone in your household develops symptoms between making the appointment and the day of attendance.
• We suggest that you arrive 5 or 10 minutes ahead of your 15 minute appointment time.
• If you're arriving by bus or walking to the centre please wait in the designated, taped off area when you arrive
• For your safety, we are staggering the times of appointments to ensure that there will only ever be 2 families accessing the Self Weigh Stations at the same time
• Please remember to adhere to the 2 metre social distancing rule at all times
Please book your 15 minute appointment for weighing your baby below. To help us maintain social distancing we ask that you keep to your appointment time, you will not be allowed to attend your booked appointment if you are more than 5 minutes late. Thank you for your understanding.
Families accessing FREE Family Centre Service sessions must be registered with us. If you are not already registered please follow the link below to register. before booking.
Organiser of Self Weigh Stations at Royston Family Centre August 2021