"UK's Number 1 Predictable Revenue Expert"

Wednesday  July 16th  2014
 
Google Campus London,
5 Bonhill Street
London
EC2A 4BX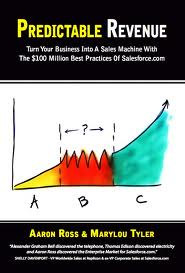 Predictable Revenue was published in July 2011. It has gone onto have a major impact in both Sales and Revenue thinking.
Discover the outbound sales process that, in just a few years, helped add $100 million in recurring revenue to Salesforce.com, almost doubling their enterprise growth...with zero cold calls.
Predictable Revenue is NOT just another book about how to cold call or close deals.
Predictable Revenue is an entirely new kind of sales bible for CEOs, entrepreneurs and sales VPs to help you build a sales machine.
What does it take for your sales team to generate as many highly-qualified new leads as you want, create predictable revenue, and meet your financial goals without your constant focus and attention?  
Predictable Revenue has the answers!  
Acquia : $0 to $15million Outbound Revenue per quarter
Digium : Grew Pipeline by 300% in less than 90 days
Salesforce :  An extra $100m Outbound Revenue
......all with principles of Predictable Revenue
A Blueprint for C-level execs
This is a must-attend seminar for any CEO who runs a business that sells to other businesses. And wants that business to grow rapidly.  This seminar is a practical, powerful management tool that provides useful insights for C-level executives regarding the management of the sales process and creating "Predictable Revenue" for their business.
Why You Need to be at this 

120  minute Seminar
Learn how to build an outbound sales machine that can triple your pipeline

Focus on the leads that give you exponetial growth

Find out why salespeople shouldn't prospect 

Discover how to hire and grow the best kinds of salespeople

Hear how fast growing companies use Predictable Revenue
You will walk away with specific ideas and actions that you can begin implementing the next day to begin increasing sales.
If you want to know how to resolve the above challenges book your place now.
This seminar is free to attend but specifically only for CEOs Limited availability. We ran a similar seminar earlier this year which was heavily over-subscribed.
84% of previous delegates rated this event Very Good or Excellent
Required attending for enterprise start-ups ready for growth
This seminar is NOT about selling refrigrerators to Eskimos, leave the sales team back at the office. It's about you, systematically getting your company's offering in front of the right people in a way that makes them feel that they want to talk with you and buy. 
 
CEOs..book onto this seminar now. 
Excellent system and tips
You will find this seminar easy to understand. The structure of the Predictable Revenue system - splitting up the sales process into different sales roles - permits a company to make adjustments and build a sustainable system because it leverages skills.
Most Sales executives will quit prospecting when there are deals to work. Since the techniques can be tested and tweaked over time it's low risk to try it - and both fit into your model. Their system doesn't eliminate marketing to create inbound - recognizing it as a needed component. Most importantly, it protects the times of your sales reps and lets them focus on selling not prospecting. 
Old school CEOs take note: the engines of sales growth for the new economy are inside sales prospecting hunters.
The game has changed.

People who segment sales roles will reap benefits.

Those who invest in their inside salespeople will reap huge benefits.

The Sales Development role is often treated within a sales organisation as a low-level job. If you treat it that way, you'll get low-level results. It's a challenging and often thankless role. Treat the team as, and expect them to be, experts. Don't skimp on training, equipping or developing them. Set high expectations of their ongoing skills development.
Who Should Attend?
Regardless, of whether you are an business leader for more than ten years, or in your first start up, you'll find this seminar has the material to build your company's revenue bigger, better and more profitably. If you are serous about working with more clients and earning more money yourself this seminar is for you!