Sales Have Ended
Ticket sales have ended
Thank-you for booking on the Sells Pro Training Residential. We will send you another email in the next 24 hours with details on kit needed, registration and further information. We look forward to meeting you and taking your child's game to another level! All the Best James and Matt www.sellsprotraining.co.uk
Sales Have Ended
Ticket sales have ended
Thank-you for booking on the Sells Pro Training Residential. We will send you another email in the next 24 hours with details on kit needed, registration and further information. We look forward to meeting you and taking your child's game to another level! All the Best James and Matt www.sellsprotraining.co.uk
Sells Pro Training Residential Join us for the ultimate goalkeeper experience your son or daughter will never forget! Open for Ages 9-18
About this event
TRAIN LIKE THE PROFESSIONALS…
At one of our Residential Courses.
THE ULTIMATE GOALKEEPER EXPERIENCE
Sells Pro Training Residential
Join us for the ultimate goalkeeper experience your son or daughter will never forget!
Don't let their schools holidays pass by spent on a screen wasting their holidays do something memorable this year!
No longer will you have restless kids in your house and you'll give them great experience and memories that they'll remember for a lifetime. 
Experience what it's like to train like a professional. 
Spend the day with current TOP-LEVEL PROFESSIONAL GOALKEEPERS.
How often does your child get this type of opportunity, meeting and training with goalkeepers they see on the TV or from the stands? 
Training like a professional over the four-day course will improve your son's or daughter's game taking it to another level and have lots of fun.
 "..It was clear to see how much he had been taught and more importantly how much he had taken in and learnt…" Gareth Purdy (Easter 2018)
We have been running goalkeeper residentials for nearly ten years, and everyone who attends has a fantastic experience, and we take your game to ANOTHER LEVEL.
Sarah Parker's son attended the Reading residential and said:
'..How amazingly organised, friendly and professional…. The location was amazing, and the sessions were varied and inclusive and most importantly fun.'
What makes it the ULTIMATE GOALKEEPER EXPERIENCE?
Train and spend the day with Top Level Professional and International Goalkeepers.
Make significant improvements and become a better keeper after the four days of training.
Excellent player to coach ratio, minimum of 9 to 1, with some of our courses having an even better ratio.
We get to know your child, as we have smaller groups and a welcoming atmosphere.
The curriculum is written by former premier league goalkeeper and Crystal Palace current 1st team goalkeeper coach, Dean Kiely.
Allow your child to showcase their talent to top-level scouts from Premier League and Championship clubs.
The following clubs have sent scouts to our residential:
•    Manchester City
•    Arsenal
•    Leicester City
•    Reading
•    Fulham
•    Sunderland 
Excellent facilities on and off the pitch for your child to train and relax.  There are communal areas with pool tables, table tennis and social areas so your child can relax.
When the pros are in they usually enjoy playing a game of table tennis with kids, ask them!
Your child will make new friends as our camps are inclusive, so everyone gets along.
Your child will experience what it's like to train as a professional.
Your child will train up to 6 hours each day.
They'll have so much fun they won't even realise how hard they're training!
There is a female member of staff to ensure that all the girls attended are looked after.
We have professional photographers and film crew, so we share these clips and memories with you for FREE. So you and your child can look back on the great experience they've had over the summer!
We get people from all over the world to come on our residentials.
Anita Fevang's son travelled from NORWAY to attend said:
'Such great staff. The teens were well looked after, learnt a lot and had a great time!'
BOOK today and don't let your kid's holiday pass by giving them memories that they will take away with them for life. Make new friends and put a smile on their face.
FAQ
Do I have to pay for my child's Place in full?
You can secure your child's place for a deposit of just £150!
YES, just £150 deposit and then spread the payments to suit you!  Just choose the £150 deposit option when you book your child's place.
Are places limited?
Yes, we only have a limited number of places on each course.
How and when do I need to pay the full balance after I pay the deposit?
You pay amounts to suit you; it just needs to be paid in full two weeks before the course! You can spread your payments with monthly payments by setting up a direct debit.
What if my child doesn't know anyone who's going?
DON'T WORRY!
Your son or daughter will quickly make new friends, as about half of all the students attending are in the same position and even those who go with their friends soon make new friends within their group.
We always foster a great atmosphere, so everyone gets along and socialises in the same areas within their houses, so no one feels excluded or on the outside and ensures your child has a great experience.
David Thornley commented after his son attended his first Residential
"…He's had a great few days, made new friends learnt lots and had fun."
All the students train so hard throughout the day that no one has any time or energy to start falling out with one another.
I do warn you at the end of the four days training your child will be very tired and may fall asleep on the journey home!
From what age is the course open?
The course is open to boys and girls aged 9-18 years of age. You have to be aged nine years of age at the start of the course. We are open from age 8 for non-residential students.
Where will my child stay?
If you have a daughter, she will be in accommodation separate to the boys and with a female member of staff. 
The boy's accommodation will be with others of a similar age, so your son can make friends and feel relaxed.
My child is booking with a friend can they share a room?
Yes, if you let us know even as late as the registration we can arrange it that friends or siblings to share.
It's excellent value for money and will be an experience your child isn't going to forget.
What type of food do they Eat?
All students get two cooked meals on Monday and Thursday and then three on Tuesday and Thursday. All the food is cooked at the school, and they all have two or three choices.
If your child doesn't like anything, the kitchen staff will are always do something for your child.
The school deal with different dietary requirements all the time.
Can I come as a non-residential?
Yes, and we start from age 8 for non-residential students.
The times for Non-residential Mon 9am-8pm, Tues & Wed 8am-8 pm and Thurs 8am-5pm.
 "…..I thought an 8am to 8pm day might be a bit too much but the drills were full of variety and the coach's enthusiasm and positivity meant that the time flew by…." Stephen Griffiths (Easter 2018)
Plus it includes all the meals that the residential students receive.
If you have any more questions can call James, who run the camps, on 07889996806. Alternately, you can email info@sellsprotraining.com. 
So, if you want your child to take their goalkeeping to another level in a relaxed environment where hard work is mixed in with fun and they have the ultimate goalkeeper experience.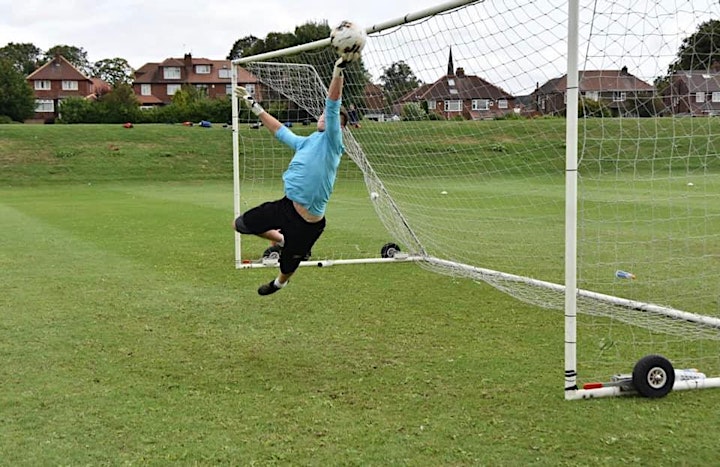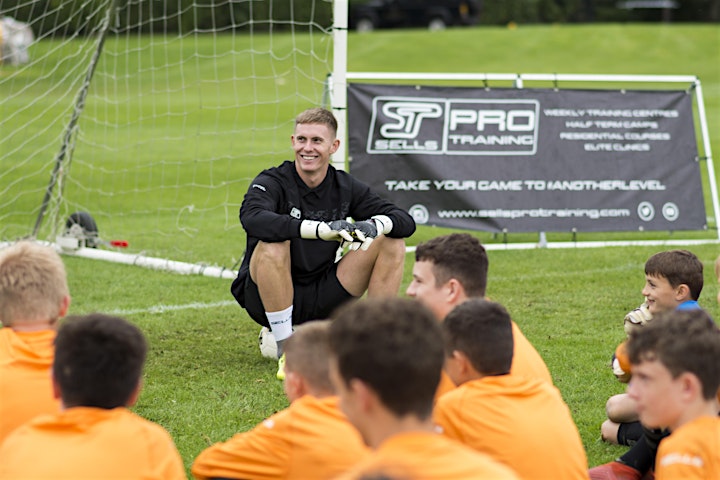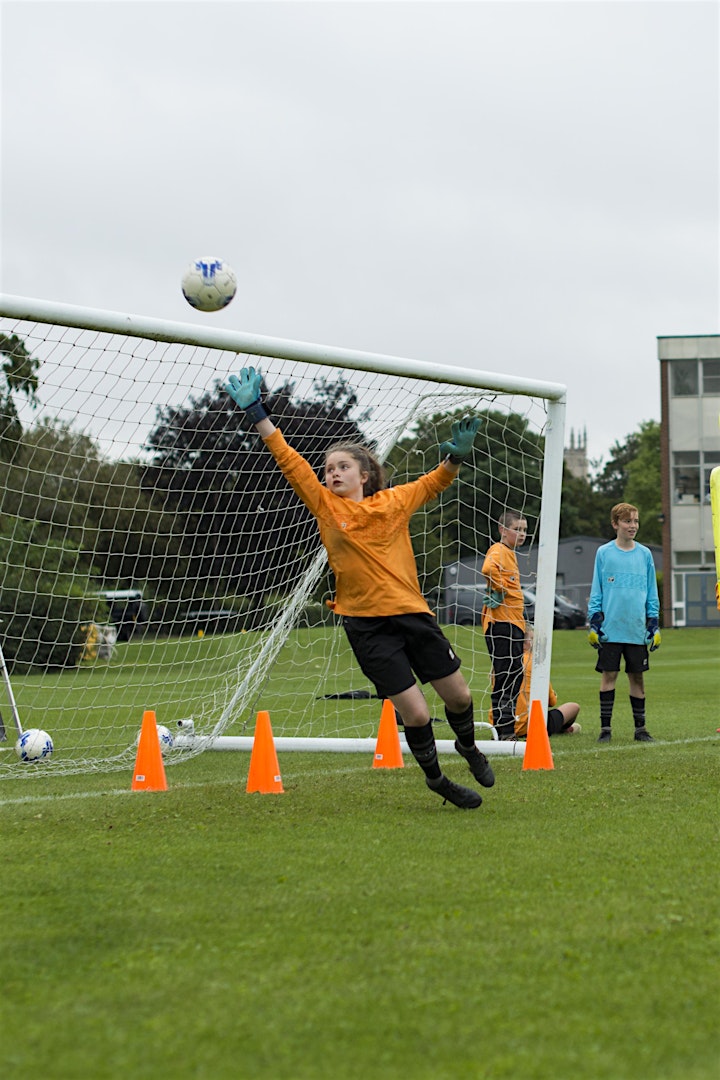 Organiser of Sells Pro Training Goalkeeper Residential Camp Leicester
Our aim is t

o provide goalkeepers of ages and levels, across the globe, the opportunity to train like a professional, in a safe fun environment created by coaches dedicated to the art of goalkeeping. The organisers of the course have over nine years experince running residential goalkeeper courses.