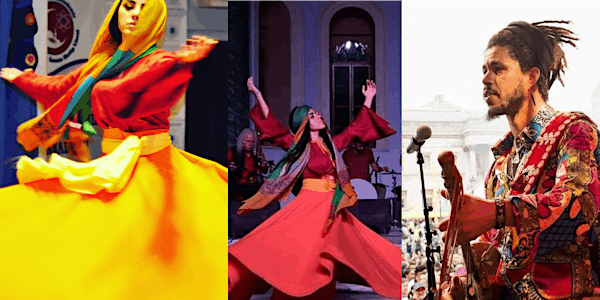 Sema: Movements of the Soul and Sound
Location
Chaplaincy, The University of Edinburgh
1 Bristo Place
Edinburgh
EH8 9AL
United Kingdom
A special performance bringing together Turkish and North African Sufi music and practice.
About this event
The Alwaleed Centre resumes its public event programme with a special performance that blends the Sufi traditions of North Africa and Anatolia, in association with the Sufi Festival Glasgow.
We invite you to a musical experience with the Edinburgh-based Gnawa singer Omar Afifi and the Konya-based whirling dervish, NesliGül.
The event will start at 19:30 with a brief introduction Dr Çiçek İlengiz (Max Planck Institute for the Study of Religious and Ethnic Diversity), followed by our unique performance by NesliGül and Omar Afif.
We look forward to seeing you at our first in-person public event since the pandemic which also marks the end of the Annual Conference of the British Association for Islamic Studies.
UPDATE: We have learned that NesliGül's visa has not been granted by the Home Office which is very disappointing. However, we are delighted to say that NesliGül has prepared a special recording of her performance which will be screened on her behalf as Omar Afifi and his trio perform. We're very excited about this creative multimedia collaboration!
Full Programme:
7pm - 7:30pm: Arrivals and refreshments
7:30pm-7:40pm: Dr Çiçek İlengiz "Sema as a practice of radical love"
7:40pm - 9pm: Performance by NesliGül (via video) and Omar Afifi