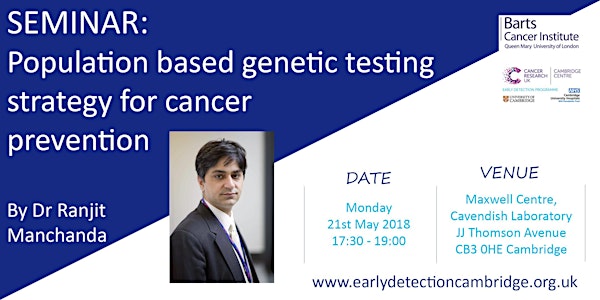 SEMINAR: Population based genetic testing strategy for cancer prevention
Description
The CRUK Cambridge Centre Early Detection programme are delighted to host a seminar by Dr Ranjit Manchanda of the Barts Cancer Institute Centre for Experimental Cancer Medicine on 21st May. Dr Manchanda's main research interests are:

Risk prediction, screening and prevention of ovarian and endometrial cancer

Population based approach(es) to genetic testing for risk stratification and cancer prevention

Targeted surgical approaches for prevention of gynaecological cancer

Familial gynaecological cancer


He and his team recently published an article in Journal of the National Cancer Institute suggesting that screening the entire population for breast and ovarian cancer gene mutations, as opposed to just those at high-risk of carrying this mutation, is cost effective and could prevent more ovarian and breast cancers than the current approach. Click here for paper.

The talk will be followed by refreshments and the opportunity to network with colleagues.
Organiser of SEMINAR: Population based genetic testing strategy for cancer prevention