Seminar Series|Antimicrobial Resistance in Nigeria Professional Development
Sales Have Ended
Registrations are closed
The event has already started. Please follow https://meyouandthesuperbugs2021.eventbrite.com to receive updates about future seminars
Sales Have Ended
Registrations are closed
The event has already started. Please follow https://meyouandthesuperbugs2021.eventbrite.com to receive updates about future seminars
Series of seminars to raise knowledge and awareness of antimicrobial resistance for healthcare professionals professional development
About this event
Welcome to the 4th session of the AMR seminar series. This 4th seminar will be focusing on Vaccines. The session's objectives are:
To provide a basic understanding of what vaccines are
To be able to describe how vaccines work
To describe link(s) between vaccines and antimicrobial resistance
Vaccines have gained much popularity over the past months. Many who had not really taken notice of vaccines have been inundated with several stories from different sources. So, what are vaccines and how do they work? This short seminar will provide introductory teaching of what vaccines are and how they work. We aim to provide information in an easy to understand format.*
This session is open to everyone, including healthcare professionals and members of the public.
*Notice: This will be strictly scientific-based talk and we will not argue controversial issues around vaccines.
______________________________________________________________________________
It is our pleasure to invite you to attend these professional development seminars to train those involved in all aspects of healthcare (both clinical and non-clinical staff). The monthly seminars aim to:
Build each participant's overall understanding of antimicrobial resistance, how it happens and spreads (seminars 1 - 3)
Create a shared-learning environment to discuss ways to enhance knowledge and understanding of antimicrobial resistance in the community (seminars 1 - 3)
To discuss and understand the ways you can help to tackle this major health issue (Seminars 1 - 4 )
Drug-resistant diseases already claim at least 700,000 lives globally and this number is estimated to rise to 10 million deaths each year by 2050 if we do not work together to reduce the risk.
Misuse and Overuse of antibiotics such as Flagyl (metronidazole), tetracycline, Amoxycillin, ampicillin, ciprofloxacin are causing a serious public health issue in Africa. There is a continued need to engage with the general public about such practices, raise awareness about the correct use of antibiotics and the dangers to all our health and economy if we continue to abuse these antibiotics.
The Me You and The SuperBugs (MYSB) events have been ongoing since 2018. Every year, during the World Health Organisation's World Antibiotic Awareness Week, the MYSB events educate the public about the safe use of antibiotics to promote awareness of antibiotic resistance in Nigeria. From secondary school competitions to outreaches - we use easy to understand presentations to change knowledge and promote good practice. The event has been described by past attendees as educative and inspirational. In the first year, over 85% said the event changed their views about antibiotic use.
We all are needed to make a change in our society and prevent what could well be the next pandemic. If COVID-19 disease has taught us anything it is that in the blink of an eye our lives could change for the worse. It is up to us to ensure that we reduce the risk of this happening by ensuring our current practices do not make antibiotics ineffective in treating simple infections such as small wounds. Antibiotics are needed, let's keep them safe.
For more information, please email info@meyouandthesuperbugs.org
Follow updates, ask questions and network in our Telegram group
Catch a glimpse of past events and speakers here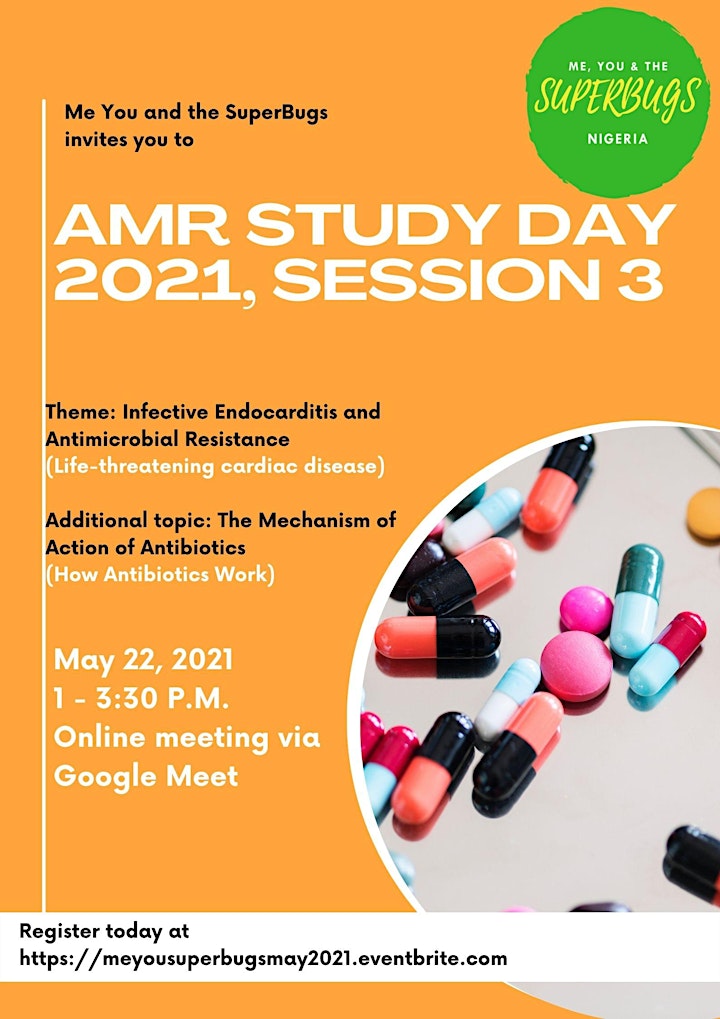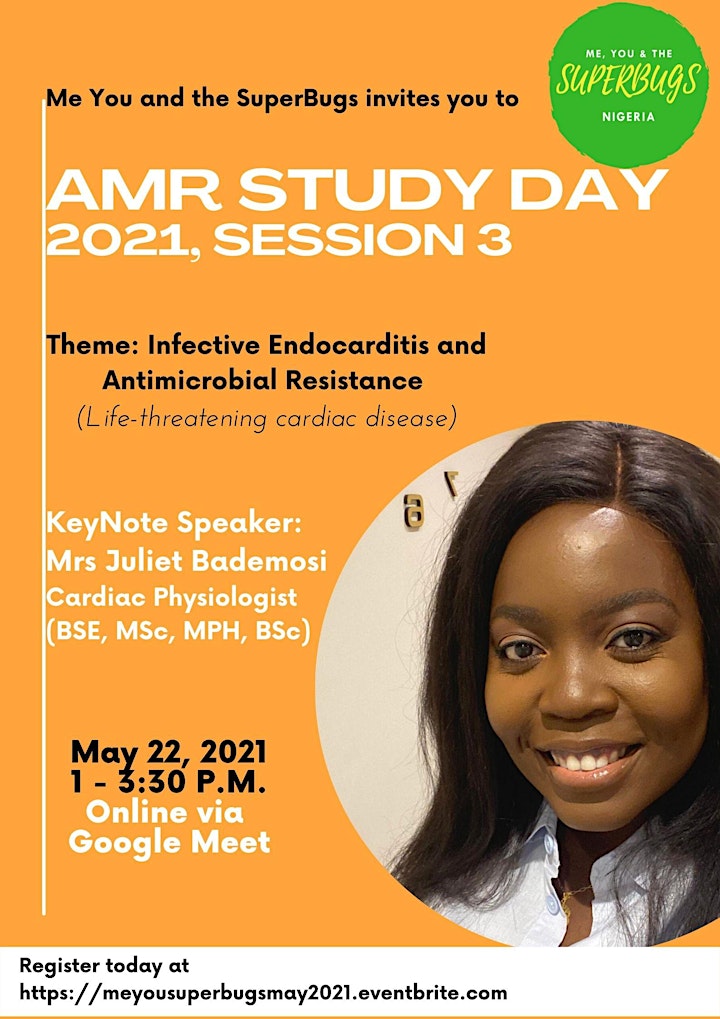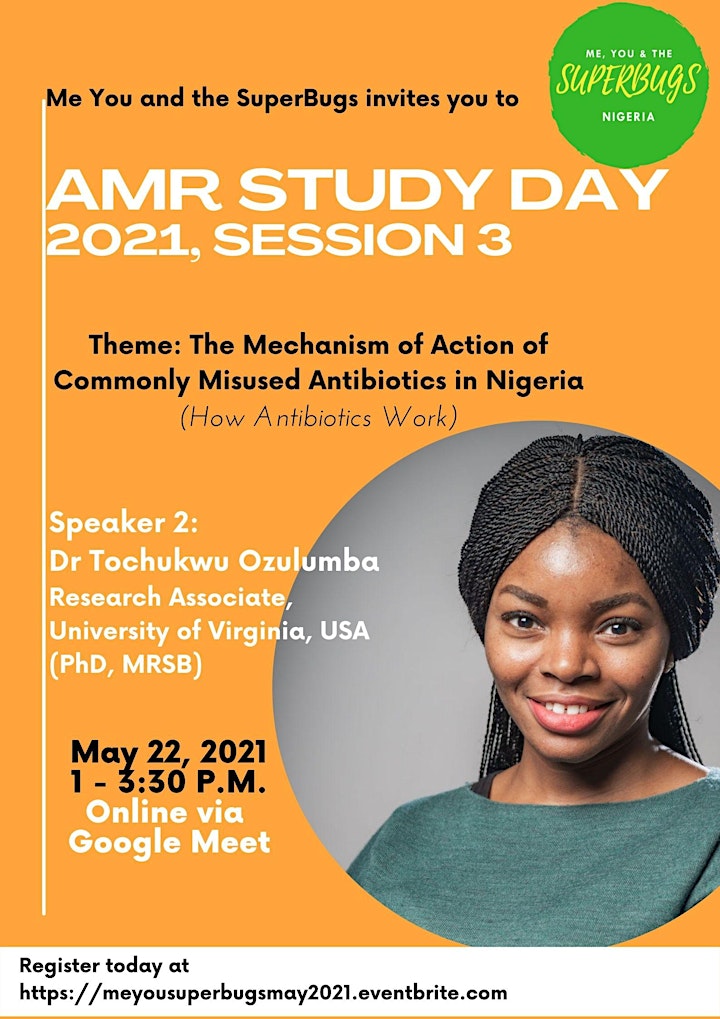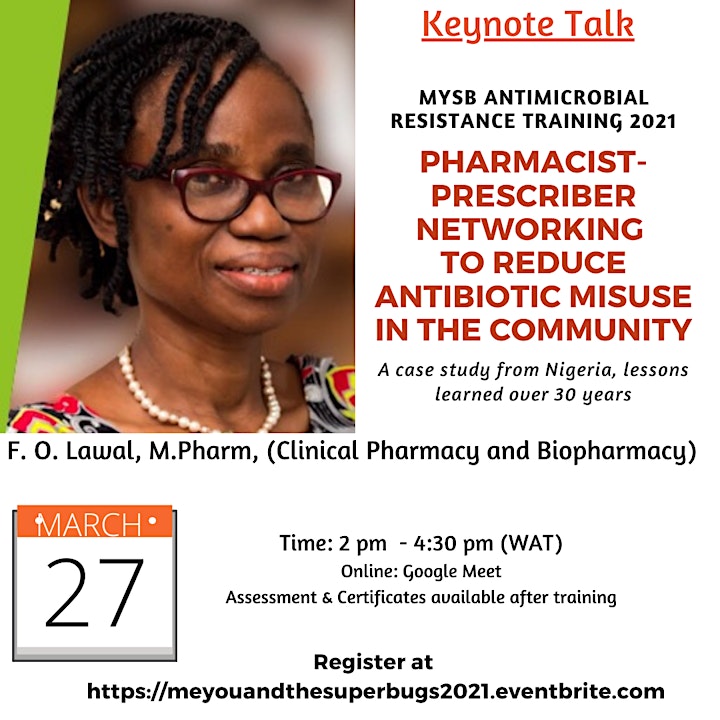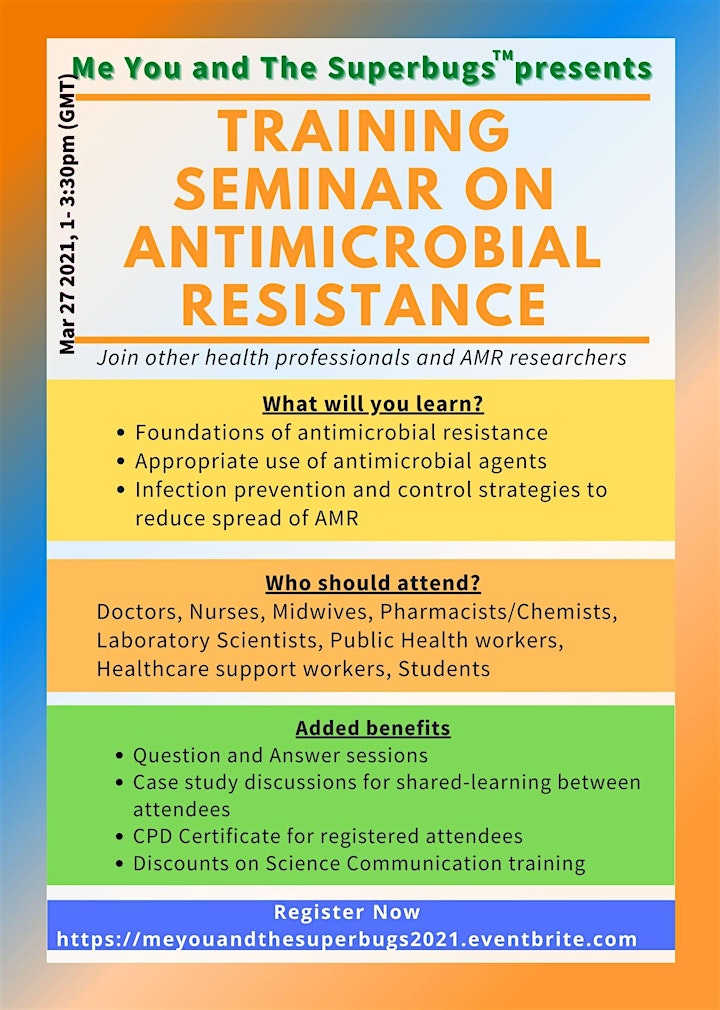 Organiser of Seminar Series|Antimicrobial Resistance in Nigeria Professional Development
Me You and The Superbugs was founded in 2018 and includes a team of researchers and healthcare professionals from the University of Lagos, University of Surrey, UK, University of Oxford, Alimosho General Hospital and Victory Drugs Pharmacy Lagos. The event is focused on increasing knowledge of antibiotic resistance amongst members of the public.
The project was founded by Dr Orode Aniejurengho a research scientist and ardent science communicator. Her research is focused on applying insights from synthetic chemistry to solving problems in human health. Outside the lab, her expertise includes science communication (as a UK STEM ambassador, speaker at Soapbox Science Brighton and organiser of science outreach and tutorials of young people and their parents), public engagement with research, mentoring and business development.