Description
Phlexglobal Seminar: TMF Health Zone - How to Get There and Maintain TMF Health - Cambridge, MA, USA
What is TMF Health?
You may be familiar with the concept of TMF Health, which has been circulating for a while now. It refers to 3 essential components of a TMF: Quality, Completeness and Timeliness. Ultimately, a TMF that is inspection-ready can demonstrate that all 3 areas have been addressed according to regulatory guidelines.
Join us to find out how you get to the TMF Health Zone and once you are there, how to maintain it!
At this seminar Phlexglobal and industry TMF experts will be reviewing the core principles and best practices required to achieve ongoing inspection-readiness for your Trial Master File - the "TMF Health Zone" - along with common challenges companies face in getting there. We'll provide key ways, with actual customer use cases, of how we've been able to help companies like yours reach the TMF Health Zone and stay there!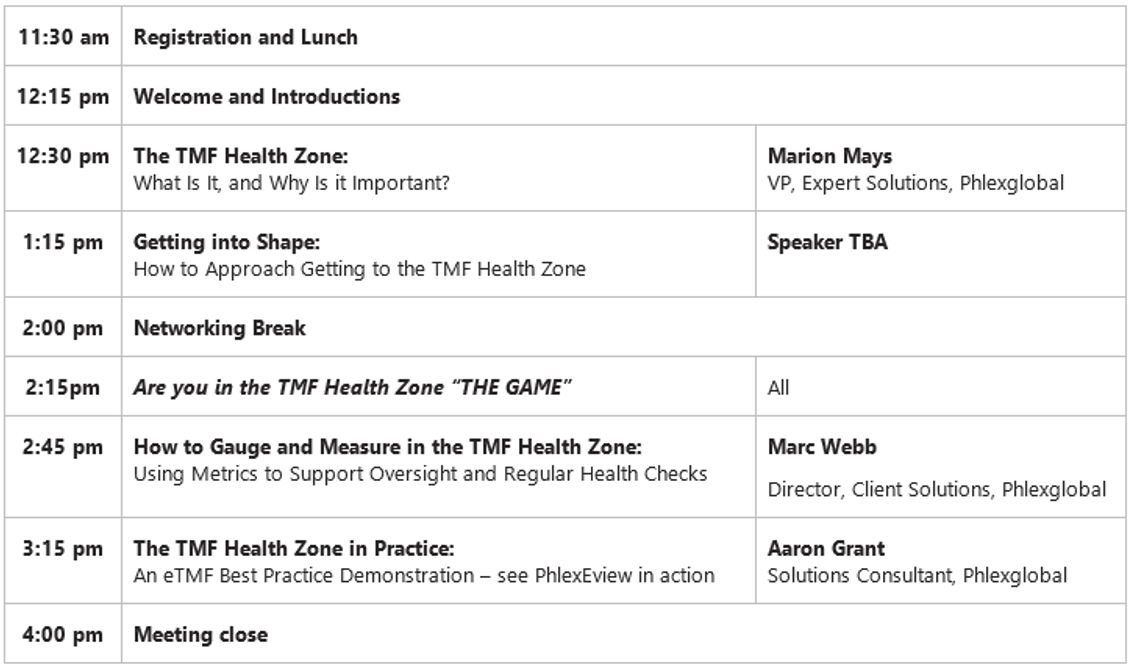 The future is coming and this is your chance to see how technologies will enable your company's TMF process to run as efficiently and compliantly as possible, therefore, ensuring you remain in the TMF Health Zone.
Please feel free to forward this to any colleagues who may also be interested in attending. We have limited spaces and expect a full house so please do register if you are interested.
We look forward to welcoming you to our seminar which will begin with a complimentary lunch.