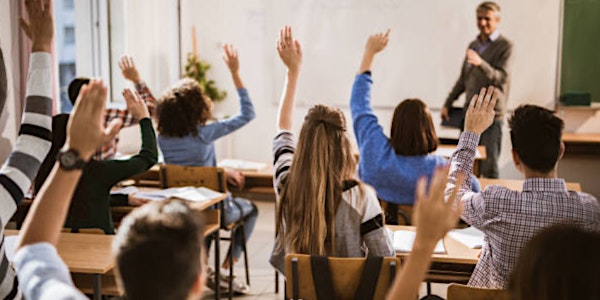 Seminar: Values as meaning-making force in teacher decision-making
A joint seminar organised by the Teacher Education, Curriculum and Pedagogy hub and Institute for Education, Teaching and Leadership, UofE.
About this event
Title: What Matters: Values as guiding and meaning-making force in teacher decision-making and professional development.
Speaker: Dr Manuela Wipperfürth, University of Vienna
Abstract:
Teaching requires online decision-making under conflicting requirements and the pressure of having to decide in the instant (Helsper 2011). To allow for the required rapidness of these decisions, they need to be guided by normative assumptions, that is by the values a teacher holds consciously and unconsciously. Normative aspects have thus been put at a central position in models of the professional knowledge base of practitioners (Shulman 1986) but have not been researched much. Not only in classroom practice, but also for their professional identity, teachers – as any human being – aspire for coherence, authenticity and for experiencing meaning in one's practice (Weiß & Kiel 2013). According to Frankl (2004) values serve as guidance and orientation for such goals and needs: "Meaning is discovered through the realization of values" (Frankl 2004).
The current study explores teachers' values in their potential for making sense of teaching practice, and for experiencing their practice as meaningful and coherent. It draws on insights from previous research on the collaboration of teachers in video study clubs (Wipperfürth 2015), and coaching teachers on the dynamics of values in teaching (Schlick & Wipperfürth 2019), for which the dialogic reflection on values had been developed into a tool for teacher education, and further trainings.
The research questions were the following:
- What guiding values can be inferred from teachers' dialogic discourse and student teachers' written reflections?
- What connections between (student) teachers' reported satisfaction with their teaching practice and the breadth of their value awareness can be observed?
The data basis are transcripts of oral discourse between novice and experienced teachers (n=8) in the form of video-based post-teaching discussions and the written reflections about action research projects (Burns 2015) of student teachers of English at Master level (n=25). Those texts have been analysed using qualitative content analysis (Mayring 2015) including criteria of narrative inquiry (Clandinin et al. 2014). Results show that a far broader range of values can be inferred from the teacher discourse and texts than originally expected. The qualitative analysis further allows for the tentative hypothesis of a connection between teachers' perceived meaningfulness of their teaching practice and satisfaction with it, and the rootedness of their reflections in an awareness of values, and the readiness to actively take on their professional responsibility.
Speaker info:
Manuela Wipperfürth attained experience in the field of education and foreign language teaching both from doing research and from everyday classroom practice. Currently, she is university assistant (post-doc researcher) for ELT methodology at the Department of English and American Studies at the University of Vienna. As a trained counsellor (in training and under supervision), she also works as pedagogical supervisor for the Institute of Logotherapy and Existential Analysis, Salzburg.