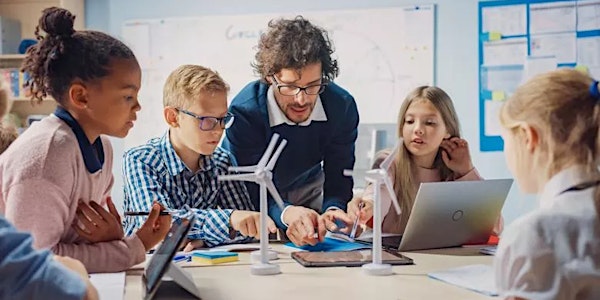 Seminars on environmental education | Seminários sobre educação ambiental
This event will run over two days between 18:00-21:00 GMT/15:00-18:00 BRT
About this event
The practical approaches to engage a young generation on the green agenda topics is the theme of the STEM Education Hub next free online seminar: Environmental education: How to teach for a sustainable future?. On 16 and 17 of February, at 18:00-21:00(GMT)/15:00-18:00 (BRT), specialists from the UK and Brazil will lead roundtables to discuss and explore with participants the concepts related to environmental education and practical approaches to implementing pedagogies sensible to the current global challenges.
The event is part of the Brazil's Week agenda, an annual event promoted by the King's Brazil Institute at King's College London. The two seminars will have simultaneous interpretation available in both English and Portuguese.
In the aftermath of COP-26, the UN climate summit held in Glasgow last winter, the event seeks to promote knowledge exchange between leading researchers and educators in Brazil and the UK, and to support schools leaders on environmental teaching. Specialists will discuss key issues related to sustainability and how to approach the topic in classrooms.
—
As abordagens práticas para envolver uma geração jovem nos tópicos da agenda verde é o tema do próximo seminário online gratuito do STEM Education Hub: Educação ambiental: Como ensinar para um futuro sustentável?. Nos dias 16 e 17 de fevereiro, das 18h às 21h (GMT) / 15h às 18h (BRT), especialistas do Reino Unido e do Brasil conduzirão mesas-redondas para discutir e explorar com os participantes os conceitos relacionados à educação ambiental e abordagens práticas para implementar pedagogias sensíveis aos atuais desafios globais.
Os encontros fazem parte da agenda da Brazil's Week, evento anual promovido pelo King's Brazil Institute, da King's College London. Os dois seminários terão tradução simultânea disponível em inglês e português.
Na esteira da COP-26, a cúpula do clima da ONU realizada em Glasgow em novembro passado, o evento busca promover a troca de conhecimento entre renomados pesquisadores e educadores do Brasil e do Reino Unido, e apoiar líderes de escolas no que se refere ao ensino ambiental. Os especialistas discutirão os principais temas relacionados à sustentabilidade e como abordar o tema em sala de aula.