SEND Navigator - Hemel Hempstead, Hertfordshire

Friday, 30 June 2017 from 09:45 to 14:30 (BST)
Event Details
                                        SEND Navigator Workshop
                                        Are you....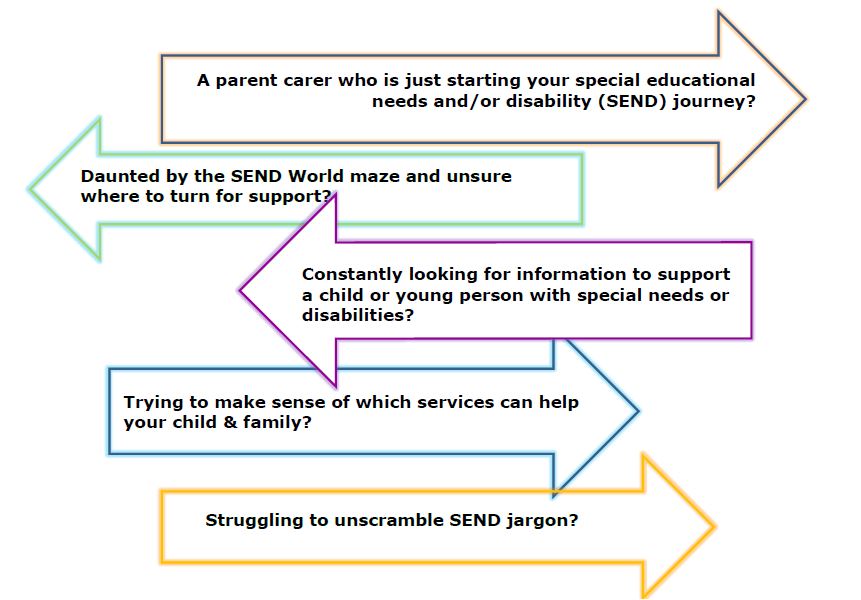 ...then our step by step guide to services for children with disabilities & their families may help.
The SEND Navigator workshop is for parents and carers (of children and young people aged 0-25 with special educational needs and/ or disabilities) who use Hertfordshire SEND services.
Unique in Hertfordshire, the workshop aims to support the best possible outcomes for children, young people and their families. By getting to know your way around our corner of SEND World this workshop will enable you to access information, services and opportunities for your child and family with greater ease and confidence. 
The workshop is run by experienced and supportive parent carer trainers, for parent carers. We all understand the world parent carers live in.
The SEND Navigator workshop aims to enable parent carers to:
Recognise and value their own role as experts

Understand the SEND Reforms, what they mean for services, families and the best possible outcomes

Decipher jargon around special educational needs and disability (SEND !!) and use the Local Offer

Map out health, education, care, support and Leisure services – who does what in your area?

Locate the best information and most useful policies, forms and tools efficiently

Use the Local Offer

Approach partnership working with greater confidence

Find specialist help and guidance when things need to change or improve
Face-to-Face Training
This interactive 4.5-hour training session is delivered by Lisa Thomas and usually includes guest appearances from SENDIASS and other Hertfordshire services.
Refreshments and snacks will be provided but please bring your own lunch if required.
Other opportunities
For those who are father on in their SEND journey, other workshops, small group and one to one coaching support is also available, including:
Step by step guide to Education, Health and Care Planning (EHCP)

Guide to SEN Support in Education Settings

Outcomes Focussed Planning

Constructive Conversations

Working in Partnership

One Page Profiles
Volunteers
We are also looking for additional parent carers interested in joining our project to provide volunteer:
admin assistance

peer support to help at our events

co-trainer assistance for workshop delivery


When & Where

Hobbshill Wood Primary school
Peascroft Road
Hemel Hempstead
HP3 8ER Hemel Hempstead
United Kingdom


Friday, 30 June 2017 from 09:45 to 14:30 (BST)
Add to my calendar
Organiser
Lisa Thomas - SEND Essentials
SEND Essentials is a parent carer learning and information project which was established out of a partnership with Early Support, HCC and Parent Partnership (now SENDIASS) five years ago. The project is now independent and has delivered over 50 SEND Reforms based learning events as we head into our 5th year.
I am a CIPD/PTLLS qualified trainer with more than 25 years of commercial and voluntary sector HR and training management experience. For the last 15 years I have worked and volunteered for a number of local Herts charities in advice and training roles. I am committed to empowering parent carers to enable our children thrug my various projects and work within the sector.
As a Director of Herts Parent Carer Involvement CIC, the recognised parent carer forum for Hertfordshire, I have been involved in the SEND Pathfinder Board, development of workforce and parent carer training, 0-25 Programme Board, the new Local Area SEND Inspection for Hertfordshire, The Herts Local Offer and Quality EHCP development, although there is still a way to go with these.
I am also a mother to three children, one of whom has Down's Syndrome, ASD and a long history of cardiac and other health issues. I have personal experience of special educational needs servcies in pre-school, mainstream, special school, college and social care.  
I deliver a variety of independent SEND workshops - all of which involve practical activities, peer to peer support and focus on sharing good quality local information to inspire future possibilities and better outcomes for children, young people and their families. 
Low cost independent worksops can be delivered upon request to support groups and education settings and include:
SEND Navigator - a beginners guide to SEND World
Education, Health & Care Planning (EHCP) 
SEN Support & the graduated aproach in education settings
Expert Parent Programme - Health (from CDC/NHS)
Writing one page profiles and other tools for person centrered planning.
Preparing to start school
Early Support
Parent Carer Course - knowldeg,skills, confidence for SEND World, 3 weeks
I have designed and delivered training to parent carers and professionals independently and for HCC, SENDIASS, Council for Disabled Children (CDC), Children Centres, voluntary groups and several local charities including SEND Reforms, SEN Support, Early Support, Personalising Outcomes and over 50 Reforms/Education, Health and Care Planning (EHCP) workshops since 2014. I'm an authorised freelance trainer for the new  CDC Expert Parent Programme, Working in Partnership and Early Support workshops.
All workshops are parent carer led and evidence based. The following is a sample of the tremendous and rewarding feedback to date:
Information given was 'essential' and supportive. 

Resources are very useful and detailed. Practical information and some excellent examples

Learnt a lot – I look forward to my next course! 

Fantastic delivery. Practical and jargon free day. 

So much more confident about the whole EHCP issue and beyond

Thank you so much. HAPPY.

Delivered by knowledgeable and passionate parent practitioner

I feel more positive about where we are going

A lot was learned and was very engaging and interesting, more please

Very good for passing onto playgroup – would have been invaluable 20 years ago – own daughter now 24yrs old!

Was initially worried that it would be more geared towards younger children but was pleasantly pleased it was so suitable for my family

A very well designed and relevant workshop, which will benefit many parents of SEND children, Thank you.

Great session well delivered, tried to deliver something new for everyone. Loved your enthusiasm and dedication

Thank you for your caring attitude. I feel I have gained confidence and the tools to continue to travel my family's journey.
SEND Navigator - Hemel Hempstead, Hertfordshire