Description
SEND Navigator Workshop
Are you....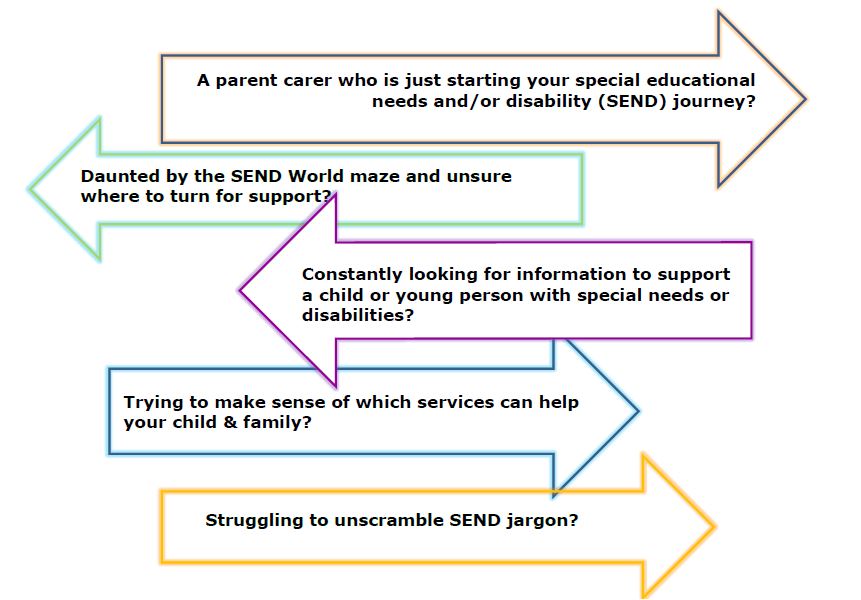 ...then our step by step guide to services for children with disabilities & their families may help.
The SEND Navigator workshop is for parents and carers (of children and young people aged 0-25 with special educational needs and/ or disabilities) who use Hertfordshire SEND services.
Unique in Hertfordshire, the workshop aims to support the best possible outcomes for children, young people and their families. By getting to know your way around our corner of SEND World this workshop will enable you to access information, services and opportunities for your child and family with greater ease and confidence.
The workshop is run by experienced and supportive parent carer trainers, for parent carers. We all understand the world parent carers live in.
The SEND Navigator workshop aims to enable parent carers to:
Recognise and value their own role as experts

Understand the SEND Reforms, what they mean for services, families and the best possible outcomes

Decipher jargon around special educational needs and disability (SEND !!) and use the Local Offer

Map out health, education, care, support and Leisure services – who does what in your area?

Locate the best information and most useful policies, forms and tools efficiently

Use the Local Offer

Approach partnership working with greater confidence

Find specialist help and guidance when things need to change or improve
Face-to-Face Training
This interactive 4.5-hour training session is delivered by Lisa Thomas and usually includes guest appearances from SENDIASS and other Hertfordshire services.
Refreshments and snacks will be provided but please bring your own lunch if required.
Other opportunities
For those who are father on in their SEND journey, other workshops, small group and one to one coaching support is also available, including:
Step by step guide to Education, Health and Care Planning (EHCP)

Guide to SEN Support in Education Settings

Outcomes Focussed Planning

Constructive Conversations

Working in Partnership

One Page Profiles
Volunteers
We are also looking for additional parent carers interested in joining our project to provide volunteer:
admin assistance

peer support to help at our events

co-trainer assistance for workshop delivery