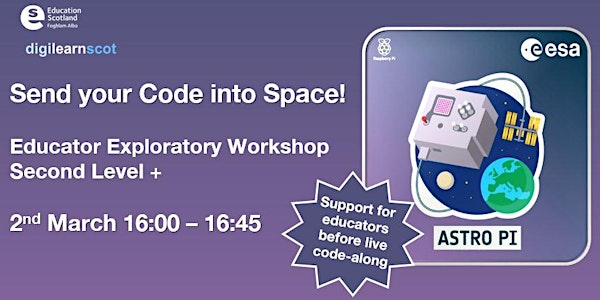 Send Your Code into Space!(Educator exploratory workshop before Code Along)
Astro Pi: Mission Zero brings coding and space together, allowing learners to write code which is sent up to SPACE to run on the ISS!
About this event
Join @DigiLearnScot and @CodingLorna for this "out of this world" educator exploratory session to help ensure you have everything you need to feel comfortable and prepared for the live Code-along, 9th March, 11 - 12.
Astro Pi: Mission Zero is an amazing opportunity to bring coding and space together. It allows your learners to write some code which is sent up to space and run on the International Space Station (ISS) later in the year. The code-along is NOT using Scratch, instead it uses this emulator https://trinket.io/mission-zero so please check that you can access this website in your school. We will also share a briefing sheet once you have signed up. We understand that this might feel like a big leap in coding, but we will take you and your class through this step by step. Lorna has supported Mission Zero many times over the years and is ready to support your class too. This session is suitable for second level and above (P6 and above).