Senior Legacy Youth Energy - reciprocal accompaniment to build the future
The challenges facing our companies and economic systems demand universal participation : how can youth and senior leadership work together?
About this Event
A PERSONAL INVITATION TO EXPLORE
The legacy of elders and the energy of youth, coming together to build the future.
In the process of alleviating the many systemic issues, deeply rooted in contemporary society, universal participation is required to galvanize the efforts of every human being to bring about new ways of thought and patterns of action.
We invite you to take part in the first series of three interactions that ebbf has prepared for you prepared for you, inspired by the words of the Universal House of Justice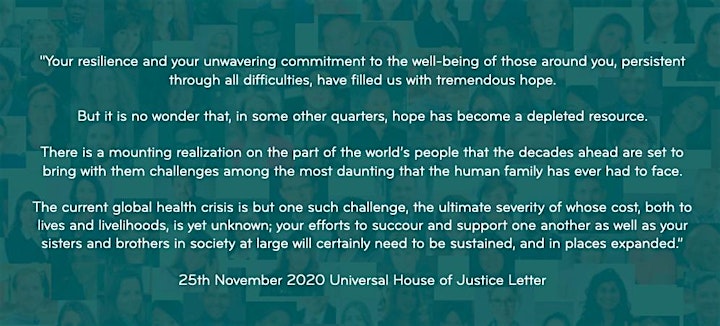 We will join together seeking to learn and share ideas about how senior leaders and youth can come together and reciprocally accompany each other.
You will be able to explore following questions with like-minded youth leaders (16 to 25 year olds):
What are concrete ways senior leaders can strengthen their legacy and prepare youth by working together, exchanging experience, wisdom, and connections?
How can youth better prepare senior leaders, inviting them to adapt to the present and future needs and interactions?