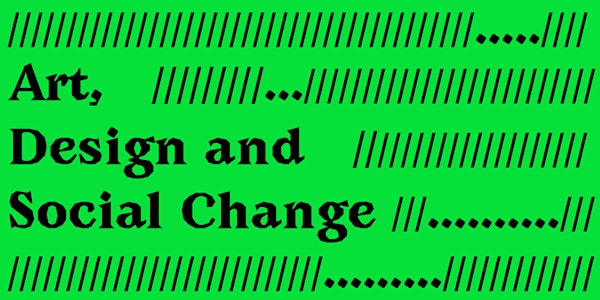 Sense-Making for Sharing Sensibilities: Art, Design and Social Change
A panel discussion between Marc Garrett, Jennifer Lyn Morone and Wesley Taylor moderated by Hang Li.
About this event
COVID-19 has hindered physical connection and blocked senses at large. Yet, there are a few organisations that have been working on making sense together during the pandemic by cultivating discussions in world-making with social justice, care and alternative economic and political infrastructures.
This panel will present the organisational practices that are coming into being during the pandemic along with the on-going social, political and economic crises. It will discuss the ways to configure and reconsider the role of art, design and organisation today confronting challenges and opportunities arising in and after the pandemic. The panel will also cover how the internet is impacting the process of collective sense-making and social change.
Bio:
Marc Garrett is co-director and co-founder, with artist Ruth Catlow of the arts collective Furtherfield, beginning on the Internet in 96. He has curated over 50 contemporary Media Arts exhibitions, projects nationally and internationally. He curated the renowned major exhibition Monsters of the Machine: Frankenstein in the 21st Century, at Laboral, Spain. He is the main editor of the Furtherfield web site. Two key Furtherfield publications include co-editing of Artists Re:Thinking Games with Ruth Catlow and Corrado Morgana 2010, and recently on Artists Re:thinking the Blockchain with Ruth Catlow, Nathan Jones and Sam Skinner 2017. He is currently in the last year of PhD at the University of London, Birkbeck College.
Jennifer Lyn Morone is an artist, activist and design researcher with a special interest in the human experience in relation to economics, identity, technology and the environment. Morone previously led the Arts and Communications track lead for RadicalxChange and is currently the CEO of the foundation. She is an alumna of the Royal College of Art where she studied Design Interactions. In 2013, she designed a business model and established herself as a corporation to protect her data via a legal container and expose the advantages corporations (legal people) have over humans (natural people).Her artistic work has been exhibited internationally. She is co-authoring, directing and producing a film of a fictional post-work and data dignified world for the 2020 EU Capital of Culture program in Rijeka, Croatia.
Wesley Taylor is a print maker, graphic designer, musician, animator, educator, mentor, and curator. He roots his practice in performance and social justice. Wesley's individual practice is inextricably linked to his collective practice, yet his collective practice is not just one collective: it is a constellation of collectives he has helped form for over 20 years. Those collectives include: Complex Movements, Talking Dolls Detroit, Design Justice Network, and Big Models. His work is inspired by elder knowledge, complex science, 90s underground hip hop, punk aesthetics, and science fiction. He is currently an assistant professor at Virginia Commonwealth University in the Department of Graphic Design and the Art Foundation Program.
Moderated by Hang Li, a PhD student at the Royal College of Art.
The event is part of a one-day event Sense-Making for Sharing Sensibilities opening up discussions on the approaches to gaining shared recognition and to channelling social actions as critical forms of collective sense-making.
Sense-Making for Sharing Sensibilities belongs to IN THE REALM OF RE-SENSING, an RCA 2020 SOAH Research Programme.
For the first time in its history, the RCA's renowned graduate show will this year take place online as a digital discovery platform – RCA2020. Visit 2020.rca.ac.uk from 16-31 July to see more.
Please note: This event will take place on Zoom. Please note the zoom registration link will be sent to attendees via email 1 day before the event.
Organiser of Sense-Making for Sharing Sensibilities: Art, Design and Social Change